Mon., May 18, 2015
Souza Backs Bill Despite Misgivings
The Senate Judiciary Committee has voted unanimously in favor of HB 1, sending it to the full Senate for a vote. Sen. Maryanne Jordan,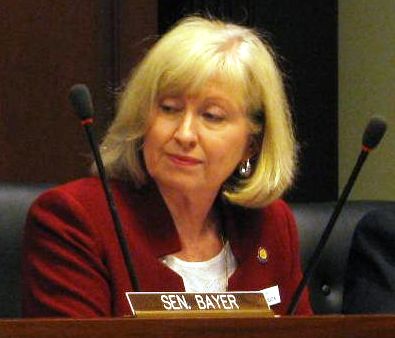 D-Boise, made the motion, and Sen. Dan Johnson, R-Lewiston, seconded the motion. Sen. Mary Souza, R-Coeur d'Alene (pictured), said, "I have grappled with this bill for several weeks now and have done a great deal of research. I don't like parts of it at all. I feel that it is an overreach in many ways. But I do think that it has merits in terms of continuing without disruption the system that we have in place for child support right now. I do believe that if this bill did not pass we would make sure that child support would continue uninterrupted, but it would take some organization. I'm willing to support this bill, but I am still uncomfortable with parts of it"/Betsy Russell, Eye on Boise. More here.
Question: I wonder if Mary would have supported this bill if there had been any chance that it would be defeated in the Senate? Thoughts?
---
---