Mon., Nov. 2, 2015
Fact-free (Ir)responsible CdA flier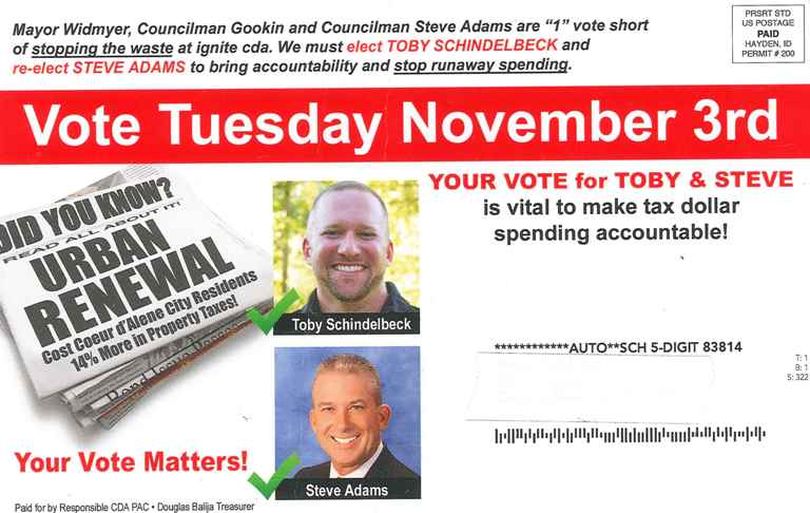 The individuals behind this "Responsible Coeur d'Alene" PAC flier give the illusion that Mayor Steve Widmyer and Councilman Dan Gookin support the candidacies of incumbent Councilman Steve Adams and newcomer challenger Toby Schindelbeck. The flier states that Widmyer, Gookin and Adams need only one more vote on the council to hamstring the urban renewal district, the favorite foil of the conservative hardliners trying to take over the Coeur d'Alene council. However, Responsible Coeur d'Alene (whose treasurer Doug Balija doubles as treasurer for the Kootenai County Republican Central Committee) didn't bother to ask Widmyer and Gookin about using their names for the flier. Both men have denounced the flier. From the Coeur d'Alene Press Saturday:
Widmyer and Gookin issued statements Friday that the information on the flier is false. "I in no way support or endorse this flier and I do not support disbanding urban renewal," Widmyer said. "I was not consulted about this." Gookin said the flier is a problem because it appears to be an endorsement of Schindelbeck and Adams. "I didn't authorize or approve this," Gookin said. "I am not endorsing either candidate — and to drag me into this and make it look like I'm in cahoots with them is not true." The flier claims that Widmyer, Gookin and Adams are "one vote short" of disbanding urban renewal, which Widmyer said is false.
It's also interesting that Brent Regan, a director of Idaho Freedom Foundation and former Coeur d'Alene School District trustee known for his hardline conservative stand, donated $1,570 to Responsible Coeur d'Alene, which filed a 48-hour finance disclosure statement as result. Former long-time Republican aide Sandi Patano calls out Regan for being trying to manipulate the election through the Responsible Coeur d'Alene PAC. Regan responds in the Coeur d'Alene Press article:
Regan told The Press the PAC is not his PAC. "They came to me and asked for money, so I gave it to them," Regan said. "I would caution Ms. Patano to get her facts straight before going out and making hysterical claims."
Is Regan saying that he simply gives away $1,570 to any Tom, Dick & Harry PAC that approaches him with hand out -- and doesn't ask them to explain how they're going to use his money. Interesting.
---
---