Thu., Oct. 1, 2015
Spence: Can Tea Partyers govern?
On a cloudy September day in 2009, tens of thousands of people marched on Washington, D.C., protesting government overreach and a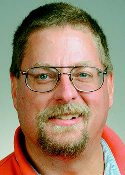 bloated federal budget. By some accounts, as many as a million people took part in the rally, although others put the number much lower.In any event, while this "Taxpayer March" wasn't the Tea Party's first rodeo, it certainly raised the profile of the movement and helped stir popular opposition to the government's irresponsible fiscal policies. The enthusiasm it generated spilled over to the 2010 elections, when House Republicans won their largest majority in more than 60 years. Six years later, almost to the day, Republican House Speaker John Boehner announced his resignation. Whether Boehner's action will continue the Republican surge and hand them the 2016 presidential race - or mark, instead, the "high tide of the Confederacy" and keep the party out of the White House for a third consecutive term - could depend on how his caucus responds to this unexpected opening/William L. Spence, Lewiston Tribune. More here.
Question: Methinks Raul & Co. are better at threatening to shut the government down than they are at producing good law. What do you think?
---
---