Mon., Oct. 19, 2015
PM Scanner Traffic — 10.19.15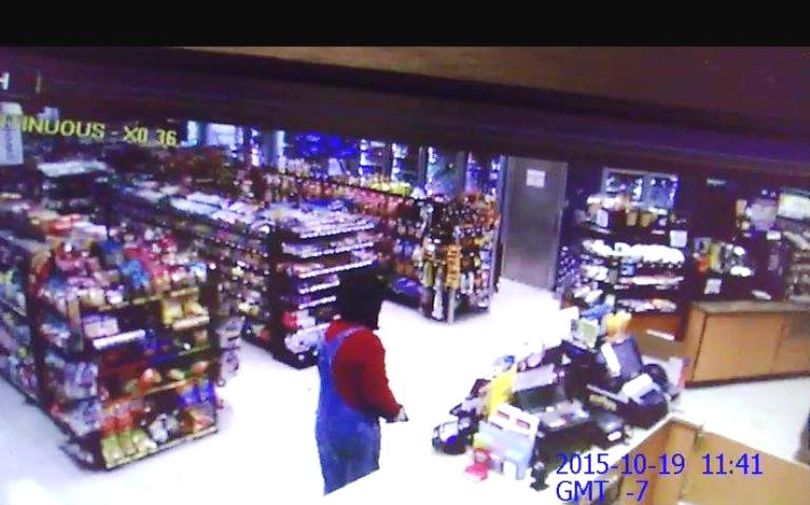 Here's the video of the prospective robber at Cenex Zip Trip, 15th St/Best Ave, Coeur d'Alene, who was thwarted in his attempt to steal money when the store clerk refused to hand any over and then went into a back room this morning. More here.
4:56 p.m. Seizure -- 20YO male has been seizing for 20 minutes off Poirer Ranch Road/Blanchard.
4:36 p.m. Suspicious Vehicle -- Officer checking on unoccupied silver pickup in middle of field off Pleasant View, north of Seltice Way/Post Falls.
4:22 p.m. Police Log -- Coeur d'Alene PD activities report for Oct. 17-19 here.
4:02 p.m. Abandoned Student -- Bus driver brings student back to school after grandparent doesn't show up at bus stop for him.
3:48 p.m. Reckless Driver -- Flagger says female in blue Dodge Avenger almost hit him @ Honeysuckle/Reed, Hayden.
3:45 p.m. Road Rage -- Drivers of white Mercedes, green Nissan pickup brake-checking each other @ e/b I-90/stateline.
2:33 p.m. Trespassing -- Hayden Walmart trespasses male caught shoplifting.
2:16 p.m. Road Hazard -- Broken glass covering both s/b lanes of Idaho St/15th Ave, Post Falls.
2:07 p.m. Probation Violation -- Male enters Post Falls bar despite probation that bans him from being around booze.
2:03 p.m. Weapons Offense -- Male tailgates caller, then points handgun at him at undisclosed Post Falls location.
1:44 p.m. Shoplifting -- Hayden WalMart security has apprehended 2 shoplifters.
1:32 p.m. Unlicensed Vehicles -- Officer reports no platess on white Honda, black Datsun pickup @ I-90/H95, CdA.
1:17 p.m. Battery -- Female tells passing male on Hayden Avenue that male in house hit her.
1:15 p.m. Possible DUI -- Male driver of white Tahoe weaving on I-90 before taken Spokane St/Post Falls exit.
1:09 p.m. Suspicious Person -- 10100 block of N. Lakeview Drive/Hayden.
---
---