Sat., April 16, 2016
100s attend Patty Duke service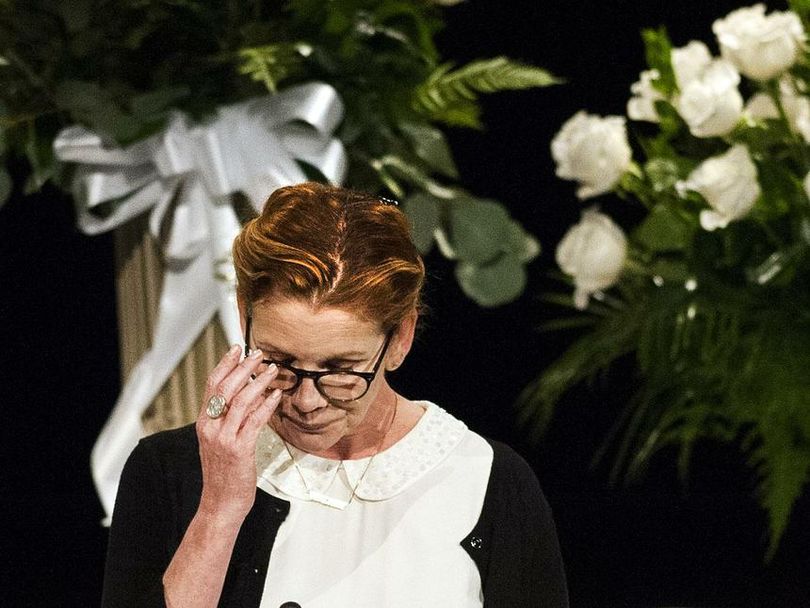 Actress Melissa Gilbert pauses with tears as she honors the late Anna Patty Duke Pearce, during a memorial service for Duke, April 16, 2016, at Lake City Church in Coeur d'Alene. Gilbert said to the gathering about Duke, "We were thick as thieves." (Dan Pelle/photo)
The memorial service for Anna Pearce, better known to movie fans as Patty Duke, was the same mix of the personal and professional as her life. Pictures of her on stage or on the movie screen mingled with family photos and pictures of her dogs. Mother Kathryn Joseph and Sister Mary Eucharista of the Sisters of Mary, Mother of the Church, came to know Pearce and became friends with her. Joseph said Pearce once narrated their Christmas show and she never thought of herself as more important than anyone else, Joseph said. "She would treat every one of us like we were the star," she said. "That was so beautiful." Both women expressed their condolences to Pearce's husband, Mike, before the memorial. "He's really feeling it today," said Eucharista. "His love for her is just deep and pervading."/Nina Culver, SR. Rest of the story below.
Mike Pearce greeted many of the people who arrived at the Lake City Church in Coeur d'Alene Saturday morning, accepting hugs and listening to stories as he continued Pearce's legacy of being welcoming to everyone.
Pearce had a profound impact on people through her work, said her son, Mackenzie Astin.
"She had an incredible ability to connect with people," he said. "It was perhaps her greatest gift to the world, to make people feel included."
In 1982 Pearce was diagnosed as bipolar. At the time mental illness was in the shadows in Hollywood but Astin said she tackled it with "good old-fashioned guts" and treated her diagnosis as a "badge of honor."
She used her fame to increase awareness of mental illness and reduce the stigma, often giving talks to a wide variety of groups about her struggle.
"She made it okay to be who you were," Astin said.
Pearce received many awards and accolades for her work over the years, but Astin said her favorite was the 1983 People's Choice Award in the category of favorite female performer in a new television program. It was her favorite because it was from the people, not a "slightly stodgy academy," he said.
In 1987 Pearce wrote an autobiography titled "Call me Anna" that spoke about her life as a child star and her bipolar disorder.
"It's been 30 years since she made her private life public," Astin said.
Stories were told that had the crowd either roaring with laughter or wiping away tears. People spoke of the large presence that went along with her small size, the love she showed to others and her advocacy for mental illness.
Actress Melissa Gilbert first met Pearce when the two filmed the 1979 movie "The Miracle Worker."
"From the moment we met, we were as thick as thieves," Gilbert said. "We laughed and cried on and off camera. Anna loved to laugh."
Their friendship continued for 40 years. "She had courage like I've never known," Gilbert said. "She was one in a million. She had moxie."
Pearce's nephew and former city council member Mike Kennedy thanked the hundreds of people who attended the memorial for coming. He also thanked the community for welcoming Patty Duke with open arms when she moved to town in 1990.
"Thank you, simply, for calling her Anna," he said
---
---