Tue., April 19, 2016
PM Scanner Traffic — 4.19.16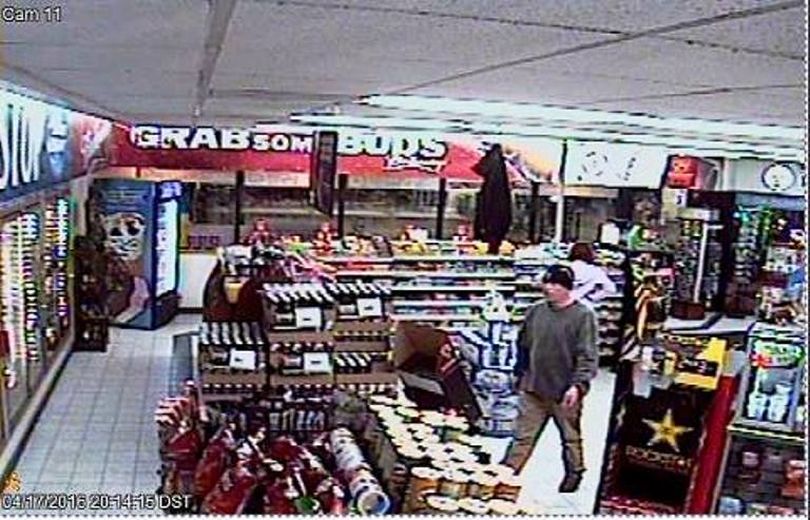 An unknown male, pictured below, entered the Post Falls Jifi Stop and stole two cases of beer. When a female employee attempted to stop the suspect, he said something similar to "what are you going to do" and shoved the female. The male suspect fled in what appears to be a black 2001 Ford Expedition, which was occupied by two others. If you have any information or tips to help identify the male, please contact Det. Goodwin at mgoodwin@postfallspolice.com and reference case 16PF07017.
5:11 p.m. Outdoor Fire -- Behind 25338 Vista View Court/Rathdrum.
4:44 p.m. Possible DUI -- Driver of sedan weaving @ Greensferry/Prairie Ave, Rathdrum Prairie.
4:40 p.m. Breathing Problem -- 1300 block of N9th St/CdA.
4:31 p.m. Locked In -- Child locked in vehicle @ 400 block of N15th St/CdA.
4:15 p.m. Police Log -- Coeur d'Alene PD activities for April 18-19 here.
4:01 p.m. Possible DUI -- Male driver of gold mini-van w/Washington plates weaving @ e/b I-90/NW Blvd.
3:18 p.m. Blunt Trauma -- 16YO male w/facial injury sitting at Stub Meyer Park/Rathdrum after being punched.
2:49 p.m. Hit-and-Run -- CPD officer has stopped suspect in hit-and-run @ McDonalds/Riverstone.
2:35 p.m. Injury Accident -- Male test-driving ATV has scrapes on arm after rolling it @ Warren/Wyoming, Hayden.
2:21 p.m. Animal Abuse? -- Caller reports dog "exposed to the elements" in Jaguar w/hood down in Hayden Walmart lot.
2:06 p.m. Domestic Dispute -- Disputing couple are en route to PFPD in 2 vehicles to explain his & her sides of story.
2:03 p.m. Semi-Conscious Male -- Male slumped over wheel of red Ford Exposition @ Westwood Drive/H53, Rathdrum.
1:24 p.m. Outdoor Fire -- Male who started fire along Centennial Trail/State Line area ran when he saw officers coming.
1:13 p.m. Wanted Male -- Officer en route to DMV to serve warrant on male in office.
---
---