Fri., July 1, 2016
Chief White to visit White House
Coeur d'Alene Police Chief Lee White wants felony crime suspects to be unable to board planes, and will share ideas on that during a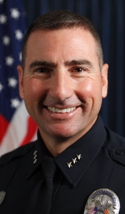 White House discussion Wednesday, July 6. White is one of a select few police chiefs around the nation to attend a 21st Century Policing Briefing at the White House. He's part of a group of chiefs whose departments were awarded Community Oriented Policing Services grants in 2015. The COPS grant, for $375,000 over three years, allowed Coeur d'Alene to hire three new police officers in order to form a Community Action Team. This team of officers works to build relationships within neighborhoods and makes connections with business owners in order to help keep the community safe.
"They're our go-to problem solving team," White said.
Chief White noted that since the implementation of the team in 2015, some 12 drug houses within the community have been shut down. Those houses were identified based on neighborhood tips, which were directly received thanks to the work of the Community Action Team officers' work.
White and other police chiefs will meet with White House staff to discuss President Obama's 21st Century Policing initiative. They'll be briefed on progress and will also engage in discussions on how those initiatives can be best accomplished/Sam Taylor, city of Coeur d'Alene. More here.
---
---