Thu., July 7, 2016
City may sell Blackwell Island land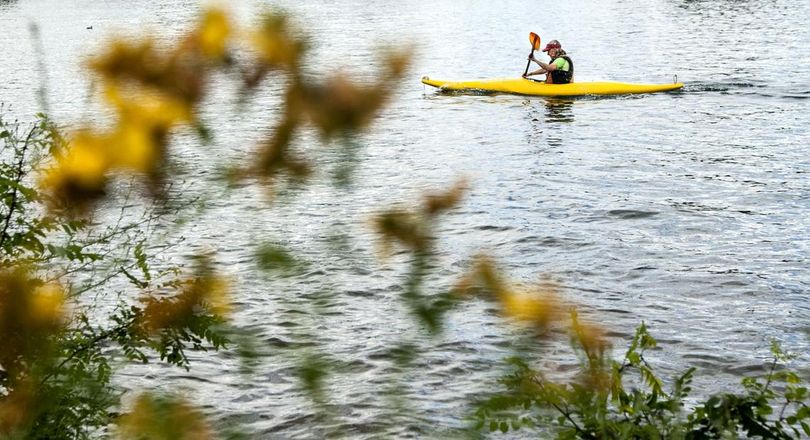 Julie Dalsaso launched her kayak from a public access point on at Blackwell Island owned by the City of Coeur d'Alene on Tuesday. The city is proposing to annex the 1.83 acre parcel it owns, then sell the property to raise money for some improvements at City Hall. (Kathy Plonka / The Spokesman-Review)
Julie Dalsaso launched her kayak from Blackwell Island on Monday afternoon, using the brief paddling excursion on the Spokane River to demonstrate the value of a small piece of public waterfront.

The land where she parked her vehicle and carried her kayak down an embankment is the old U.S. Highway 95 right of way, where a bridge once crossed the river. The city of Coeur d'Alene owns the 1.83-acre parcel. But the land has been identified as "surplus," and could be sold to help pay for a $1.65 million remodeling project at City Hall.

Dalsaso, a volunteer for the Lake Coeur d'Alene Waterkeeper program, would hate to see the property move out of public ownership. She and her husband, Pat Behm, have launched their kayaks there to paddle around Blackwell Island. The Bureau of Land operates a larger boat launch to the west, but that launch site has fees and doesn't open until late May.

The old highway property is an overgrown tangle of trees, brush and tall grasses, with a steep descent to the water. But Dalsaso sees potential in the property.

The city's own Master Plan for Trails and Bikeways calls for a pedestrian bridge at the site linking Blackwell Island to the North Idaho College beach, Dalsaso noted. Even if the bridge is never built, the site still provides public access to the water for kayakers and anglers, she said.

"A postage stamp for the public is better than nothing," Dalsaso said. "Once it's gone, we'll never get it back.

"It's distressing that they're considering selling it off," said Adrienne Cronebaugh, executive director of Kootenai Environmental Alliance, which runs the Lake Coeur d'Alene Waterkeeper program. "Any water frontage that is publicly owned should be retained or replaced or improved."

The City Council will discuss the City Hall remodeling project and the possible sale of the Blackwell Island property at its July 19 meeting, which begins at 6 p.m. at City Hall, 710 Mullan Ave/Becky Kramer, SR. More here (subscription required).
Question: Do you support this sale?
---
---