Fri., July 8, 2016
Addis sells dealership to Parker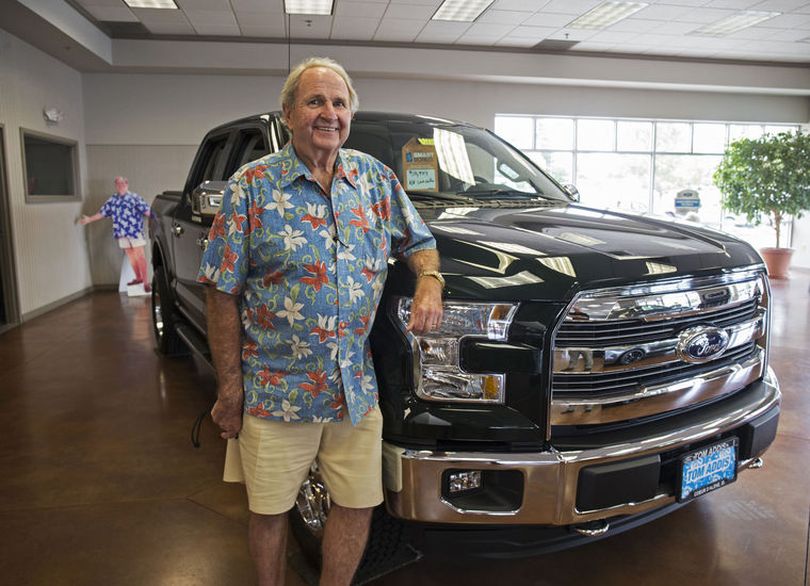 Tom Addis, 76, has been a Ford dealer for 42 years, but he's soon to retire. Addis is selling Lake City Ford to Jim Parker, who owns the Subaru dealership right next to Lake City Ford and the Parker Toyota dealership just down U.S. 95 on the corner of Kathleen Avenue. (Loren Benoit/Coeur d'Alene Press photo)
An era of Hawaiian shirts, khaki shorts and Ford sales is about to end.

The Ford sales will go on, but after 30 years handing keys to customers at Lake City Ford — usually decked out in flowery shirts and comfortable shorts, no matter how deep the snow was — Tom Addis is selling the dealership to Jim Parker.

"It's time," Addis told the Press Thursday.

The price was not disclosed.

Parker, who owns the Subaru dealership right next to Lake City Ford and the Parker Toyota dealership just down U.S. 95 on the corner of Kathleen Avenue, said the sale was a natural fit for the two families who are friends rather than rivals. He explained that both families have always been heavily involved in the community, and their business and civic values are virtually the same/Mike Patrick, Coeur d'Alene Press. More here.

Question: Where do you buy your vehicles?
---
---