Fri., July 8, 2016
Snipers kill 5 officers, wound 7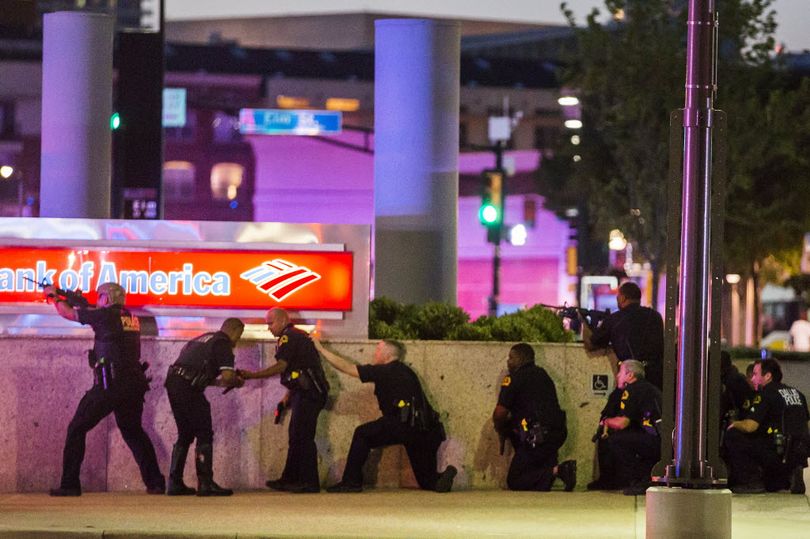 Dallas Police respond after shots were fired at a Black Lives Matter rally in downtown Dallas on Thursday. Dallas protestors rallied in the aftermath of the killing of Alton Sterling by police officers in Baton Rouge, La. and Philando Castile, who was killed by police less than 48 hours later in Minnesota. (Smiley N. Pool/Dallas Morning News)
DALLAS – Gunmen shot and killed five police officers and wounded seven others during a protest over fatal police shootings of black men in other states, authorities said. It appeared to be the deadliest day for U.S. law enforcement since the 2001 terrorist attacks.

Thursday's bloodshed, which unfolded just a few blocks from where President John F. Kennedy was slain in 1963, also evoked the trauma of the nation's tumultuous civil rights era.

Police Chief David Brown blamed "snipers" and said three suspects were in custody. Mayor Mike Rawlings said a fourth was slain by police in a downtown parking garage where he had exchanged gunfire with authorities.

"We don't exactly know the last moments of his death, but explosives did blast him out," Rawlings told The Associated Press. Police said the man had told negotiators he intended to hurt more law enforcement officers/Associated Press. More here.
---
---