Mon., July 11, 2016
Group's rule: Never pedal uphill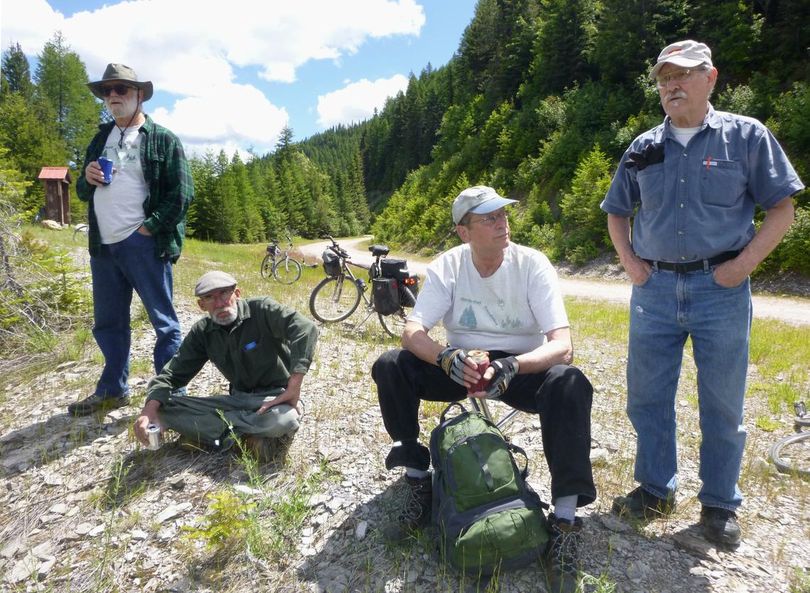 Over-the-Hill Downhillers – from left, Jim See, Axel Carlson, Mike Green and Dick Carbon – pause for their first scenic break after a few minutes of coasting from Lookout Pass on the Northern Pacific Multi-use Trail. (Rich Landers/SR Outdoors)
After receiving the invitation to bicycle with the North Idaho Over-the-Hill Downhillers, I had just one day to train.

I went home, checked the brakes on my mountain bike and got a workout coasting down the driveway.

To continue the exercise I strolled into the house, sat down on an uncomfortable chair and had a beer.

I was ready. Or at least I thought I was tuned up for joining this rugged group consisting mostly of retired mining-industry workers.

Turns out, I should have drank another beer.

The Silver Valley is a mecca for a bicycling group that has only one rule, said Mike Green: "We don't pedal uphill."

Scanning the horizon from his home in Wallace, he noted that virtually everything is uphill from there.

That translates into a downhill ride from everyplace to which you can shuttle a bicycle.

The Over-the-Hill gang was founded in 2003, when some were merely anticipating fitting the profile. It's an informal group that is organized just enough to know what day to meet at Green's – and who's spouse or friend will drive the shuttle rigs.

Needing reminders to turn off turn signals when driving cars is a prerequisite for full membership.

"We're so old, many are without cell phones," Green said. "Sunday is our usual day."

No women showed up for last Sunday's ride. "That's less pressure on us men," said Axel Carlson.

The shuttle pickups whisked the group of seven on that day up I-90 to the Lookout Pass Ski Area. "This is our favorite of all the routes we do," Green said.

It's an 18-mile downhill dream ride often spiked with viewpoints, wildlife sightings and a detour through The Tunnel of Love.

"Most people don't know about the Tunnel of Love unless they grew up around here," Carlson said/Rich Landers, SR Outdoors. More here (subscription required).
---
---