Tue., July 12, 2016
Dyno the Junkyard Dog dies at 12 1/2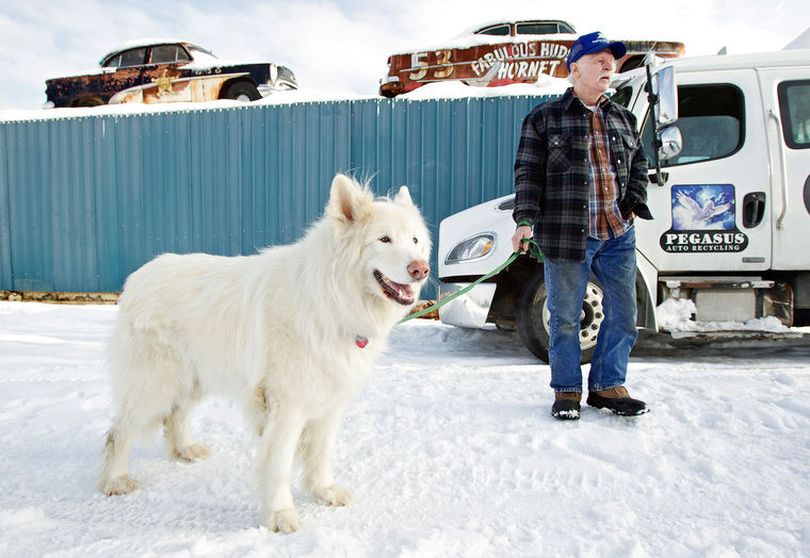 GARWOOD — For every holiday, change of season, big game and community event, Dyno the Junkyard Dog at Pegasus Auto Recycling in Garwood was always camera-ready.
"He looked forward to his photo shoots. He knew that it was photo shoot day, every time," Susan Paré, daughter of Pegasus owner L.T. Jones, said Monday afternoon. "He was the most smiley dog I've ever known."
Those canine smiles brought joy to the world every week when Pegasus ads, featuring Dyno, ran in the classified section of The Press.
"There are some nursing homes in town that said he was the highlight of their week," Jones said. "One girl called and said even the blind people want to know what Dyno's doing."
Beginning early in 2013, Paré created a series of Dyno ads and the reception was great. Artists would come by with drawings of him and people would venture to Pegasus to see the famous canine. Just last year, more than 40 people showed up to his birthday party.
"It was sort of a phenomenon that took off," she said. "We were amazed at the community support."
The much-loved tundra wolf-malamute hybrid has completed his earthly duties. Dyno, 12 1/2, died June 13. The family wasn't prepared to announce Dyno's passing until now/Devin Heilman, Coeur d'Alene Press. More here.
---
---