Wed., July 13, 2016
Avista to install electric vehicle chargers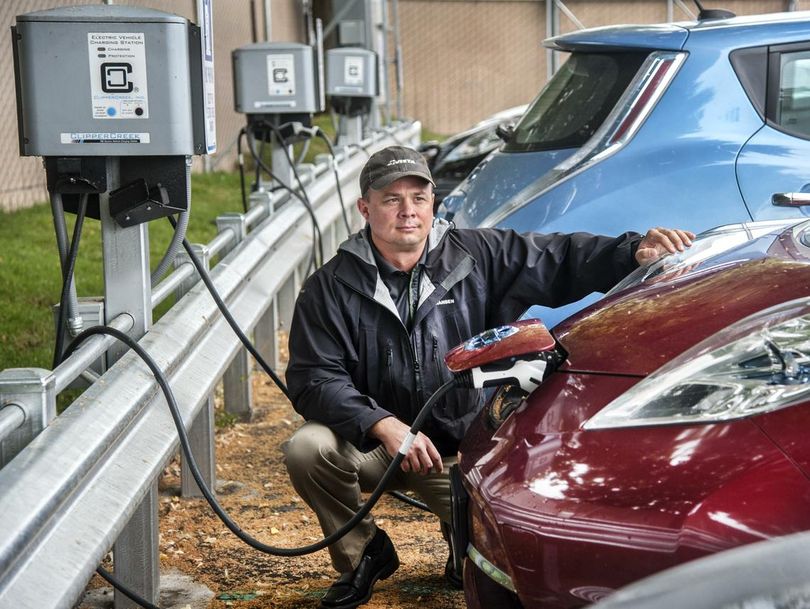 Rendall Farley is in charge of Electrification and Transportation Initiatives at Avista. He bought a used Nissan Leaf to better understand consumer car use. Avista is installing chargers at homes, workplaces and public places as part of a pilot program starting in August. The utility wants to start collecting information about how electric cars could affect their load in the future. (Dan Pelle / The Spokesman-Review)
Within two decades, many Northwest residents could be driving electric vehicles, transforming the way the region uses energy.

Modeling by the Northwest Power and Conservation Council suggests that 25 percent of passenger vehicles in Washington, Idaho, Oregon and Montana could be electric by 2035. The prospect has significant implications for Avista Corp. and other utilities, which are eager to understand how electric cars will affect demand for electricity.

Spokane-based Avista will begin installing 272 charging connections in Eastern Washington homes, workplaces and public areas this month to gather information on electric cars and recharging.

Just a smattering of Avista's Washington customers currently own electric vehicles or plug-in electric-gas hybrids. Rendall Farley, who is in charge of Avista's Electrification and Transportation Initiatives, said the number is probably between 350 and 400. But ownership is expected to grow rapidly as prices come down, selection increases and public policies encourage ownership of the less-polluting vehicles/Becky Kramer, SR. More here (subscription required).
Question: Have you considered getting an electric vehicle?
---
---