Wed., July 13, 2016
Column: Discovering Manito Park
In a column today, Sandra Lee of the Lewiston Tribune wonders why she has lived 100 miles from Spokane's Manito Park and never seen it (until recently):
Tell me why, please, a person -- me -- will deliberately drive several hundred miles to visit public gardens and neglect to see something as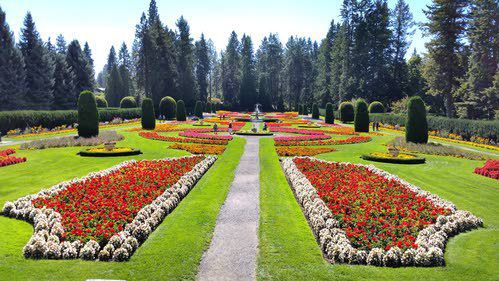 beautiful as Spokane's Manito Park. I'm betting a lot of people, like me, just don't realize what's there. Even when I received a copy of "The Pacific Northwest Garden Tour" book by Donald Olson a couple of years ago, I read almost exclusively about places a day's drive or more away. I read about gardens where I had a vacation planned, or a hoped-for trip, totally missing the few pages near the back about Manito, an easy day trip away. Then I was invited to join the Garden Club for all Seasons and its veteran members decided a trip was in order. A bus was hired and an itinerary set that wasn't based on how fast we could get from Point A (Lewiston) to Point B (Spokane). More here. (Jeanne M. DePaul/Tribune photo, of The formal sunken garden at Spokane's Manito Park)
Question: Have you seen Manito Park in Spokane?
---
---