Fri., July 15, 2016
SR gives 'Music Man' 2 thumbs up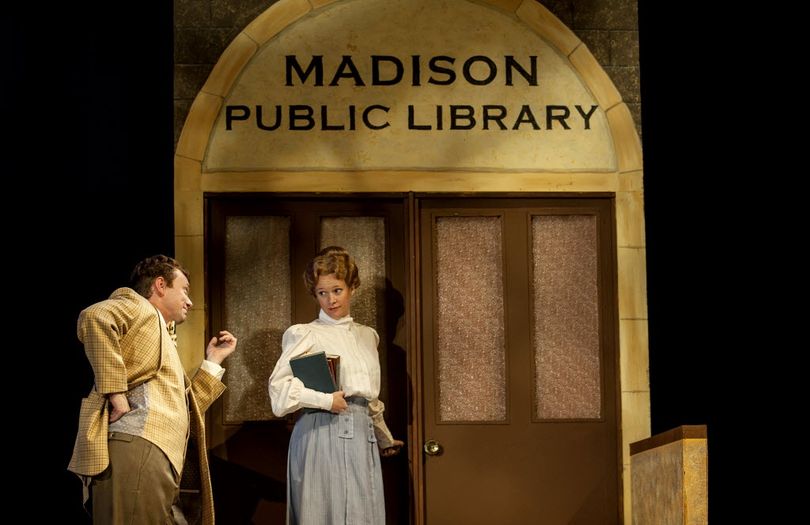 Caroline Lamberson's review of Coeur d'Alene Summer Theatre's "The Music Man":
There is something utterly charming about Meredith Willson's "The Music Man."
The 1957 musical, inspired by life in his Iowa hometown, harkens back to a simpler time, when salesmen traveled by train, when librarians were considered "old maids" and when it was impossible to Google that questionable character you encounter.
Because if Mayor Shinn of River City, Iowa, had been able to look up "Professor Harold Hill" on the internet, well, there wouldn't be much of a story.
Harold Hill is a con man, and his game is selling instruments, music, and uniforms to small-town rubes. His plan: to get out of town long before anyone figures out that his plans for a boys' marching band was all a ruse. But as he works his con, he finds himself being manipulated in a way, as Marian the librarian opens his eyes to the possibilities of not running away.
Coeur d'Alene Summer Theatre opened its production of "The Music Man" on Thursday. In it, we hear all those famous songs – "Rock Island," "Ya Got Trouble," "76 Trombones," "Till There Was You" – that have been heard in a thousand different productions. What makes this "Music Man" stand out is the strength of its cast, from the leads Matt Wolfe and Kasey Davis all the way down to the supporting players, especially Callie McKinney Cabe as Mrs. Paroo, Christian Duhamel as Marcellus, Nik Hagen as Tommy Djilas, Lucas Oktay as Winthrop, Peter Hardie as Mayor Shinn and Tamara Schupman as the hilarious Eulalie Shinn.
The show, set in 1912, opens on the train to River City as the male ensemble mimics the train's motion in performing "Rock Island," a rap-like a capella number that requires perfect timing from its singers. CST's ensemble nailed it Thursday, setting the tone for the evening to follow. More here (subscription required).
---
---