Mon., July 18, 2016
P.S. City, tribe dedicate statue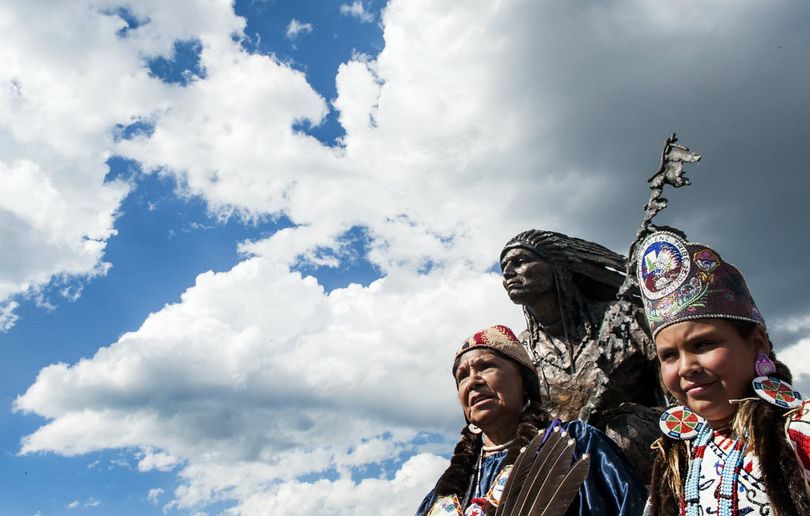 Chief Morris Antelope was known to be fair and just, a strong advocate for the rights of his people at a time when the Coeur d'Alene Tribe began to follow the ways of the missionaries and settlers and turn to farming and ranching.
More than 150 years after his birth on Lake Coeur d'Alene, a bronze statue honoring the life and legacy of Chief Antelope now sits next to the Spokane River near North Idaho College.
The work by Coeur d'Alene artist Cheryl Metcalf was dedicated Monday afternoon in a ceremony attended by Antelope's descendants, including the tribe's current leader, Chief Allan, the great-great-grandson of Antelope.
Allan said he was humbled to speak at the dedication. "I've been very blessed in my life," he told a crowd of about 75. "This is one of the most honorable things I've gotten to experience in my time as chairman for the Coeur d'Alene Tribe."
He also noted that Monday was the birthday of his great-grandmother, Mary Antelope, Antelope's daughter.
The statue is a gesture that helps bridge the tribe with other communities, Allan said. "Because we're all brothers and sisters, that's the way I look at it."
Jeanie Louie, Antelope's great-granddaughter, and Louie's granddaughter, 10-year-old Northstar Garvais Lawrence, also spoke at the dedication. They and other descendants crowded around the statue for group photos afterward.
"I think it's beautiful, and it's a great depiction," Louie said.
She said she especially likes how her ancestor is watching the water. "That was our way of life since time immemorial, was living off the water," she said.
"Chief Morris Antelope" was commissioned by the Coeur d'Alene Arts Commission and funded by ignite cda, the city's urban renewal agency.
Antelope's Indian name was Ats'qhule'khw, which means "Looks at the land." Metcalf sculpted him kneeling with a contemplative gaze toward Lake Coeur d'Alene and the hills beyond.
The location is in the area of the tribe's historical gathering place, Yap-Keehn-um. The statue is along the Centennial Trail bulkhead where River Avenue meets Rosenberry Drive/Scott Maben, SR. More here (subscription required)
---
---