Tue., Sept. 13, 2016
Legal system fails Sagle man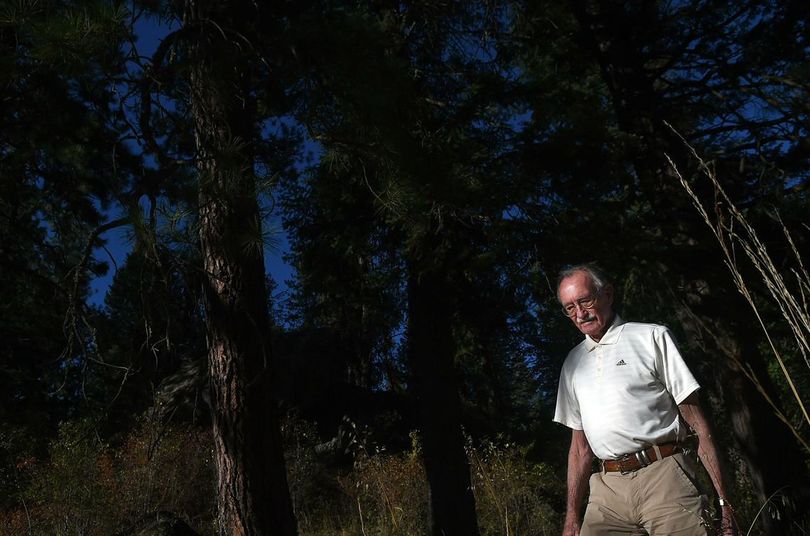 "I told them not to cut anything I could see from my deck," said Kenneth Eyer as he walked through his back yard in Sagle, Idaho on Monday, September 12, 2016. He and his wife Sally, who passed away in January were ordered by the Idaho Supreme Court today to pay $95,000 in attorney fees for an unsuccessful counter-lawsuit over a $6,500 logging job. (Kathy Plonka / The Spokesman-Review)
When Kenneth Eyer decided to log part of his Sagle property to raise money for his wife's chemotherapy bills, he never dreamed he'd end up owing more than $100,000 in legal fees.

"I made $6,500 on the logging," said Eyer, 87, whose wife, Sally, died in January. "I'm destroyed – I'm financially destroyed over somebody else's little mistake."

The Idaho Supreme Court on Monday ordered Eyer to pay more than $95,000 in attorney fees for an unsuccessful counter-lawsuit over the 2009 logging job. That's on top of the more than $37,000 he's paid his own attorney, and a $50,000 settlement he signed with his neighbor.

Between legal costs, long delays and the intricacies of Idaho laws on "timber trespass" – 19 trees on a neighbor's property were inadvertently cut down in the logging job – the outcome, according to the chief justice of the Idaho Supreme Court, was legally correct, but "most unfortunate for the Eyers."

"It appears to me that the legal system catastrophically failed Kenneth and Sally Eyer," Chief Justice Jim Jones wrote in a concurring opinion to the court's unanimous ruling/Betsy Russell, Eye on Boise. More here.
---
---