Wed., Sept. 21, 2016
12YO copes with Crohn's disease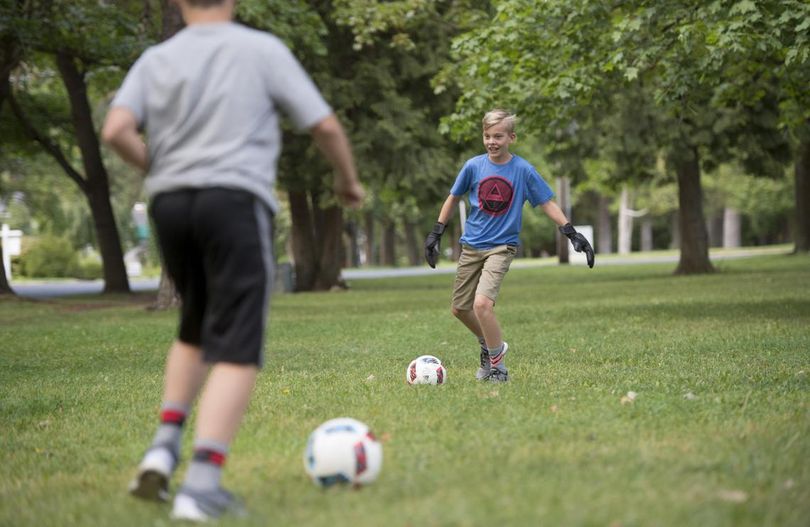 Nolan Stewart plays soccer with his younger brother, Elliot, at their home on Friday, Sept. 2, in Spokane. Nolan Stewart was diagnosed with Crohn's disease at age 11. (Tyler Tjomsland/SR photo)
Twelve-year-old Nolan Stewart's smile lights up a room, but last year at this time he wasn't smiling much.
"I was just sick, tired and exhausted," he said.
He'd been struggling with constant stomach aches.
"At first we just thought it was something he ate," said his mother, Nicole Stewart.
But when her parents came to visit and her mother remarked that it looked like Nolan had lost weight since they'd seen him a month earlier, Stewart knew it was more than just an upset tummy.
It took two months of extensive medical testing to reach a diagnosis – including what Nolan calls an "upper and a downer" – a colonoscopy and endoscopy.
In August 2015, his diagnosis was confirmed – Crohn's disease.
Crohn's disease is a subtype of inflammatory bowel disease, a chronic inflammatory condition of the intestine. About 1.6 million people in the United States have IBD, and 80,000 of those are younger than 18, according to the Crohn's and Colitis Foundation of America.
Or as Nolan puts it, "It can affect everything from mouth to butt"/Cindy Hval, SR. More here (subscription).
Question: Do you -- or someone you know -- have Crohn's? What is it like to cope with that disease?
---
---