Wed., Sept. 21, 2016
PS: Lori Otter pushes safety in CdA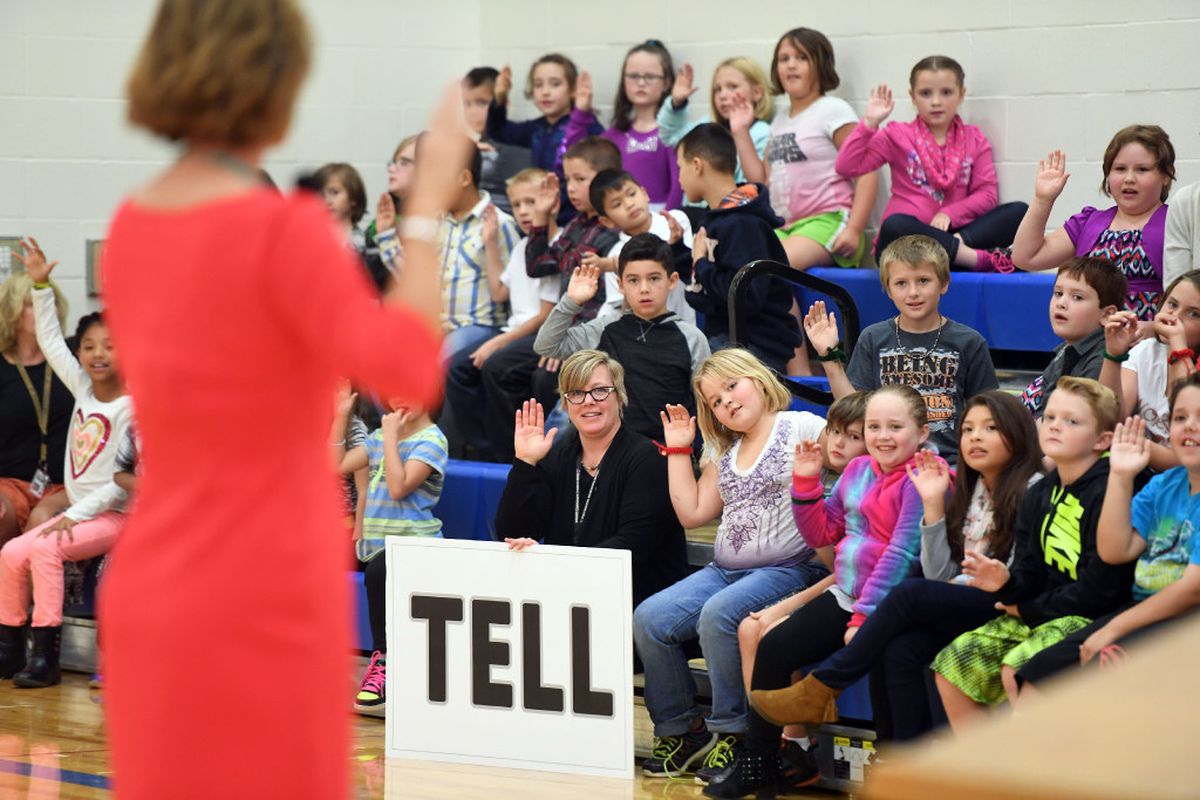 Photo Gallery (3 photos): Kids and teachers raise their right hands and take an oath from Idaho first lady Lori Otter, left, to be vigilant and report unusual activities, visitor and packages when they see them, during an assembly at Borah Elementary in Coeur d'Alene today. Otter spoke to the kids about what to look for and other ways to keep their school safe. (Jesse Tinsley/SR photo)
As a former P.E. teacher, Idaho First Lady Lori Otter had no trouble motivating about 200 Coeur d'Alene elementary students to shout and rise in a bleachers wave inside their school gym Wednesday.

"See! Tell! Now!" yelled the kids at Borah Elementary School as they rose from their seats and flapped their arms.

It was a fun way to share a serious lesson on how to keep each other safe at school.

"We live in a different world now. There's a lot of stuff going on, huh?" Otter told the third, fourth and fifth graders during the morning assembly. "So there's scary things that you see in school, but there's also scary things outside of school and all over the nation."

She told them, "We don't want you to be scared, we want you to be smart."

The "See, Tell, Now" campaign is kicking off across Idaho this year as part of a push to raise awareness of safety threats in the state's 700 public schools. The state also will perform security assessments in all the schools through the new Office of School Safety and Security, created by the Legislature this year.

The message for kids is simple: Speak up immediately if you see something that doesn't look or sound right. That could include a stranger in the hallway or bullying, Otter said.

"If you notice something that's out of place in your school, you have to let somebody know, right? Because you have friends in this school, yes? You have teachers in this school that you like," she said.

Each student is like a detective, Otter said, and she had them raise their rights hands and take an oath to quickly tell an adult anything that seems wrong or weird/Scott Maben, SR. More here (subscription).
---
---