Tue., Sept. 27, 2016
Huckleberries interviews Kristi Milan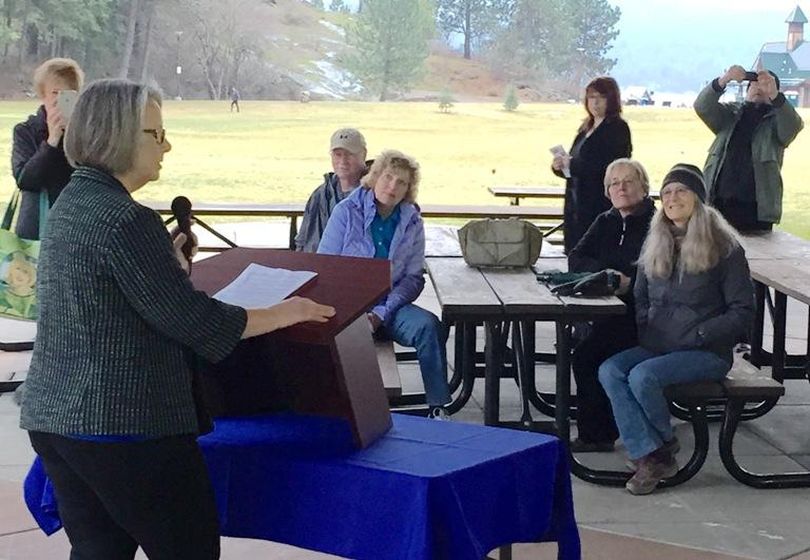 DFO: How can you, as a Democrat, overcome that magic "R" after Sen. Souza's name?
Kristi Milan: By lots of hard work. Since March, I have knocked on 4,000 doors and I'm still knocking on them. I have had great conversations with people of all sorts. One third of Idaho's registered voters is unaffiliated. That leads to some great conversations. I knock on doors five days a week. People are frustrated about national politics. But I don't talk about national politics. What's important is our community and what's happening right now.
DFO: What weaknesses to you see in your opponent?
Kristi Milan: Sen. Souza has an agenda, and she doesn't consider the community as a whole. That prevents her from having a vision for the future of Coeur d'Alene and Idaho. Her rhetoric in past (newspaper) articles and newsletters comes across as unwilling to compromise and see other people's points of view.
DFO: Sen. Souza is an unrelenting opponent of urban renewal. Where do you stand on that issue?
Kristi Milan: We can't fight progress. But it needs to be a managed progress. As I've talked to people at the door, there's a common thread that they love Coeur d'Alene and the small-town feeling of it. They don't want that to change. But at the same time, they like the fact that the city has become a vibrant and attractive place to live and people to visit.
DFO: We have the infrastructure in place for the Education Corridor. But it seems as though we have no champion in the Legislature to promote it. What would you do if elected when it comes to the Education Corridor?
Kristi Milan: There's 2 important topics: We need to improve education and we need good-paying jobs. Until we have reliable education from early-childhood through college, we're not going to attract the high-paying jobs and companies. These companies need a bank of highly education people for their work force. They also want to make sure that we have good schools to send their children to. I support not just four-year college but also alternate paths to education, including professional technical.
DFO: Just curious. Where did you stand on McEuen Field flap? And did you sign the recall petitions circulated by Mary Souza and her group?
Kristi Milan: I was for the park. I feel that urban renewal and ignite cda is an investment in our city. And they aren't stealing taxes from us. They're using taxes to invest in the future -- the same way you would invest in an IRA and stock market. What we got out of this investment was a beautiful park and fantastic library that community uses for all sort of things. And the Kroc Center. But it's not just about the buildings and the places. It's how the community feels about those things. It makes the community feel great about the city. At the Kroc Center ... their partnership with CYT, the middle school programs for after school, Kroc RX and the partnership with Heritage Health ... are improving our city. It's improving the quality of life.
DFO: Is there anything else you might like to say before we conclude here?
Kristi Milan: I'm going to make the city my special interest group.
Archives (Feb. 20, 2016): Milan announces her candidacy for Senate District 4 seat/Press
---
---