Wed., Sept. 28, 2016
Some wary of tiny-houses proposal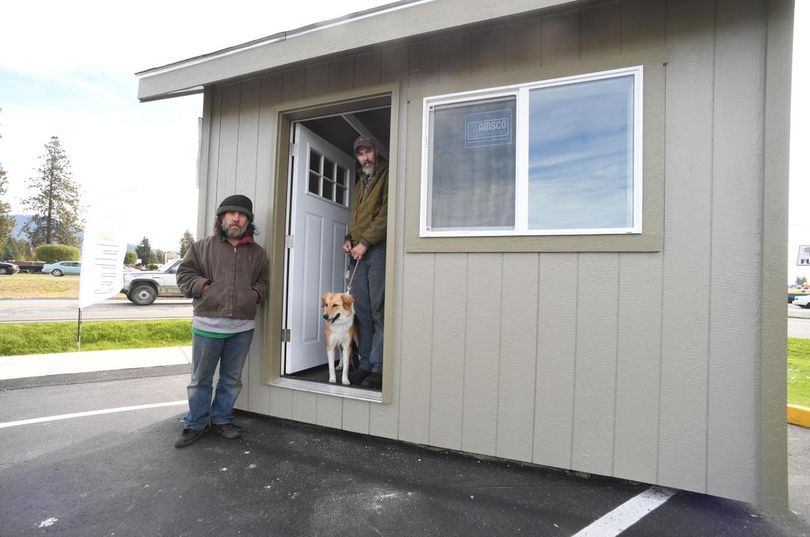 Eric (who declined to provide a last name), left, and Randy Rogers stand by a model tiny cabin, which may soon be built to provide shelter for homeless people like them in North Idaho, as soon as they can secure a place to build a village of the small cabins, shown Wednesday, Sept. 21, at the corner of Highway 95 and Dalton Ave. The idea of a tiny house village is being pushed by the homeless outreach program of Heritage Health. The men are still homeless. (Jesse Tinsley/SR photo)
More than the cold, it's the wet of winter that gets to the homeless men and women who sleep outside in North Idaho.
"People don't realize you don't have to be in 32 degrees to freeze to death," said a homeless man in Coeur d'Alene who gave only his first name, Eric.
A place to escape the weather and feel secure would mean "everything," he said.
Gar Mickelson believes he has a way to get people out of their sleeping bags and tents and under the cover of real shelter. Real small, to be sure, but warm, dry and safe.
Mickelson, the homeless outreach coordinator for the nonprofit Heritage Health, wants to build a village of tiny houses to serve as temporary crisis shelter for people who don't want to be homeless but struggle to find housing options, he said. That might include seniors, military veterans and single moms.
"If we can do something like this, maybe in two years there's no need for it anymore. I hope and pray that there won't be a need for it anymore," Mickelson said. "But for now, there's dozens and dozens of people who are forced to be outside."
Modeled after similar projects in Seattle and other cities, the proposed Pathfinder program would provide safe and sanitary living conditions and allow for onsite health care and counseling services as well as faith-based resources, said Mickelson, who also directs a faith-based homeless outreach program called Kaleidoscope Community Services and an associated downtown gathering spot, 2nd Street Commons.
The village would be a place "where folks can have their private space that's secure, so they can get sleep and not worry about things they worry about when sleeping rough," he said.
To get started, volunteers recently built a model cabin, measuring just 96 square feet, in the parking lot of Skate Plaza at U.S. Highway 95 and Dalton Avenue. It remains on display there.
"We hope that this cabin is going to be a discussion starter," Mickelson said.
As he showed the cabin recently, a woman stopped by and poked her head inside, remarking on how small it is. Mickelson smiled and replied, "Our homeless friends, they come into a place like this and go, 'This is the Taj Mahal.'"
Several churches, businesses and public agencies in Kootenai County support the concept of tiny houses for the homeless. Blue Dog RV pledged $50,000 to help build the cabins.
But some in Coeur d'Alene have reservations about the village approach/Scott Maben, SR. More here (subscription)
---
---