Thu., Sept. 29, 2016
200 urgent action against child abuse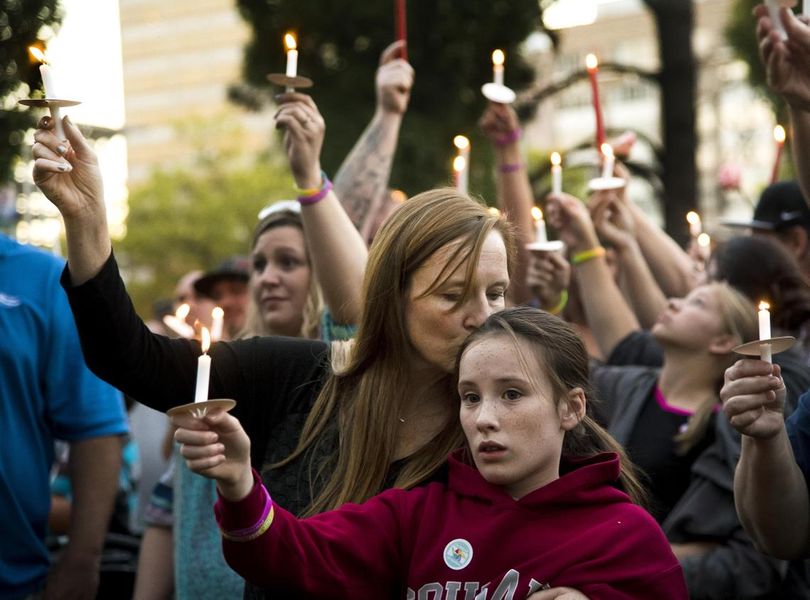 During a candlelight vigil in Riverfront Park, Deanne Wilson and her daughter Katelyn,10, raise their candles in memory of the three babies/toddlers killed by homicide or neglect and a fourth left with serious injuries in the past couple months. The event, attended by over 200 people was sponsored by Our Kids Our Business. (Colin Mulvany / The Spokesman-Review)
The four names were read aloud in front of more than 200 people in Riverfront Park Wednesday.
Maliki Wilburn. Sequoia Smith. Quentin Warren. Adalynn Hoyt.
The children were killed and injured in the Inland Northwest within a span of two weeks.
"It's too many," said Dena Chappell, who sits on the executive council of Spokane Prevention of Child Abuse and Neglect (Spo-CAN).
"We know we're gathered here tonight because the children are not well," she told people who held candles while children played and laughed on the giant Red Wagon sculpture in the background.
Several of the speakers had a unified message: this must be fixed.
If you believe something is wrong, step in and offer assistance. Take away any stigma of asking for help.
Don't judge because you don't know the path others have walked, Chappell said.
"Parenting is the hardest job we will ever have," she said.
Dr. Keith Georgeson, a pediatric surgeon at Sacred Heart Children's Hospital, spoke briefly about his work.
"I'm the guy that takes care of those kids," he said. "When you see what these kids go through, it's frustrating."
Georgeson said he has watched 100 children die from child abuse during his career. "We would love it if we never saw another child die from child abuse," he said/Nina Culver, SR. More here (subscription).
---
---