Fri., Sept. 30, 2016
Colfax speed trap catches Cougars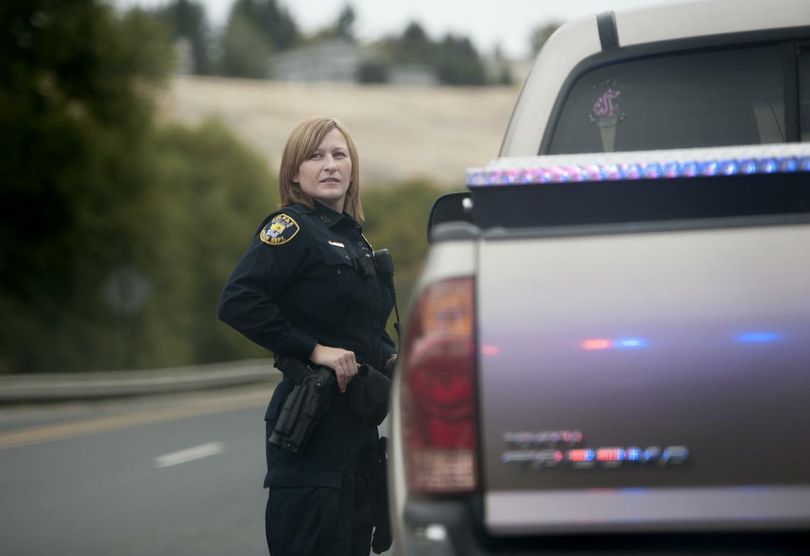 Colfax police officer Jaelene Bryan pauses after she pulled a motorist over for failure to signal when changing lanes, as the motorist was en route to a WSU game on Saturday, Sep 17, in Colfax, Wash. (Tyler Tjomsland/SR photo)
Mike DeVleming grew up a diehard Cougar fan, making the trek from Spokane to Pullman for home games since he was a boy riding with his dad.
And for just as long he's thought of Colfax as a speed trap.
"There isn't a Cougar alive who's willing to go 1 mile over the speed limit in that town on a game day," said DeVleming, the former mayor of Spokane Valley. He was pulled over himself when he was much younger, driving to a game with friends.
Being ticketed for speeding can put a damper on game-day spirits, but DeVleming noted, "It won't happen if you obey the speed limit."
Colfax police Officer Jaelene Bryan has heard nearly every excuse and accusation possible when she pulls over speeders on their way to or from a Cougar or Vandals home game.
"It does kind of hurt when people say we are just a speed trap. It's not true," Bryan said, while sitting in her cruiser watching southbound traffic before WSU's home game against the Idaho Vandals two weeks ago.
On a big Cougar game day, the number of cars and trucks traveling through Colfax jumps to nearly 40,000 from the regular daily count of less than 10,000.
Bryan's 12-hour shift began at 6 a.m., and on game day, she was the only officer on duty; the police chief and the one other officer that make up the Colfax Police Department worked the football game/Pia Hallenberg, SR. More here (subscription).
Question: Are there any speed traps in the Coeur d'Alene area?
---
---