Fri., Sept. 30, 2016
Crafted's turtle races packs 'em in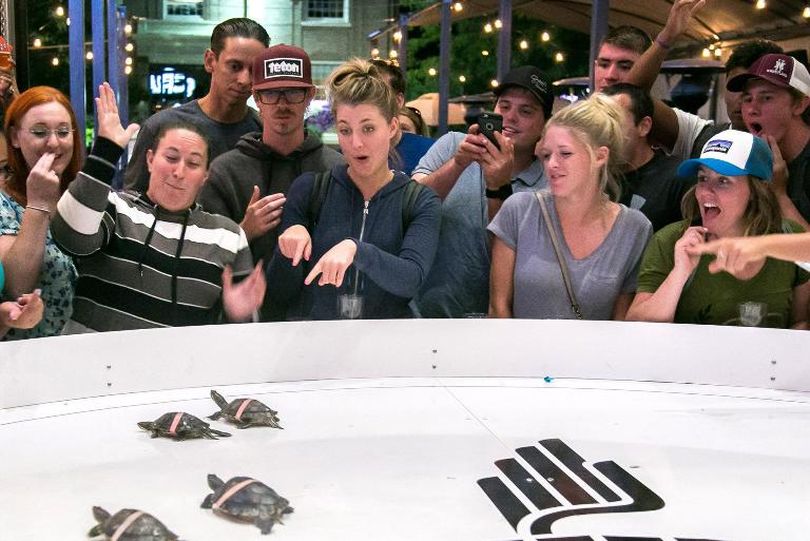 Don't put your money on Myrtle the Turtle. There's no gambling here.
Besides, the turtles change names every couple of races. Myrtle could become Stalin, M.F. Jones or Saturday Soup. You never really know which one is which. The turtle wrangler switches it up to keep the audience guessing and prevent the same turtle from winning every round.
Forget slow and steady. The fastest turtle wins this race.
Crafted Tap House and Kitchen in Coeur d'Alene has been hosting turtle races on Friday nights for about two years. The owners implemented the competition for added entertainment, another attraction to draw people to the restaurant and bar. Admission is free.
The turtles, widely known for their plodding nature, are the main attraction. They're surprisingly fast. Each round – there are six – is usually over in a matter of seconds.
"They're not snails," said spectator Kate Conley, 22.
She and her boyfriend, Kasey Potts, 24, drove from Spokane just to watch the turtle races on a recent Friday night. It was their first time. They had arrived early for dinner. She had the Scorcese: roasted pork loin with red lentils, bacon, and carrot and beet crisps.
That's another reason people come here: the food – and the atmosphere and beer, too. The gastropub has 50 beers on tap and a half-dozen hand-helds on the menu, including burgers topped with Cambozola, black pepper bacon, garlic-bacon jam and arugula. In warm weather, the patio – twice as big as the dining room and dotted with fire features – is open, too. Don't forget the sweet potato fries smothered with Gorgonzola fondue/Adriana Janovich, SR. More here (subscription).
Question: Have you seen the turtles race?
---
---