Fri., Sept. 30, 2016
Love Story: 70 years, 25,550 pennies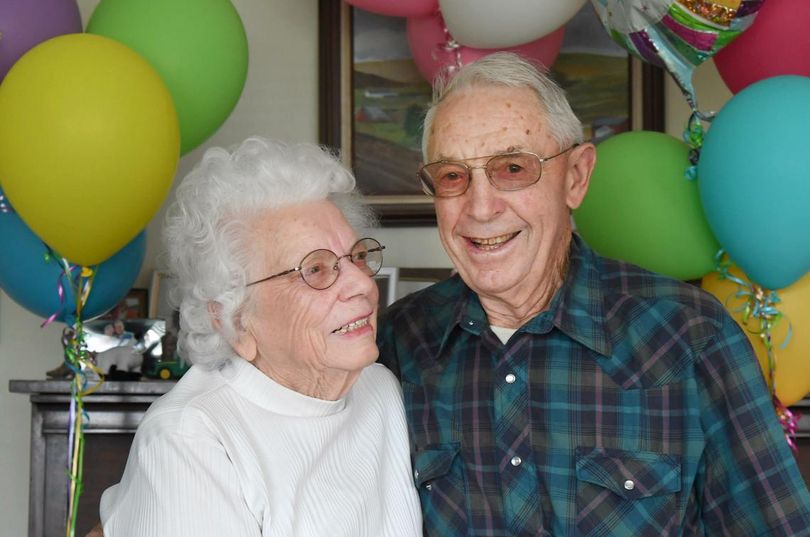 They say the value of true love cannot be measured, but when Glenn and FloraBelle Dobbins celebrated their 70th anniversary, Sept. 15, a friend tried. He gave them a penny for every day of their marriage. That's 25,550 pennies (not counting leap year days) and he had to go to six different banks to collect them.
The pair met in 1945 at a church camp at Twin Lakes, Idaho.
"We were playing 'Skip to My Lou,' " FloraBelle recalled. "All the boys kept going 'round, and I wanted him to come back. I kept wanting the other guys to move on!"
Glenn grinned. "I was afraid of girls at the time."
Perhaps if she'd known his profession or his career interest, she might have let him skip on by. Glenn was a farmer's son who had a hankering to be a preacher. By the time those details became clear, FloraBelle was already smitten.
"He was so much fun," she said/Cindy Hval, SR. More here (subscription).
They saw each other at youth group gatherings on Sunday evenings and on one of those evenings marriage was mentioned.
"I don't think it was by me," Glenn mused.
FloraBelle laughed. "Oh, yes it was!"
Whatever the circumstance of the proposal, on Sept. 15, 1946, they were married in Spokane.
"She said she'd never marry a farmer or a minister and she got both," Glenn said. "We married on a Saturday and three days later we went down to Eugene, Oregon, and enrolled at Northwest Christian College."
---
---