Tue., May 30, 2017
Nikki Haley, another side of Trump's 'America First'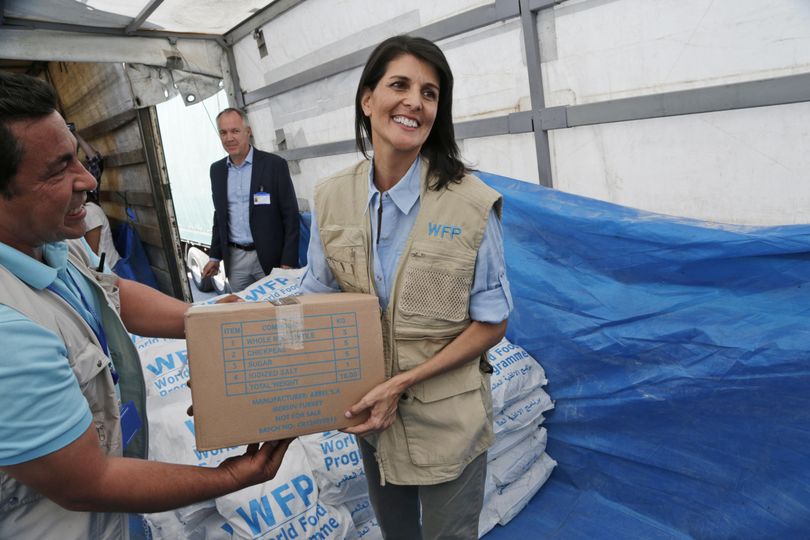 Nikki Haley crouched low in the trailer of an 18-wheeler taping up a box of lentils and wheat for besieged Syrians, her hands-on diplomacy a world apart from the gleaming new NATO headquarters where President Donald Trump was debuting his "America First" doctrine overseas.
Haley, Trump's U.N. ambassador, had started the day in Turkey's capital, opened a refugee school in the south of the country, then traveled hours in an armored vehicle to the Syrian border. Her afternoon stop had to be short. She had a packed schedule, and at a nearby refugee camp she was soon kicking soccer balls with stranded Syrians and noshing on shawarma.
As she hopped a flight to Istanbul, Trump was arriving in Brussels to scold European allies for relying too much on U.S. defense spending. Haley's mission represented another side of Trump's "America First," assuring nations on the border of the world's worst crisis that the U.S. wasn't forgetting them.
"I think 'America First' is human rights and 'America First' is humanitarian issues," Haley said. "It's what we've always been known for."
Haley's trip last week to Jordan and Turkey showcased the outspoken former South Carolina governor-turned-Trump diplomat's emergence as Trump's foreign policy alter ego: still bold, still brash-talking, but with greater attention to America's traditional global roles and the personable side of diplomacy. Full story.
---
---