Mon., Nov. 14, 2011
Winter is Waiting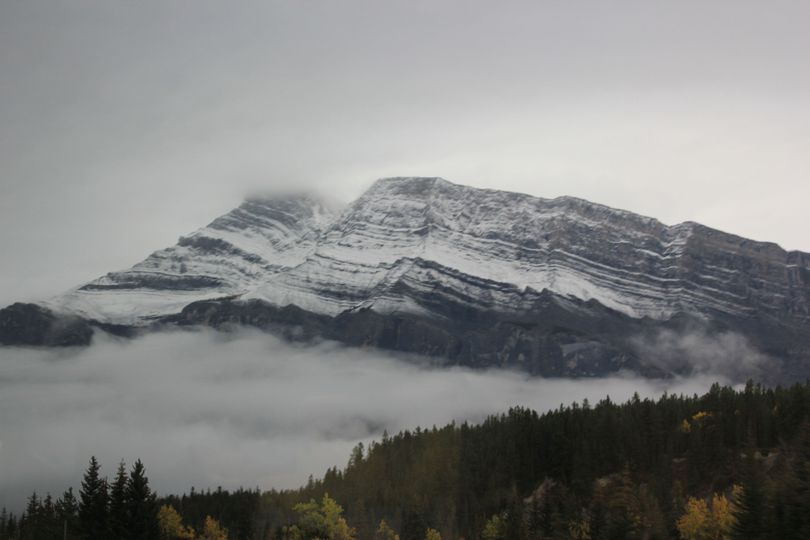 (Photo by Cheryl-Anne Millsap)
I had a few October days to myself so I spent them in the little town of Banff, in Alberta, Canada. While there, it was impossible not to catch the energy of autumn, flagged by the flashing gold of the aspen leaves as they trembled in the breeze and the way the grasses and shrubs closer to the ground spread out in a fan of color, a wave of crimson and soft gold climbing up toward the jagged peaks of the Canadian Rockies. The sky was a dome of brilliant blue and the sun warmed me. It was the kind of perfect fall weather we cling to because we know, especially those of us who live in the Northwest, winter is only waiting for a chance to slip in.

I strolled through the town. I rode the gondola up and walked along the top of one of those mountains, looking down on the fairytale town below; a picturesque valley complete with a winding river and a castle--the historic Banff Springs Hotel--whose towers and steep sloping roof dominate the landscape. I walked along the Bow River and watched the water tumble over the falls. I bought a cup of hot chocolate and wrapped my fingers around it, letting the steam rise onto my face as I took each sip. I marked the end of summer and the short, sweet, season that brings us the prettiest weeks of the year.

But the day I was to fly back home, I awoke to a world that was painted in shades of gray, wrapped in thick white clouds that hung low and heavy obscuring the mountains and settling down onto the valley. A soft-focus, black-and-white view of the places I'd been a few just a few hours before.

Riding down the highway toward the airport in Calgary, I sat with my chin in my hand, gazing out the window. As the world slipped by something in the air shifted and, as if in salute, the layer of clouds parted, the way a curtain is pulled back on a stage and the change of scenery is introduced. I could see the first snowfall of the season had dusted the tops of the mountains.
After a few moments, the sky closed around the mountains again and the wreath of clouds settled again. But, having seen the sign, I pulled my sweater tighter around me and sat back in my seat.
It won't be long now. Autumn is fading fast and winter is already waiting impatiently for its turn.


Cheryl-Anne Millsap writes for The Spokesman-Review and is a contributing the editor at Spokane Metro Magazine. Her essays can be heard on Spokane Public Radio and on public radio stations across the country. She is the author of "Home Planet: A Life in Four Seasons" and can be reached at catmillsap@gmail.com

---
---