Mon., Aug. 13, 2012
Traveling Mothers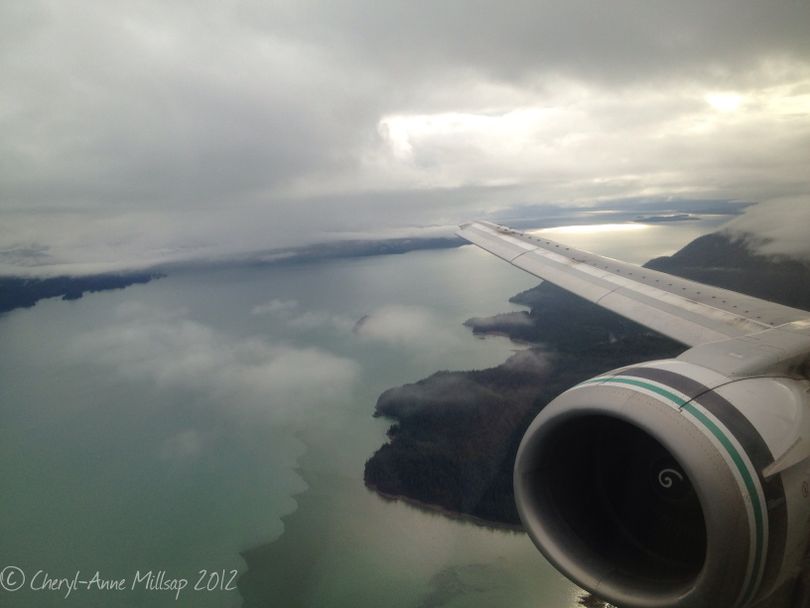 (Photo by Cheryl-Anne Millsap)
My son has been on a boat out on the Pacific for weeks now and every so often a few lines arrive by email.
"This has been a great trip," he writes "The hurricane turned so the seas are not so rough now," he writes. "Work is going well," he writes. "Saw some whales today," he writes.

I see one word: Hurricane!

I'd just settled into my usual routine of vague worry and superstitious bargaining with fate when, and, as usual, it was the last thing I expected, my daughter--the brand new geologist--was assigned to a job on a boat off the coast of Greenland. (Wait, isn't Greenland melting?)

Already living 200 miles away from me, with less than a day to prepare, she packed and flew away without my being able to see her face or hold her close. Now I'm left to wonder how two little land-locked children could grow up to sail so far away. At the same time.

My friends point out I shouldn't be surprised. Don't I fly over oceans every chance I get? Why would I expect any less of my children, especially these two adventurers? Stop worrying so much, they tell me.

Of course, I have an answer ready. I'm not green. I'm not confident like my son. If anything, I'm overly cautious and too careful. I'm not young and beautiful and vulnerable like my daughter. I'm just another middle-aged woman on a train or in an airport, hugging her purse and keeping one eye on her luggage.

But, truth be told, I finally had to admit to myself that what's bothering me as much as worry, is guilt. I'm consumed with guilt. I can't shake the feeling I'm not holding up my end of the bargain. I'd already booked a work-related trip to Alaska before I knew my children were going to be traveling; not that it even occurred to me to ask. And now, thanks to me, we'll all be scattered across the globe. How will they reach me if they need me?

Children are meant to fly, some tiny voice inside me whispers, mothers are not. It's our job to be home base, the place our children come back to. If I am not here, what will become of us? What kind of home base goes to Alaska where cell phones and computers don't work? The swallows only return to Capistrano because it's there waiting for them.

Before my children came along, even after I was married, I came and went as I pleased. I bought plane tickets and train tickets at the drop of a hat. But after the babies, when the occasional chance to travel solo came along, I usually let the opportunity pass.

Occasionally, when I would mention some place I'd been or adventure I'd had before they were born, they would look at me, confused, trying to imagine me anywhere else.
"Well, Mommy wasn't always Mommy," I would tell them, laughing at their confusion. "I used to be another girl."

But if I'm honest, what held me back was that I couldn't bear the idea of leaving them. Overwhelmed with love and responsibility, I wasn't just afraid of something happening to my children. I was terrified something would happen to me. How would they survive without me? Who else knew them so completely? If something happened to me and they asked their father or grandparents ( or their new mother!) for a Sadie Sally story, no one would know the world I'd created for them in my head. No one would know that Johnny was the little boy who kept a dragon named Jimbo or that Sadie was the sister who always discovered magic dust in her pocket just when it was most needed or that a road divided the enchanted forest and one side was a wonderful, magical, place but the other was dark and frightening and no matter how hard they tried something always lured Sadie, Sally and Johnny into that dark place where they had to rely on their wits and the dragon and a little magic to escape. Who else could tell Sadie Sally stories? Nobody but me.

Only I knew who preferred her milk warmed. Who was afraid of the dark. Who liked to talk about dreams first thing in the morning. Who needed an extra kiss and glass of water before bed. I knew them on a cellular level. After all, each had peeled away from me, physically dividing us at birth. We were, at least in the beginning, two parts of one.

Imagining the possibility of not being there for my children unhinged me. Just thinking about it, I whimpered and paced like an animal separated from her young. I didn't put my traveling shoes back on until the three oldest were out of the house and on their own and the youngest showed an independent streak I wanted to encourage.

I thought I'd left all that worry and guilt behind me, but again they've exposed me for who I really am.

Mommy is always Mommy.


Cheryl-Anne Millsap is a freelance writer based in Spokane, Washington. In addition to her Spokesman-Review Home Planet and Treasure Hunting columns and blogs and her CAMera: Travel and Photo blog, her essays can be heard on Spokane Public Radio and on public radio stations across the country. She is the author of "Home Planet: A Life in Four Seasons" and can be reached at catmillsap@gmail.com

---
---