Mon., Dec. 17, 2012
Travel: The Beauty of Christmas in Germany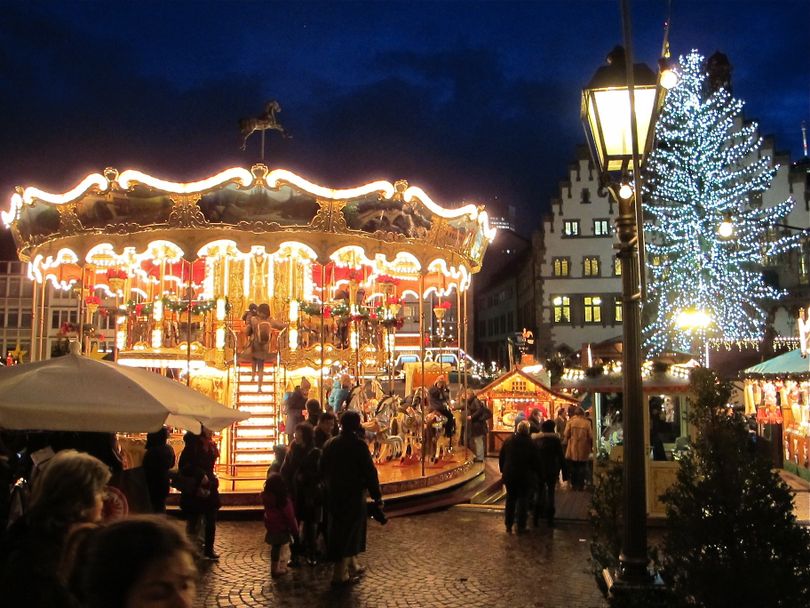 (Photo by R. B. Millsap)
One night, on my first trip to Germany during the month of December, hungry and still a little jetlagged from the flight, I walked into a tiny restaurant in a residential district near the center of Munich. I opened the door and then, dazzled by what I saw, stopped to take it all in.

A forest of dozens of small, elaborately decorated Christmas trees were hanging upside down from the ceiling of the room. I'd never seen anything like it before. Beautifully-wrapped packages of all sizes were stacked on windowsills, strung like ornaments on garlands of ribbon and greenery, and piled into corners. Evergreen boughs, woven with tiny white lights that glowed in the fresh snowfall outdoors and were reflected in the mirror over the bar, trimmed every door and window.

The intimate neighborhood eatery was filled with locals enjoying a big plate of schnitzel or wurst and crowded with friends who'd stopped by for an after-work drink. I felt as though I'd walked into a scene from an ornate Victorian picture-book, but I quickly realized the over-the-top decor was no show for tourists. It was just a perfectly fine example of the way Germany dresses up for the holiday season.

Anyone who has ever spent time at one of Germany's Advent or Christkindlmarkts can relate. It's the same kind of over-the-top feeling. Strolling down the rows of wood huts, most strung with white lights and wrapped in garland and decorations, it's easy to feel you've stepped back in time.

Most markets are held in the traditional market square or city center. Surrounded by beautiful architecture, the air is filled with the sweet and spicy scents of sausages, pastries, potato pancakes and warm candied almonds and other nuts. Shoppers crowd around booths buying gifts of handmade wood toys, knitted items, ornamental gingerbread and hand-carved wood figures for the family creche. And the Glühwein stands are the most popular by far, with friends gathering to enjoy a mug of the hot, spiced and fortified wine that is so much a part of Germany's holiday season.

Each market has a distinctive feel. The walled city of Nuremberg is famous for its red and white striped market canopies. The Munich "manger" market is where families come each year to select hand-carved pieces for the creche displayed every Christmas season. And the sprawling, busy, Frankfurt market stretches from the old city center to the river, highlighting both the history and contemporary culture of the vibrant city. The beautiful market in Cologne is consistantly voted one of the most popular.

If you have the time and want to explore Germany at a more leisurely pace, consider booking a Rhine River cruise. With frequent stops at villages between Frankfurt, Germany and Basel, Switzerland, a December river cruise down the Rhine River gives you a trouble-free way to enjoy the scenery as you cruise past ancient castles, beautiful and productive vineyards, old fortifications and picturesque villages. Each day brings a new opportunity to explore holiday markets in towns along the river, each with its own flavor and vibe, without the crush of peak-season tourists. Small-ship cruising combines the best of cruising--fine dining, comfortable staterooms and leisurely travel--but most river cruise ships carry fewer than 200 passengers so one never feels lost in the crowd.

No place is as beautiful as Germany this time of year. Every year when I hang the wreaths and decorate the tree I think back to that small but beautifully and exhuberantly decorated restaurant on a quiet street in a very busy city. And I'm always inspired to do just a bit more.



Cheryl-Anne Millsap is a travel writer based in Spokane, Washington, whose audio essays can be heard on Spokane Public Radio and on public radio stations across the country. She is the author of Home Planet: A Life in Four Seasons and can be reached at catmillsap@gmail.com



---
---