Sun., Sept. 2, 2012
The urge to fly and the need to nest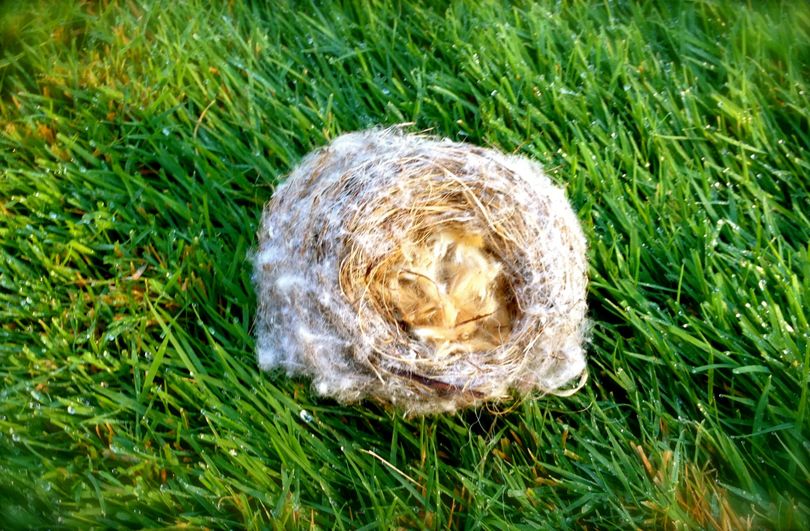 (Photo by Cheryl-Anne Millsap)
The wind had picked a bit up the night before, sweeping through the tall pine trees, taking with it loose branches and needles, dropping them to the grass below.

I noticed something else in the litter on the lawn and as I got closer I could see it was a small bird's nest, still intact after its long fall. I picked it up and studied the way it was made. I have never seen a nest that isn't, in some way, beautiful. A marvel, really. But this one was exceptionally so.

Made almost entirely of long strands of dried grass woven around what appeared to be wool or even dryer lint, the inside was lined with a soft, golden, feathery material. At first I thought it might be the bird's own feathers but then I realized it was a layer of shredded cattail blooms, the tall plant that grows in ponds and marshes and bends and dances in the breeze. The compact bloom had been pulled apart and separated into downy fibers.

I held the nest for a long time, thinking about what an engineering and artistic accomplishment it was. And to what lengths the birds had gone to to create it.

Grass and lint are all around us. That could have come from any house nearby. But the cattail had to have come from the park down the hill, several blocks away. It would have been no small feat to bring home, bit by bit, enough of the fibers to fill even such a petite shelter. What compelled her to use that particular plant? Surely there must have been some easier way.

I carried the nest home and set it on the mantel in my living room. For days, every time I walked by, I would stop for a closer look. One afternoon I sat down on the sofa--a piece with a new slipcover, sewn by a friend who does beautiful work. I searched and searched for just the right fabric before settling on the natural cotton and now every time I look at the sofa, it pleases me.

Still cradling the fragile thing in my hand, still puzzling over the curiosity of it, I reached behind me to adjust the cushion at my back and felt the fine weave of the soft linen pillow cover under my fingertips. Immediately, I remembered the day I'd purchased it in a small shop in Estonia. I'd spent an hour pulling out cover after cover until I found a pair that were exactly right.

I glanced at the curtains hanging at the window and recalled discovering them in a second-hand store in Reyjkavik. I hadn't given a thought to how I would get the four panels home, I just had to have them. The eight yards of material had stretched my already-full luggage to its limits and when I got to the airport I was told it was overweight. The gate agent listened as I told him how I'd found the curtains. How they were old and soft and the color was perfect and that I would never again find such beautiful fabric. Still looking at me, without saying a word, he tagged my heavy bag and sent it away without charging me the extra fee.

I turned to look at the small Native American rug behind the glass doors of the secretary standing in the corner. I'd spotted it in a weaver's studio outside of Chimayo, New Mexico, picking it up and putting it down twice before committing. I tried to be practical, but I simply had to have it.

My own nest is filled with soft things from unlikely places. Things which, although I stumbled onto them at the time I was, in some sense, seeking. Who am I to question a bird's choice? After all, exposed to the elements, at the mercy of wind and rain and sly predators, she had fragile eggs to protect and tender fledgelings to care for. I have four sturdy walls and a roof over my head.

The delicate nest is still on the mantel. I think I will keep it there as a reminder that the real difference in a shelter and a home is what surrounds us when we are there.


Cheryl-Anne Millsap can be reached at catmillsap@gmail.com

---
---