Mon., July 22, 2013
Travel: Holland America takes you Dancing With The Stars at Sea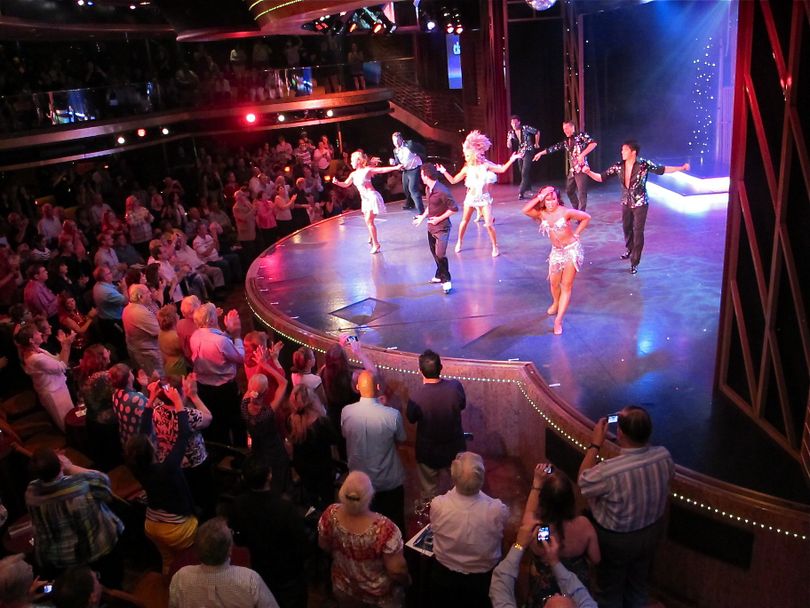 I think most of us harbor a secret belief that at the right time, with the right partner, in the right place, with the right music, in the right costume and with a few good lessons, we could Tango like a pro.

That's the appeal of shows like Dancing with the Stars. He did it. She did it. If they can make it, we could make it. We just need a chance.

This year, with its Dancing with the Stars at Sea theme cruises, Holland America Line is giving dance-loving passengers that chance. During select cruises, passengers get more than just a cruise. DWTS fans can take lessons from the ship's professional dancers, watch the show's celebrities perform, have a photo made with their favorites dancers during special events, participate in a Q&A session with the celebrities and even compete for a chance to perform onstage at the grand finale.

To participate in the ship's Dancing With the Stars At Sea competition, passengers attend free onboard dance classes where they learn steps taught by the ship's dancers. At the end of each class, participants perform the routines they learned and are scored by the three judges. The winners are paired with a professional and go on to the final performance on the last night of the cruise. At the finale, each of the winning dance class contestants perform with their partner for the DWTS celebrity judges. The judges offer comments and score the performance and a cruise champion is declared.

At the end of the season, judges will select a winner from each of the eligible Dancing with the Stars at Sea cruises. The 15 winners will get a free cruise and a chance to compete at the final competition for the DWTS at Sea trophy. Not bad.

In June, my husband and I took a Dancing with the Stars at Sea cruise from Quebec City to Boston on the ms Veendam. Joey Fatone, Mark Ballas, Shawn Johnson and Chelsie Hightower were the stars on board.

At each performance, the theater was packed. At the special passenger Q&A session with the DWTS celebrities it was fascinating to listen to the comments and questions. These were people who didn't just watch Dancing with the Stars, they were involved. They'd followed every season and had more than a few things to say about the dancers, their costumes, specific personalities and some of the judges' decisions. They'd booked the cruise specifically because the dancers were there and they were thrilled to get a chance to ask interact. Some, like a man sitting in front of me, just wanted to make a statement.
"I don't have a question. I just wanted to say Dancing with the Stars is the one thing my wife and I watch together," he said. "And I get 'points' for watching it!" The crowd laughed but I noticed other men nodding their heads.

As always, there was good food, a luxurious spa, onboard movies, plenty of time to do absolutely nothing and interesting ports to explore along the way--all the things that make cruising a wonderful way to rest and relax as you travel. The DWTS theme just added to the fun.

We all came away with great photos and wonderful memories but some got even more than that. They got a chance to step into the spotlight and dance like a star.

For more information about Holland America "Dancing with the Stars at Sea" cruises go to www.hollandamerica.com

Cheryl-Anne Millsap is a travel writer whose audio essays can be heard on Spokane Public Radio and on public radio stations across the country. She is the author of 'Home Planet: A Life in Four Seasons' and can be reached at catmillsap@gmail.com


---
---