Sun., Nov. 10, 2013
Travel: Normandy American Cemetery at Omaha Beach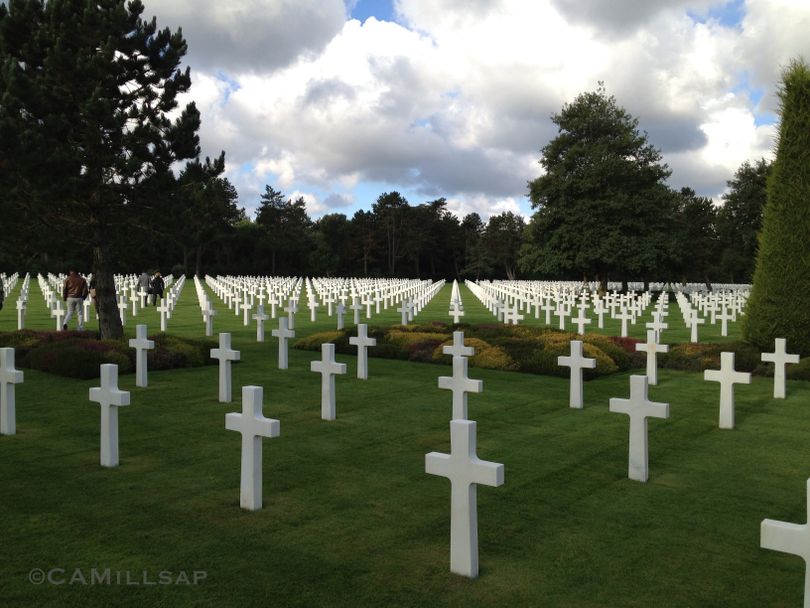 We walked through the gates of the Normandy American Cemetery overlooking Omaha Beach just as the staff raised the twin American Flags that fly on the tall poles at the edge of green lawn dotted with rows of white marble crosses stretching as far as the eye can see. It was still early but I was surprised by the number of people that were already there. Some had come to find a particular name, others to pay their respects to lives lost, each to mark a dark moment in the modern world's history.
At the visitor's center I sat down on a bench to watch a film with short biographies of some of those killed during the Battle of Normandy. A man who looked to be in his 80s, or even older, was seated on the bench beside me.
Absorbed by the film, by the stories of the lives of ordinary people cut short by a brutal war, I'd forgotten I wasn't alone until I heard a sound from the man seated next to me. It was the soft shuddering sound of a breath that could have become a sob. An involuntary cry that had been quickly covered. Surprised, I glanced over at him and then quickly looked away. He didn't move, his eyes remained locked on the screen, and he did not make another sound. The movie ended and I saw him reach up to wipe his hand across his eyes.
We both stood to move on. He rose slowly, stiffly, leaning on a cane as he walked from the room, I stayed behind to gather my thoughts. I have no idea if the man was a veteran of the Normandy landings. I suppose it's possible. We lose so many WWII veterans each day but a few are still healthy enough to make the pilgrimage to Normandy.
The man could have been a boy at the time, just old enough to enlist, and one of the thousands who waded into hell that day. Or he might have lost someone, a father, a brother, an uncle or cousin, and watching the movie brought back the pain of the loss. I'll never know. But the man beside me in the darkened room, a man who caught his breath on a sob, reminded me that battles may end but pain comes and goes as it pleases. And time means nothing when the right trigger is pulled.
War seems to be a more casual thing these days. Looking around me at airports, at the grocery store, at the mall, I see men and women in uniform every day. We're quick to thank them for service and then move on. I know of some who served and returned to pick up their lives and go on and others who came home to find they no longer fit as comfortably into the lives they'd shed. Too many never make it home at all.
Tomorrow is Veterans Day and I can't shake the image of more than 9,000 stark white crosses on a hillside overlooking the sea.
I keep hearing the sound of an old man trying not to cry.
Cheryl-Anne Millsap is a travel writer whose audio essays can be heard on Spokane Public Radio and on public radio stations across the country. She is the author of 'Home Planet: A Life in Four Seasons' and can be reached at catmillsap@gmail.com
---
---