Fri., July 18, 2014
Travel: Alaska cruise brings a tale of a whale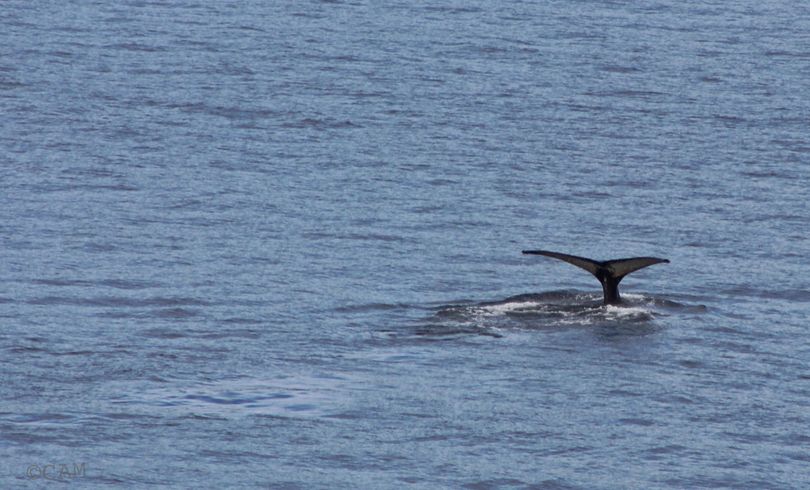 I was standing in an alcove on an upper deck about to step out onto the deck of the Carnival cruise ship, the Miracle, when the doors opened and a family blew in.
A man and this three sons, each holding an ice-cream cone, lunged forward like the wind had reached out and given them each a shove. The youngest--maybe four years old, definitely no more than 5--was so full of big news he didn't care that he didn't know me.
He ran up to me and said, "We saw the tail of a whale!"
I was impressed. We'd left Seattle the afternoon before and it was just the first morning of our Alaska cruise.
"Is this true?" I asked his father. "Or is this just a whale of a tale?"
The man laughed and said it was true. They'd been walking along the deck when the whale popped up and showed his fluke, his whale tail, before disappearing back into the sea.
The little boy couldn't contain himself.
"The whale breathed up (his arms shot up in the air and the ice-cream wobbled on its cone) "and then he dived down like this" (he scooped his free hand up and then down) "and then his tail came up!"
As an afterthought he added, "Daddy let us have ice cream for breakfast.
Wow. A wave from a whale and an ice cream cone for breakfast. The little boy had just described my perfect day.
I asked the man if this was their first Alaska cruise and he said it was. He said they live in Texas and they'd come to see Alaska. And whales. They really wanted to see whales and here, just a day into the trip, they'd already had their own private show.
Several years ago, after my first cruise up the Inside Passage, I decided I want to make the trip every summer. For the rest of my life, if I can swing it. No two Alaska cruises are ever the same. People from around the world plan and save for years and travel a lot of miles to get there. But living in the Northwest, we're already halfway there. It's easy to get on a ship in Seattle or Vancouver, British Columbia, to spend a week looking at some of the most spectacular scenery in the world.
I'm working on my Alaska-every-summer plan. This year I was solo but in the company of people of all ages: men, women and children--(lots of children) and large family groups, all ready to go see the sights. And we were off to a good start.
The boy's happiness was contagious. I looked at my watch. It was still early, they'd be serving breakfast for another couple of hours... I filled a cone with vanilla ice cream and stepped out onto the deck. The wind whipped my hair as I licked the cone and swept my eyes across the horizon.
I'd already decided it wasn't going to take much to turn this into a perfect day. I had my ice cream cone. Now all I needed was a glimpse of the tail of a whale.
And like the little boy, I didn't have to wait long at all.
Cheryl-Anne Millsap's audio essays can be heard on Spokane Public Radio and on public radio stations across the U.S. She is the author of "Home Planet: A Life in Four Seasons" and can be reached at catmillsap@gmail.com
---
---