Tue., Sept. 2, 2014
Travel: History Lives at Belgium's Menin Gate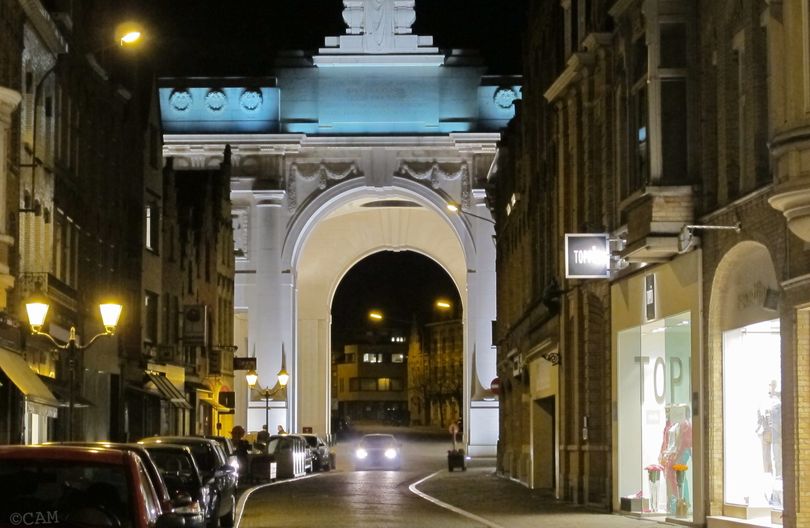 When my plane landed in Brussels in the spring of 2012, I was stupid and dazed from lack of sleep. I'd slept only a few hours in the last couple of days, having worked late into the night on Thursday and then pulled an all-nighter on Friday to get everything written and filed before my 6 a.m. departure Saturday morning.
Most people would have buckled up their seat belts and caught up on lost sleep during the long flights, but I have some kind of airplane insomnia. I find it almost impossible to stay asleep on a plane. It didn't help that we flew over so much unsettled weather (tornadoes across the Midwest) that the flight was too bumpy to rest easy. I was still too keyed up to much more that doze on the international flight, waking at every movement of the passengers around me.
A couple of hours after I landed in Belgium on Sunday I took the train to the city of Ieper. I didn't dare sleep on the train because I was afraid I would not wake up at my stop, so by the time I stepped off at the Ieper station, I was barely functioning. There were no taxis available so I studied the city map and then pulled my rolling suitcase behind me, bumping over cobblestones, as I made my way to the hotel. I slumped over a bowl of soup while I waited for my room to be ready and when I finally unlocked the door, I was finished.
I usually power through the first day in Europe to better adjust to the time change. This time I closed the door, stripped off the clothes I'd been wearing for more than 24-hours, crossed to the bed and collapsed. I didn't wake up for 6 hours, and when I did, I was famished. Unfortunately, by that time most of the shops and cafes were closed.
As I walked up and down the narrow streets near the marketplace looking for a bodega or bistro with late hours, I thought about what drives us to go and see and explore, about what compels us to endure crowded, bumpy flights, grating security annoyances and the harsh physical effects of long-distance travel. But when I turned a corner and caught sight of the Menin Gate I realized, again, that the answer, as is so often the case, was right in front of me.
The Menin Gate is a massive monument to the more than 90,000 British and Commonwealth soldiers who fought in the Great War (World War 1) but whose remains were never found. It sits on the edge of the city center and marks the route to the Belgian Western Front. Still, a century later, buglers from the local fire brigade mark the "last post" in a short but moving ceremony each night. A ceremony only interrupted by the Second World War.
The gate is striking in its simplicity and its size. At night, illuminated by spotlights, especially if it is your first glimpse, the gate is an arresting sight.
I was in Ieper because as the site of unimaginable devastation during the First World War, it is the epicenter of a period of history that illustrates, heartbreakingly so, the flawed and all-too-human story of our human history. It was something I needed to see.
Over the years I've had the same experience in so many other places around the world. Travel is exhausting. It eats at our resources and frequently requires us to step off the edge of our comfortable lives. And in that way travel changes us, sculpts us, enriches us in incomparable measures.
I guess the truth is we go because there is so much to see. And we don't want to leave this world without having experienced as much of it as we possibly can. We go because there is nothing as powerful as standing in a place you've only read about before and opening your mind and heart to the lessons of history and time.
Cheryl-Anne Millsap's audio essays can be heard on Spokane Public Radio and on public radio stations across the U.S. She is the author of "Home Planet: A Life in Four Seasons" and can be reached at catmillsap@gmail.com
---
---