Sun., Sept. 28, 2014
Travel: Halloween on the High Seas with Disney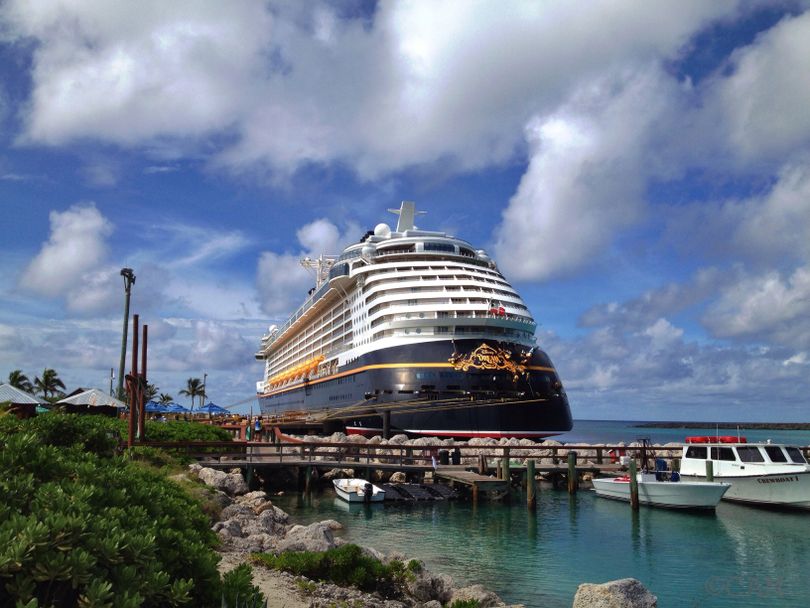 It's that time of year again! For more information about Disney Cruise Line's 'Halloween on the High Seas' cruises go to disneycruise.com or check out this video
We spent an October weekend at Walt Disney World several years ago, and every year around this time I wish we were back. Fall is a great time to visit Disney World or Disneyland, and it's especially fun if you are in the park after-hours for Mickey's Not-so-scary Halloween celebration.
So the introduction of Disney Cruise Line's Halloween on the High Seas was too good to resist and we booked a 3-day cruise over a late-September weekend.
I love nothing better than being on a big ship. It's the best way to sail away from the stresses of work and everyday life. It's also the perfect way to enjoy time with the family.
After summer has come and gone, fall is a great time to travel. But finding a good time to get away, especially if you want to gather up far-flung family members for a mini-reunion, can be complicated. Thanksgiving is the busiest travel weekend of the year but flights are expensive and oversold and airports are jammed. The weather can also be a bit tricky. The weeks before and after the Christmas holiday season are filled with parties, recitals, final exams. Airfare and room rates are back up to peak.
Disney Cruise Line's Halloween on the High Seas is perfect.
The 3-day itinerary--sailing out on Thursday and returning on Sunday--was ideal for us. Just enough time away without interfering too much in work and school demands.
We met our 19-year-old daughter, a college sophomore who flew in from her campus, in the terminal at Port Canaveral and checked in together. We settled into our balcony stateroom on the Disney Dream and from that point on it was everyone for themselves. (My first act may have been to check on the location and selection of the soft-serve ice-cream machine.)
During the cruise the 19-year-old caught up on her rest and shut out all thoughts of college classes and upcoming exams. My husband and I turned off our phones, got lost in books and soaked up the sunshine knowing the gray Northwest winter is only weeks away. We met each evening for dinner and the evening's entertainment.
We all had a great time watching tiny princesses in gauzy dresses and tiaras line up to meet their idols, and little boys in pirate gear chase one another around the deck, but what many people still don't realize is that just because it's a Disney cruise doesn't mean it's all about the kids.
Sure there are plenty of ways to amuse any member of the family, with separate hangouts for babies to teens, but thanks to Disney's attention to detail and famed customer service, there is no better way for adults to cruise. With adults-only decks, restaurants, lounges and events, it's possible to spend a romantic week at sea on the world's happiest ship.
Stateroom re-imagineered
I wish every cruise line would adopt Disney's stateroom design philosophy. Their separate shower and toilet compartments are the most practical for families. There is a lavatory in each compartment so while Dad's in the shower the kids can brush their teeth or Mom can put on her makeup. With foldout bunks, more storage than you could possibly use and a small refrigerator, the staterooms make it easy to spend time together without getting on one another's nerves.
Food and Wine
"Hello, I am Corinne from France. I will be your server tonight."
Our server's elegant accent and knowledge of wine and cuisine only added to our date-night in Palo, one of the Disney Dream's two premium dining options. We watched the sun set while sipping excellent wine and the meal was outstanding. From the antipasti platter prepared by our server to the grand finish, a chocolate soufflé that will live on in my dreams, Palo equaled any fine dining experience on shore.
An Island in the Sun
Disney always does it right. The three-night itinerary put us on Castaway Cay, Disney's private island, on Saturday and a fine time was had by all.
Clean, uncrowded and stocked with plenty of ways to enjoy the day, Castaway Cay is reason enough to take a Disney cruise any time of year. From biking island trails to the water slide to snorkeling, there's plenty to do. We opted for the adults-only beach for a quiet day reading and relaxing in the sun. The teenager spent hours snorkeling around the shore observing underwater creatures and spotting shells.
Pumpkin pleasures
Halloween on the High Seas offered plenty of seasonal entertainment options. We put on our pirate gear and joined Mickey's Mousequerade Party and watched spooky movies in the Buena Vista theater.
There are adults-only options, of course, including costume parties and a "Creepy Cabaret."
---
---