Fri., April 10, 2009
Too Early To Judge Joey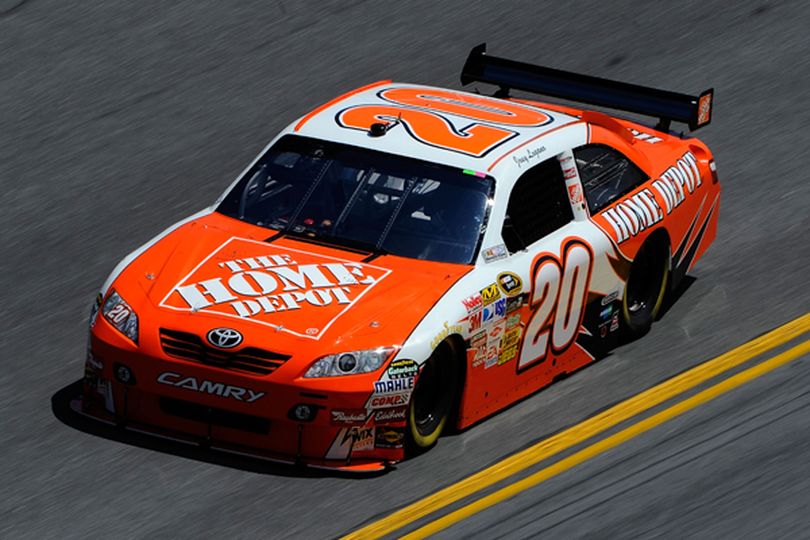 It seems that following in the footsteps of greatness, in this case two-time NASCAR champion, Tony Stewart, or any other well-known driver is a tough job. Imagine for a moment being youngster Joey Logano who is closer to falling out of the top-35 guranteed starting positions than winning titles at this point in his career. Motorsports columnist Cathy Elliott gives us reasons to believe time may still be on young Joe's side.
Motorsports Column By Cathy Elliott
Courtesy: NASCAR

Once in a while, a random comment can serve as a humdinger of a reality check.
I heard Joey Logano, driver of the No. 20 Home Depot Toyota for Joe Gibbs Racing, doing a radio interview earlier in the week. One of the hosts of the show asked him what he was planning to do on one of the all-too-rare days off allotted to NASCAR Sprint Cup drivers over the course of the grueling, 36-event race season.
"I'm just going to be a kid," Logano said.
Well, that sounded a little bit odd. If you ask most of the guys on the circuit, they might say they hoped to take the boat out for an afternoon or two, maybe relax a couple of days and enjoy the feeling that only comes with having absolutely nothing to do, and some period of time in which not to do it.
They might spend some time going over the books of the various business endeavors they're involved in. Someone might even get married; you never know. But why in the world would anyone say his goal was to make every possible effort to act like a kid?
Oh. The light bulb just went off. Logano wants to act like a kid, because he is one.
Logano has been in the news lately more than he would have liked, for the wrong reasons. The driver who was given the nickname "Sliced Bread" (as in, the best thing since ...) is already feeling the hungry dogs of doubt nipping at his heels.
He's hanging on to a spot in the top 35 for dear life -- currently, he is in the 35th position in the driver standings -- and some naysayers are already showing signs of changing that "Sliced Bread" designation to "Toast." They haven't gone that far yet, but you can tell they're really, really tempted.
After a disappointing 38th-place finish at Texas Motor Speedway on April 5, various Internet "experts and insiders" declared that JGR was considering replacing Logano in the car.
Is it just me, or are we being a tad hasty -- one might even say immature -- with this rush to judgment? Joey Logano is 18 years old. I have sweatshirts that are older than that, and they're not even all that ratty.
It might not be such a bad idea to try and gain a little bit of adult perspective here.
Joey Logano was born in the year 1990. The number one movie at the box office that year was "Home Alone." Think about this, people. He's younger than Macaulay Culkin. A lot younger. Yikes.
The top pop song in 1990 was "Hold On," by Wilson Phillips. 1990 also happened to be the year that Milli Vanilli was stripped of their Grammy award after it was revealed that, well, they didn't actually sing. The Grammy folks are picky about that stuff.
Wilson Phillips' last Top 40 hit was "Give It Up" in 1992. Logano was probably learning to say things like "No!" and "Mine!" about that time.
The San Francisco 49ers were Super Bowl champions in 1990, and the Cincinnati Reds won the World Series. Dale Earnhardt was the Cup Series champion, with Mark Martin, Geoffrey Bodine, Bill Elliott, Morgan Shepherd, Rusty Wallace, Ricky Rudd, Alan Kulwicki, Ernie Irvan and Ken Schrader rounding out the top 10.
The number one TV show that year was "Cheers." Logano can vote, and could serve his country in the military, but he is years away from being able to belly up to the bar with Norm and Cliff to shoot the breeze with Sam Malone over a couple of beers.
Let's stop worrying about what Logano hasn't done (so far), and talk for a moment about what he has.
At the age of 7, Logano won his first Eastern Grand National championship in the junior stock car division. He followed it up with a junior Honda Division championship in 1998 and in early 1999 a late modified division championship.
At the age of 10, he set a record 14-race Legends car winning streak at Atlanta Motor Speedway. At age 12, he won the Southeast-based Pro Legends national championship.
In 2007, at age 16, Logano won five races, three poles, and had 10 top 5s and 10 top 10s on his way to the Camping World East Series championship.
Last year at Kentucky Speedway, in his third start, Logano made history by becoming the youngest driver ever to win a Nationwide Series race.
The bottom line here is that if you're going to hold up a yardstick, make sure you're using the proper standards of measurement when you're wielding it. I surely am glad nobody examined me under the microscope and potentially put my career on the line after just seven weeks on the job. That's kind of harsh, unless maybe you're a brain surgeon or something like that.
The comedian Paula Poundstone once said that adults are always asking kids what they want to be when the grow up because they're looking for ideas. I propose that we give this kid a break, because wouldn't you really love to be Joey Logano when you grow up?
I know I would.
---
---