Sat., April 11, 2009
A welcome return: Saldana wins at Lone Star Speedway in Texas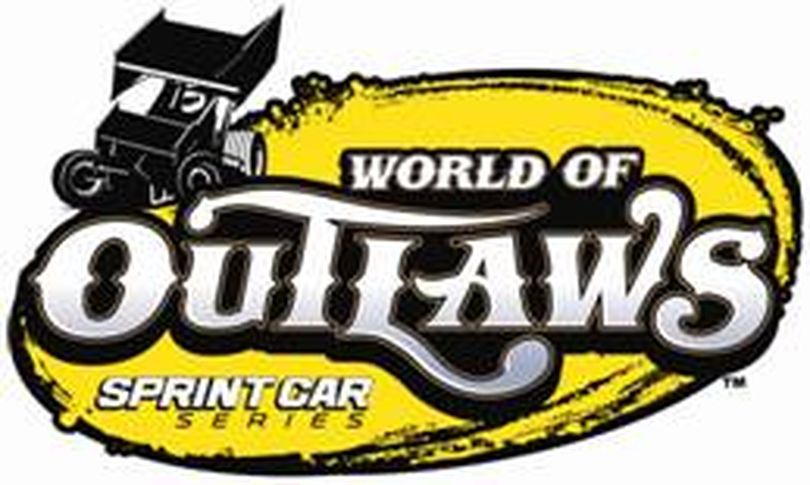 Joey Saldana picked up a birthday gift for himself last month by winning on the opening night of the Mini Gold Cup at Silver Dollar Speedway in California and he followed that up by scoring a victory at Lone Star Speedway in Texas for his car owner Kasey Kahne who celebrated his 29th birthday on Friday.
Saldana led all 30 laps in the World of Outlaws return to high-speed, high-banked half-mile oval in Kilgore to pick up the $10,000 top prize. It was his fourth A-Feature victory of the season, which is the most of any driver and it was also the 43rd of his World of Outlaws career, which puts him just three wins out of the Top-10 on the all-time series win list.

"This is awesome," said Saldana in Victory Lane. "That was a great effort by our team. We were strong in qualifying, the heat race, the dash and the feature. Last year we won five races and we struggled. We had a good car and just didn't finish races. This year at least we are finishing races. All of the hard work is paying off this year."

Saldana used strong starts on eight occasions aboard the Budweiser Maxim on Friday night, as caution flags plagued the 30-lap contest. The yellow flew three times before a single lap was in the books, leading to a complete restart each time. On all of those starts, Saldana who lined up on the outside of the front row found himself in the lead by the time the field entered turns one and two. He battled Jac Haudenschild on the initial two starts and then Wayne Johnson on the third one, after Haudenschild was penalized one row for a crew member working on the car during the fuel stop that followed the third caution prior to the first lap being completed.

"You never really know who is behind you and I knew that Haud (Jac Haudenschild) would be tough on the top," noted Saldana. "You just have to stay focused and hit your marks and try not to screw up. It was a good night for me."


The race on Friday night was the first for the World of Outlaws at Lone Star Speedway since 2004 and a huge crowd welcomed the series back to the blazing fast track, which is owned and operated by the family of World of Outlaws driver Sam Hafertepe Jr. Saldana now has three career wins in the state of Texas.

"I'm so happy to be racing in Texas, especially Kilgore," Saldana said. "This is a beautiful facility. I'm glad all the fans came out and supported this. We need to be back in this state racing. The Outlaws belong in Texas. Hopefully the fans will want to come back next year."

Donny Schatz, the three-time and defending World of Outlaws champion, had a couple of spirited battles throughout the 30-lap contest as he raced 20-time series champion Steve Kinser for a number of laps, as well as Jason Meyers. The trio was battling for the fifth spot for a large portion of the race until, Haudenschild and Johnson were involved in an accident on the 12th lap, while running second and third, which moved them all up a couple of spots on the restart. Schatz got around Kinser on the 23rd lap aboard the Armor All J&J to move into third and wound up second, after Jason Sides suffered a flat tire on the last lap while running second.

"It was a good night," said Schatz. "We knew we would draw that 10 (in the dash) sooner or later and tonight was the night. We hadn't been here in five years and it was a fun place to race. It was darn fast. We did our best to get up in there."


Kinser continued his consistent start to the 2009 season, picking up his ninth Top-10 finish in the first 10 races aboard the Quaker State Maxim. He battled Sides early in the race and also traded spots with Schatz and Meyers a couple of times. He began the night by winning the second heat race to earn a spot in the Crane Cams Dash.

"We were a little off in the feature," stated Kinser. "We'll go back at it tomorrow night. We were pretty consistent, but we still need to be a little bit quicker. We made some changes tonight and it didn't really seem to fit what I wanted to do. We'll just plugging away, that's all we can do."

Jason Meyers was fourth on Friday night in the GLR Investments KPC to earn his eighth Top-10 finish of the season.

Danny Lasoski was fifth aboard the Casey's General Stores Maxim, with Jason Sides holding on to finish sixth in the Wetherington Tractor Service Maxim after the last lap flat tire. Craig Dollansky recovered from an early flat tire to finish seventh aboard the Direct TV Maxim to earn the KSE Race Products Hard Charger Award, after starting 19th. Johnny Herrera was eighth, with Jason Johnson ninth and Kraig Kinser rounded out the Top-10 in the Bass Pro Shops Maxim.

The World of Outlaws wrap up their weekend in Texas on Saturday nights at Houston Raceway Park with the Texas Shootout.

LONE STAR SPEEDWAY NOTES

• FAST QUALIFIER: Donny Schatz paced the 24 cars that took time with an AMB i.t. timed lap around the high-banked 1/2-mile oval at 14.332 seconds at 125.593 mph. For his qualifying effort, Schatz earned five bonus points. The next four fastest qualifiers also earned bonus points, including: Craig Dollansky (4), Joey Saldana (3), Jac Haudenschild (2), and Lucas Wolfe (1).

• QUALIFYING WINNERS: Jason Meyers, Steve Kinser and Joey Saldana won heat races. Jac Haudenschild won the Crane Cams Dash.

• FEATURE WINNERS: There has been 10 World of Outlaws Sprint Car Series A-Feature event held in 2009. The winners include: Joey Saldana (Volusia Speedway Park, Silver Dollar Speedway, Thunderbowl Raceway and Lone Star Speedway), Donny Schatz (Volusia Speedway Park-twice and The Dirt Track at Las Vegas Motor Speedway), Randy Hannagan (Thunderbowl Raceway), Chad Kemenah (Manzanita Speedway) and Jason Meyers (Silver Dollar Speedway).

• 1/2-MILE WINNERS: Lone Star Speedway is a high-banked half-mile oval. The World of Outlaws Sprint Car Series has raced six times this season on a track that size. The winners include: Donny Schatz (Volusia Speedway Park-twice and The Dirt Track at Las Vegas Motor Speedway), Joey Saldana (Volusia Speedway Park and Lone Star Speedway) and  Chad Kemenah (Manzanita Speedway).
Heat 1 (8 Laps, top 6 finishers transferred to A-feature)
1) 14-Jason Meyers
2) 14AJ-Wayne Johnson
3) 15-Donny Schatz
4) 6-Danny Lasoski
5) 41-Jason Johnson
6) 45X-Johnny Herrera
7) 9X-Gary Wright
8) 12-Lynton Jeffrey

Heat 2 (8 Laps, top 6 finishers transferred to A-feature)
1) 11-Steve Kinser
2) 7S-Jason Sides
3) 15H-Sam Hafertepe Jr.
4) R19-Jac Haudenschild
5) 29-Travis Rilat
6) 55-Kerry Madsen
7) 51-Wes Miller
8) 19-Craig Dollansky

Heat 3 (8 Laps, top 6 finishers transferred to A-feature)
1) 9-Joey Saldana
2) 20-Kraig Kinser
3) 24-Terry McCarl
4) 22-Brian Ellenberger
5) 10-Sammy Swindell
6) 18-Tony Bruce Jr.
7) 5W-Lucas Wolfe
8) 4X-Toni Lutar
9) 96-Bronson Maeschen

Crane Cams Dash (6 laps, finishing order determined first 10 starting positions ofA-feature)
1) R19-Jac Haudenschild
2) 9-Joey Saldana
3) 14AJ-Wayne Johnson
4) 7S-Jason Sides
5) 11-Steve Kinser
6) 15-Donny Schatz
7) 6-Danny Lasoski
8) 20-Kraig Kinser
9) 14-Jason Meyers
10) 15H-Sam Hafertepe Jr.

A-main (30 laps) - Starting Position [#]
1) 9-Joey Saldana[2] [$10,000]
2) 15-Donny Schatz[6] [$5,500]
3) 11-Steve Kinser[5] [$3,200]
4) 14-Jason Meyers[9] [$2,800]
5) 6-Danny Lasoski[7] [$2,500]
6) 7S-Jason Sides[4] [$2,300]
7) 19-Craig Dollansky[19] [$2,200]
8) 45X-Johnny Herrera[12] [$2,100]
9) 41-Jason Johnson[15] [$2,050]
10) 20-Kraig Kinser[8] [$2,000]
11) 18-Tony Bruce Jr.[16] [$1,500]
12) 10-Sammy Swindell[18] [$1,200]
13) 15H-Sam Hafertepe Jr.[10] [$1,100]
14) 55-Kerry Madsen[13] [$1,050]
15) 4X-Toni Lutar[25] [$1,000]
16) 96-Bronson Maeschen[22] [$900]
17) 29-Travis Rilat[17] [$800]
18) 24-Terry McCarl[11] [$800]
19) 5W-Lucas Wolfe[20] [$800]
20) R19-Jac Haudenschild[1] [$800]
21) 14AJ-Wayne Johnson[3] [$800]
22) 22-Brian Ellenberger[14] [$800]
23) 51-Wes Miller[24] [$800]
24) 9X-Gary Wright[21] [$800]
25) 12-Lynton Jeffrey[23] [$800]


Lap Leaders: Joey Saldana 1-30
SuperClean Start of the Night Award: Jason Sides
Penske Power Position Award: Steve Kinser
KSE Hard Charger Award: Craig Dollansky
Courtesy: World of Outlaws Public Relations
---
---