Sun., April 12, 2009
Texas Two-Step: Saldana Wins Texas Shootout at Houston Raceway Park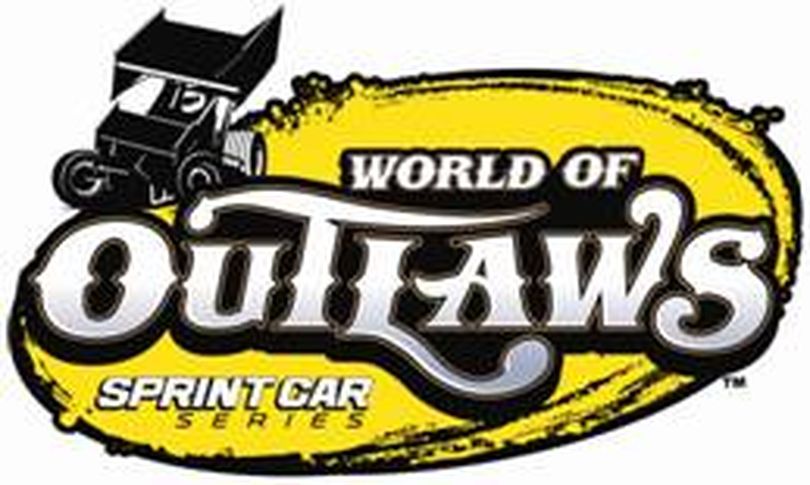 Saldana sweeps Texas stops on the World of Outlaw Sprint Car Series. Brings car owner Kasey Kahne victories in back-to-back events as the series heads to Kentucky.
Texas Two-Step: Saldana Wins Texas Shootout at Houston Raceway Park

Baytown, TX— April 11, 2009—It had been a couple of years since Joey Saldana had raced in Texas prior to this weekend, but he quickly remembered how much he enjoys racing in the state after winning on Friday night in the World of Outlaws Sprint Car Series return to Lone Star Speedway in Kilgore and he backed that up with a victory to cap off the weekend in the Texas Shootout at Houston Raceway Park on Saturday night. It was his first win at the track located in Baytown in his 14th start at the facility.

"It was a great weekend in Texas for sure," said Saldana. "I can't wait to come back here again and the fans saw a good show tonight. I can't thank Budweiser and Kasey enough for what they do. I'm very proud of this entire team right now. All of the hard work is really paying off."

The $10,000 triumph at the high-banked 1⁄4-mile was Saldana's series leading fifth aboard the Budweiser Maxim to start the 2009 season. He also moved to within just four points of 20-time series champion Steve Kinser, who is second in the series championship standings as they chase three-time and defending series champion Donny Schatz. Saldana now has 44 career World of Outlaws A-Feature wins and is just two shy of Bobby Davis Jr., who is 10th on the all-time win list.

The race began on Saturday night with a quick caution that led to a complete restart that saw Jac Haudenschild lead the field into turns one and two, with Johnny Herrera coming all the way from fourth to sweep past Steve Kinser, Joey Saldana and Haudenschild who had started on the pole. Saldana started fourth and moved to third on the opening lap. He moved into second the following lap and took the lead on the third circuit, using the high side of turns three and four to power his way past Herrera.

Saldana quickly began to pull away as the battled for second raged as first it was Kinser tracking down Herrera and then Haudenschild. For most of the race, the second spot provided the best battle on the track, with eight different drivers trading the runner-up spot over the course of the 40-lap event using every inch of the racing surface. In open race track, Saldana had a couple of very sizeable advantages, though in lapped traffic the other frontrunners were able to close the gap.

"We were chasing our car all night and the crew: Willie (Kahne) Kolten (Gouse) and Kale (Kahne) worked hard all night," shared the winner. "Kale changed a lot of torsion bars and we got a lot better feeling car toward the feature. I didn't know where to go. I didn't know if I should go to the bottom or the top."

With just two laps to go, Craig Dollansky passed his teammate Saldana in turn two in lapped traffic, but Saldana was able to retake the lead on the back straightaway as Dollansky was bottled up a little bit by a lapped car and also was nursing a left rear tire that had a puncture in it.  Saldana powered his way back in front and was able to extend that margin at the checkered flag, as Dollansky had his hands full with Donny Schatz who worked his way from the 14th starting spot in the Top-Three.

"It was a good race and had to hit your marks," noted Saldana. "Craig (Dollansky) tried to get by me there coming off of (turn) two and I just stopped and got a good run off the bottom. It was a great win for us."

After starting at the middle of the field, Schatz fell back to 15th on the opening lap and after that steadily and methodically worked his way into the Top-10 by the halfway point of the 40-lap contest and really was able to turn up the wick in the second half of the race, as he wound up second aboard the Armor All J&J.

"We had a great car and we were just chasing it a little bit trying some things," Schatz said. "That's the thing about trying stuff, is that you'll hurt yourself and you'll help yourself. We seemed to do both."

During the final 10 laps of Saturday's event, Schatz found himself doing battle with Jason Johnson, Danny Lasoski and Craig Dollansky, as each of those drivers took a turn running second, the spot that Schatz would eventually take late in the race. For the second consecutive night, the North Dakota native had one of the fastest cars late in the going. He turned his fastest lap just four laps from the finish as he charged to the front.

"It always is," he explained of his car being fast later in races. "There is no question that this race car gets as the race goes on. We put ourselves in a good position and made just one mistake and that is what cost us the race. That one mistake can cost you a lot."

Dollansky ran near the front all night, after winning the second heat race. He was fifth quickest in time trials and consistently had one of the fastest cars on the track.  The native of Elk River, Minnesota fell back to fifth early, but made a charge on the 12th lap to go from fifth to third, a spot he would wind up with when the checkered flag flew. He ran second for a number of laps as well aboard the DirecTV Maxim.

"It was a good run for the Kasey Kahne Racing teams tonight," Dollansky said. "My hat is off to Joey (Saldana) and his crew, they are running very strong. We're working with our program and trying to get stronger as we go and I think we are making progress. We'll just keep plugging away and get this car up in Victory Lane one of these times."

Danny Lasoski was fourth in the Casey's General Stores JEI, to earn his sixth Top-Five finish of the season and also jump up to the eighth spot in the championship standings. He began the night by setting fast time in qualifying for the second time this year.

Steve Kinser continued his strong start to the 2009 campaign, coming home fifth in the Quaker State Maxim. He has finished in the Top-10 in 10 of the first 11 races of the season as he seeks his record 21st title.

Johnny Herrera finished a very solid sixth after leading the first two laps of the A-Feature. Sammy Swindell was seventh in the Tom Rolfe Trucking Maxim. Jac Haudenschild was eighth aboard the Owens Corning Fiberglass Maxim, with Jason Sides in ninth in the Wetherington Tractor Service Maxim. Jason Meyers recovered from an early flat tire that caused him to spin to finish 10th in the GLR Investments KPC.

The World of Outlaws return to action on Friday, April 17 at Paducah International Raceway in Kentucky.

TEXAS SHOOTOUT AT HOUSTON RACEWAY PARK NOTES

• FAST QUALIFIER: Danny Lasoski paced the 25 cars that took time with an AMB i.t. timed lap around the high-banked 1/4-mile oval at 12.442 seconds at 72.336 mph. For his qualifying effort, Lasoski earned five bonus points. The next four fastestqualifiers also earned bonus points, including: Tony Bruce Jr. (4), Johnny Herrera (3), Jac Haudenschild (2), and Craig Dollansky (1).

• QUALIFYING WINNERS:  Joey Saldana, Craig Dollansky and Terry McCarl won heatraces. Jac Haudenschild won the Crane Cams Dash.
 
• FEATURE WINNERS: There has been 11 World of Outlaws Sprint Car Series A-Featureevent held in 2009. The winners include: Joey Saldana (Volusia Speedway Park,Silver Dollar Speedway, Thunderbowl Raceway, Lone Star Speedway and Houston RacewayPark), Donny Schatz (Volusia Speedway Park-twice and The Dirt Track at Las VegasMotor Speedway), Randy Hannagan (Thunderbowl Raceway), Chad Kemenah (ManzanitaSpeedway) and Jason Meyers (Silver Dollar Speedway).

• 1/4-MILE WINNERS: Raceway Park is a high-banked 1/4-mile. The World of Outlaws
have raced three times this season on a track that size. The winners include: JoeySaldana (Silver Dollar Speedway and Houston Raceway Park) and Jason Meyers (SilverDollar Speedway).

Heat 1 (10 Laps, top 6 finishers transferred to A-feature)
1) 9-Joey Saldana
2) 11-Steve Kinser
3) 6-Danny Lasoski
4) 15-Donny Schatz
5) 10-Sammy Swindell
6) R19-Jac Haudenschild
7) 4X-Toni Lutar
 8) 51-Wes Miller

Heat 2 (10 Laps, top 6 finishers transferred to A-feature)
1) 19-Craig Dollansky
2) 20-Kraig Kinser
3) 55-Kerry Madsen
4) 18-Tony Bruce Jr.
5) 5W-Lucas Wolfe
6) 14AJ-Wayne Johnson
7) 22-Brian Ellenberger
8) 71-Channin Tankersley

Heat 3 (10 Laps, top 6 finishers transferred to A-feature)
1) 24-Terry McCarl
2) 41-Jason Johnson
3) 45X-Johnny Herrera
4) 7S-Jason Sides
5) 15H-Sam Hafertepe Jr.
 6) 14-Jason Meyers
7) 96-Bronson Maeschen
8) 29-Travis Rilat

Crane Cams Dash (8 laps, finishing order determined first 10 starting positions of
A-feature)
1) R19-Jac Haudenschild
2) 11-Steve Kinser
3) 19-Craig Dollansky
4) 9-Joey Saldana
5) 45X-Johnny Herrera
6) 41-Jason Johnson
7) 24-Terry McCarl
8) 20-Kraig Kinser
9) 6-Danny Lasoski
10) 18-Tony Bruce Jr.

A-main (40 laps) - Starting Position [#]
1) 9-Joey Saldana[4] [$10,000]
2) 15-Donny Schatz[14] [$5,500]
3) 19-Craig Dollansky[3] [$3,200]
4) 6-Danny Lasoski[9] [$2,800]
5) 11-Steve Kinser[2] [$2,500]
6) 45X-Johnny Herrera[5] [$2,300]
7) 10-Sammy Swindell[18] [$2,200]
8) R19-Jac Haudenschild[1] [$2,100]
9) 7S-Jason Sides[17] [$2,050]
10) 14-Jason Meyers[11] [$2,000]
11) 41-Jason Johnson[6] [$1,500]
12) 55-Kerry Madsen[15] [$1,200]
13) 18-Tony Bruce Jr.[10] [$1,100]
14) 20-Kraig Kinser[8] [$1,050]
15) 5W-Lucas Wolfe[12] [$1,000]
16) 14AJ-Wayne Johnson[16] [$900]
17) 22-Brian Ellenberger[20] [$800]
18) 29-Travis Rilat[23] [$800]
19) 15H-Sam Hafertepe Jr.[13] [$800]
20) 4X-Toni Lutar[21] [$800]
21) 24-Terry McCarl[7] [$800]
22) 96-Bronson Maeschen[19] [$800]
23) 71-Channin Tankersley[22] [$800]
24) 51-Wes Miller[24] [$800]
25) 12-Lynton Jeffrey[25] [$800]
 
 Lap Leaders: Johnny Herrera 1-2; Joey Saldana 3-40
SuperClean Start of the Night Award: Jason Johnson
Penske Power Position Award: Craig Dollansky
KSE Hard Charger Award: Donny Schatz


---
---