Sat., May 9, 2009
NSCS Recap: The Old Man and the Big D; Martin Tames Darlington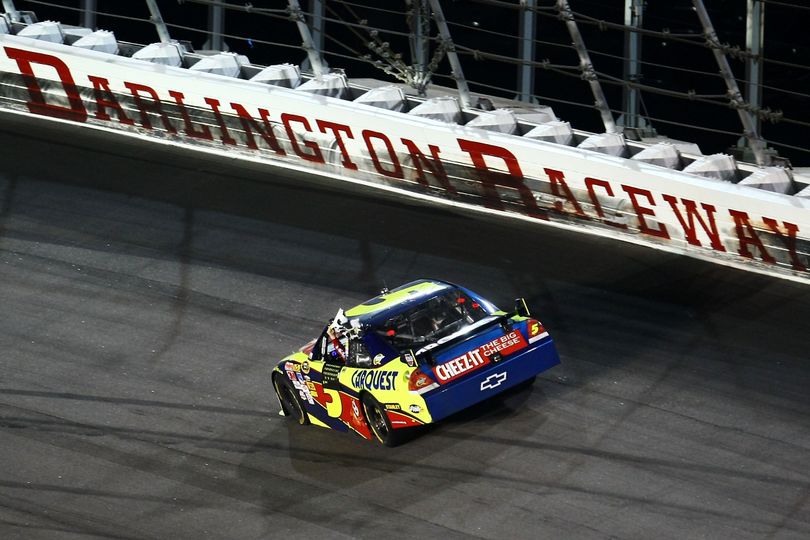 Fifty-year-old Mark Martin, a throwback to the old days, charged home ahead of three-time NASCAR Sprint Cup Champion Jimmie Johnson and other younger drivers to win the Southern 500, a 367-lap marathon on what is known as NASCAR's toughest track.
Courtesy: NASCAR Media Relations
DARLINGTON, S.C. --  The oldest driver in the 43-car field showed the young whippersnappers a thing or two Saturday night at fabled, old Darlington Raceway.
He won the race. Fifty-year-old Mark Martin, a throwback to the old days, charged home ahead of three-time NASCAR Sprint Cup Champion Jimmie Johnson and other younger drivers to win the Southern 500, a 367-lap marathon on what is known as NASCAR's toughest track.
Martin, an ageless racing junkie who tried to retire a couple years ago but couldn't, won the race in style, pulling away from Johnson at the end.
Physically fit and pumped up for the season in a Hendrick Chevrolet, Martin ran with the big dogs up front all night, keeping his car in one piece and saving the best for last.
It was a record-setting night for cautions under a full South Carolina moon. Seventeen times the caution waved as driver after driver made contact with Darlington's famous walls. Most of them didn't just get a Darlington Stripe as is the norm for this 1.366-mile, egg-shaped oval. They hit hard enough to take the paint off the whole right side of the car.
It was a typical full-moon, Saturday night spectacle with the second-oldest track in NASCAR taking a larger-than-usual number of prisoners, including race leader Greg Biffle, who wound up eighth after leading many of the 367 laps before spinning after hitting the wall with 70 laps to go. It speaks to the talent of Biffle to pull off a top-10 finish after his run-in with the wall.
Trailing Martin and Johnson, who had a few problems of his own, including losing a lap on a lengthy pit stop after getting turned head-on into his pit stall. He lost a lap as a result and had to make it up.
Tony Stewart finished third, just ahead of teammate Ryan Newman, another race leader. The third-fourth finish position for the Stewart-Haas cars speaks volumes of Stewart as the circuit's newest owner-driver.
Jeff Gordon, a four-time champion who has won seven times at Darlington, finished fifth. Another race leader was sixth, Martin Truex, Jr. Talladega winner Brad Keselowski wound up seventh ahead of Biffle. Rookie Joey Logano was ninth and Matt Kenseth finished 10th.
Martin, one of NASCAR's longest-running superstars, was greeted afterwards with a thundering roar from the crowd of more than 70,000, who obviously appreciated Martin's unbelievable run on a muggy night when most men his age would be out of breath if they walked a mile, much less race 500 miles. Martin proved once again he still has what it takes to get the job done.
His performance certainly makes him one of the favored drivers to make the 12-car Sprint Cup Chase field this season. Martin moved up four spots to 11th in the NASCAR Sprint Cup Series point standings. Gordon held on to the point lead, with a 29-point advantage over Stewart. Kurt Busch, Johnson, Denny Hamlin, Jeff Burton, Kyle Busch, Newman, Biffle and Kenseth round out the top 10 with Carl Edwards in 12th.
There was an early caution, as usual, at this old track but none of the cars involved received any serious damage.
 
Sam Hornish Jr., who normally would be racing at Indianapolis this weekend where he won the Indy 500 in 2006, was making his presence known. Hornish qualified 10th and was running in ninth when the second caution fell at lap 22. Michael Waltrip spun out of turn four after Carl Edwards bounced off the wall in front of him.
Dale Earnhardt Jr., one of the cars pitting under this caution, missed his box and lost a little time when his crew had to push him backwards.
Another caution fell on lap 31 when a multi-car spin sent Casey Mears to the garage for repairs. AJ Allmindinger was also involved.
When the green flag waved on lap 37, Newman was out front with Johnson, Kahne and Biffle just behind. Kenseth and Gordon were next, followed by Truex, Martin, McMurray and Kyle Busch.
There was plenty of racing going on behind the lead pack also.
Rookie Logano was battling Hornish for 11th spot and Stewart was pressuring them. Harvick, Reutimann, Vickers, Burton, Sadler, Ragan and Talladega winner Brad Keslowski were pouring on the coals to get to the front.
 
Waltrip brought out another caution at lap 75 when the engine in his Toyota detonated with a fiery bang, shooting fire behind his spinning car, which looked like a shooting star against the black asphalt backdrop.
When racing resumed, it was Kahne in the lead with Truex on his tail. Newman's team loosened his Dodge up so much, he had a hard time handling it and dropped out of the top 10.
Hornish's "dream" night came to a spinning halt on lap 118 when he banged off the outside wall. This was the fifth caution, and the race wasn't halfway yet. Biffle held the lead for the restart after some nifty pitwork by his team. Stewart was second and Truex third.
Kahne was next, followed by McMurray, Kenseth, Martin, Newman, Reutimann and Kyle Busch.
A spin by hard-luck Denny Hamlin brought out another caution at just under 170 laps. When the green fell again, it was still Biffle in front with Stewart second. Kahne was third. At this point in the race, it appeared to be Biffle's night as he put some daylight between himself and Stewart.
At halfway, 184 laps, it was Biffle, Kahne, Stewart, Truex, McMurray, Reutimann, Kyle Busch, Newman, Burton and Logano.
A spin by David Ragan brought out another caution just past halfway.
---
---