Sun., May 10, 2009
NASCAR Camping World Truck Series News And Notes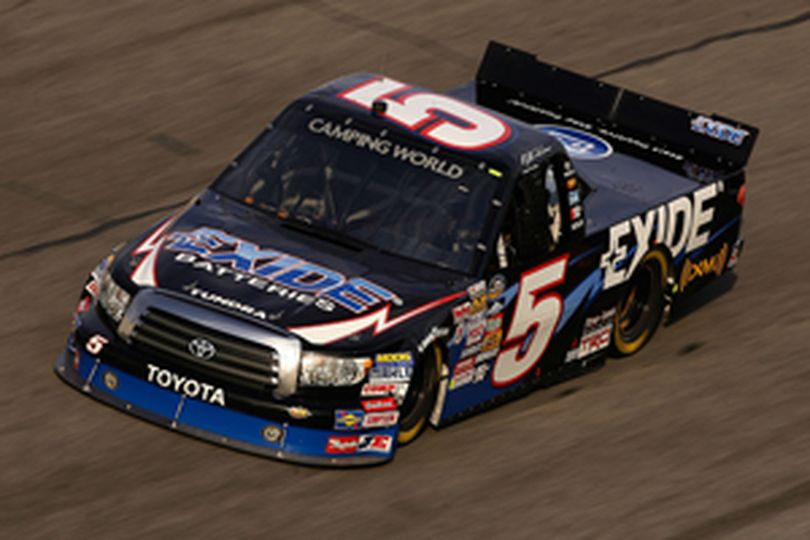 Mike Skinner's (No. 5 Bad Boy Mowers Toyota) Kansas victory was the eighth by an over-50 driver currently active in the series. Skinner and rival Ron Hornaday Jr. (No. 33 Copart.com Chevrolet) each have four such wins.
Courtesy: NASCAR Media Relations
DAYTONA BEACH, Fla. – Sixty-seven different drivers posted a top-10 finish in their first NASCAR Camping World Truck Series start, the most recent being Brian Ickler (No. 51 Miccosukee Resorts Toyota) at Kansas Speedway on April 27.
It took Jason White (No. 23 GB Racing Dodge) a little bit longer — quite a bit longer.
But if recent performance is any indicator, the Powhatan, Va., native is primed to run with the leaders.
White finished 10th in the O'Reilly Auto Parts 250, ending the longest top-10 drought in series history. The race marked the 29-year-old competitor's 59th NCWTS start.
White is one of only three drivers (see below) to have started more than 40 races before landing that elusive top 10. His best previous finish, 13th, came in his second appearance at Martinsville Speedway in 2001.
The Kansas performance, during which White battled for the race lead, is a counterpoint to his first full season (2007) during which he failed to qualify four times and posted no finishes among the top 20.
"It's been so tough, waiting for one this long," said White of his first top-10 performance, while noting that several other races earlier this year could have matched or bettered his Kansas showing. "We had a tire (go down) and another time somebody wrecked us."
White made his first series start in 1999, finishing 26th at O'Reilly Raceway Park at Indianapolis. Nearly a decade later, he's finally got a team and equipment capable of showcasing his talents.
And he believes the Kansas showing is just the beginning.
"Definitely," he said. "We've got a new team and some experienced guys who are giving me good trucks that handle well enough to get up there and pass some people."
What the Dwayne Gaulding-owned team doesn't have is a manufacturer active in the series. White drives a Dodge "and we're at some kind of disadvantage," he said of being the only team fielding a Ram pickup truck. "That makes it tough but that was our only option."
Still, White qualified eighth for the season-opening race at Daytona International Speedway and he feels the best is ahead.
"Hopefully, we can keep knocking them (the competition) off weekly," White said.
Long Time Coming

The five longest number of starts required for a  top-10 finish in the NASCAR Camping World Truck Series:

    Driver               Start
1. Jason White         59
2. Brandon Whitt      45
3. David Starr           44
4. Bill Lester            38
5. Wayne Edwards   32
Series Roots Planted Firmly In North Carolina
The NASCAR Camping World Truck Series didn't appear at Lowe's Motor Speedway until 2003. The May 15 North Carolina Education Lottery 200 marks the seventh time the series has visited the 1.5-mile facility.
North Carolina, however, was among 11 states hosting events during the series' 1995 inaugural schedule of 20 races.
The famed but now long-shuttered North Wilkesboro Speedway, a .625-mile short track, held not one but two races before closing its gates for good in 1996. Of note, the Sept. 28, 1996 Lowe's Home Improvement Warehouse 250 was the next-to-final race held at the historic track.
North Wilkesboro produced several series milestones. Mike Bliss (No. 40 Chevrolet), who would become the 2002 champion after a brief NASCAR Sprint Cup Series stint with A.J. Foyt, scored his first series victory in 1995. His crew chief — also a first-time winner — was Junior Johnson protégé Barry Dodson. The victory was the first of 36 for 2005 owner champion Jim Smith, a member of the off-road group which conceptualized the NCWTS.
The 1996 race was noteworthy on a couple of fronts. Johnny Benson, the 2008 NCWTS champion, captured his first pole, although it took nearly 18 hours to make the lap official. Qualifying began on Friday and concluded on Saturday. Had time trials been washed out, Benson would have lost the pole and a spot in the race.
The North Wilkesboro race itself was a snapshot of series competition to come. Mark Martin's victory was the first of 49 for Roush Fenway Racing, a team that's participated in every NCWTS race since late 1995 and won the 2000 championship with Greg Biffle.
 
Toyota Rules Stats At LMS But Not Win Column
Chevrolet has set up camp in the Lowe's Motor Speedway Victory Lane.
The manufacturer has won each of the last five NASCAR Camping World Truck Series races at LMS, and it has done it with four different drivers.
But because of the abundance of trucks it has in the field, the Loop Data statistics show Chevrolet below the other manufacturers.
Since the inception of Loop Data in 2005, at LMS, Chevrolet has a Driver Rating of 67.7, an Average Running Position of 20.2, a Laps in the Top 15 percentage of 33.1% and 162 Fastest Laps Run.
Though those totals aren't staggering, Chevrolet's robust truck count must be considered. Chevrolet has run 55 trucks in the past four LMS races. The second-highest truck count total belongs to Toyota, with 38.
Taking the top quarter for each manufacturer, Chevrolet has a Driver Rating of 100.1, which is tops among the four manufacturers.  Second-best is Toyota with a 96.7.
Taking all trucks into account, Toyota has the top numbers at LMS. Since 2005, it has a Driver Rating of 82.2, an Average Running Position of 16.0, 130 Fastest Laps Run and a Laps in the Top 15 percentage of 52.8%.
Toyota also has Kyle Busch, who has won twice at LMS while driving a Chevrolet. At LMS, Busch has the top Driver Rating of 126.1. Busch's No. 51 Miccosukee Resort team, however, now fields Toyotas. 
Raybestos Rookie Of The Year Standings
Rk  Driver                    Points
1.   Tayler Malsam         48
2.   James Buescher      47
3.   Johnny Sauter          45
4.   Ricky Carmichael     45
5.   J.R. Fitzpatrick        42
6.   Brent Raymer          18
7.   Chase Austin          16
8.   Chris Jones             12
Etc.
With just three points covering the top four contenders, this year's Raybestos Rookie of the Year contest shapes up as among the closest in the 13 years the prize has been awarded. Three of the four already have scored a top-10 finish and two — Tayler Malsam (No. 81 One Eighty Toyota) and James Buescher (No. 10 International MAXX Force Diesel Ford) — are within a few points of cracking the top 10 in overall standings ranking 12th and 14th, respectively. A rookie has not finished among the final top 10 since 2003 when Carl Edwards parlayed three victories into an eighth-place ranking.
The Keystone Light Pole starter has yet to win in six tries at Lowe's Motor Speedway. Five of the six winners have started seventh or deeper in the field. Kyle Busch (No. 51 Miccosukee Resort Toyota) is best and worst qualified among previous winners: third in 2005 and 20th a year later.
Brian Scott (No. 16 Albertsons Toyota) will get his first look at Darlington Raceway this seek as the Idaho native makes his fourth start in the NASCAR Nationwide Series driving for Braun Racing. Scott comes off his best NNS qualifying performance, 10th, at Richmond International Raceway last week.
Mike Skinner's (No. 5 Bad Boy Mowers Toyota) Kansas victory was the eighth by an over-50 driver currently active in the series. Skinner and rival Ron Hornaday Jr. (No. 33 Copart.com Chevrolet) each have four such wins.
Rick Crawford (No. 14 International Truck and Engine Ford) fulfilled a life-long dream – and his need for speed – when he participated in an incentive ride with the Blue Angels at Florida's Pensacola Naval Air Station on April 28.  Flown by Lt. Ben Walborn in Blue Angel No. 7, Crawford experienced as much as 7.3 g's and speeds as fast as 750 mph. "All of the adjectives you use for excitement don't measure up to it," said Crawford.
Up Next
The next stop for the NASCAR Camping World Truck Series will be under the lights at Lowe's Motor Speedway in the North Carolina Education Lottery 200 on Friday, May 15.
Last year's race saw Matt Crafton (No. 88 Menards Chevrolet) snap a 177-race winless streak by edging Chad McCumbee (No. 07 TheGPSstore.com Chevrolet) by .184 seconds. 
Manufacturers' Battle
NASCAR Camping World Truck Series 2009 Manufacturers' Championship Standings following Race 5 of 25 at Kansas Speedway:

Toyota    42
Chevrolet 33
Ford        20
Dodge     15
Fast Facts

Next Race: North Carolina Education Lottery 200
The Place: Lowe's Motor Speedway
The Date: Fri., May 15, 2009
The Time: 8 p.m. ET
Race Distance: 201 miles / 134 laps
TV: SPEED, 7:30 p.m. ET
Radio: MRN, SIRIUS XM.
Track Layout: 1.5-mile paved
2008 Winner: Matt Crafton
2008 Polesitter: Kyle Busch
Schedule: Friday–Practice, 9-10 a.m. and  10:20-11:50 a.m.; Qualifying, 3:35 p.m.
---
---