Tue., May 12, 2009
Surprising Keselowski Latest NASCAR Nationwide All-Star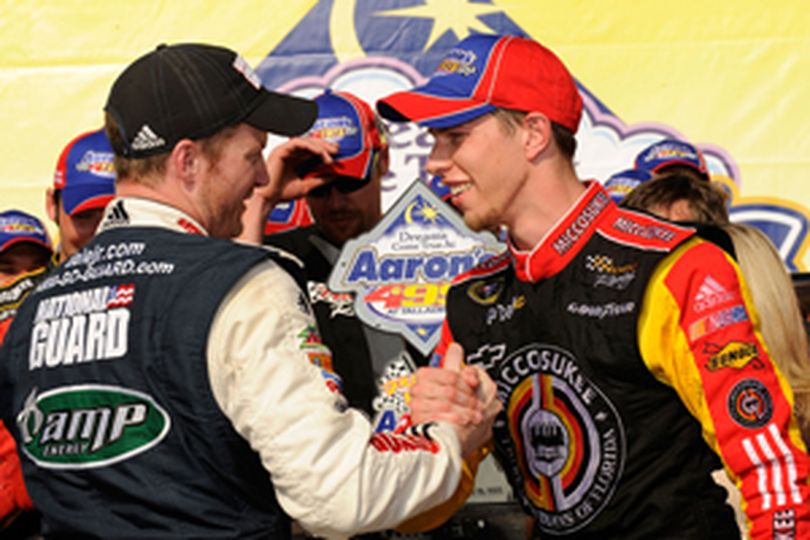 Keselowski was labeled a surprise when he won his first two career NASCAR Nationwide Series races last year — including the double-duty-driver-laden night race at Bristol Motor Speedway — en route to a third-place finish in the 2008 driver standings.
DAYTONA BEACH, Fla. (May 12, 2009) - He was labeled a surprise when selected to drive the No. 88 Chevrolet for JR Motorsports midway through the 2007 season.
He was labeled a surprise when he won his first two career NASCAR Nationwide Series races last year — including the double-duty-driver-laden night race at Bristol Motor Speedway — en route to a third-place finish in the driver standings.
And after a surprising slow start to his 2009 season, he's rebounded to climb to fifth in the standings after 10 races, well within sight of leader Kyle Busch.
But the biggest surprise in Brad Keselowski's NASCAR career — for him and those that follow the sport — came three weeks ago when he won the NASCAR Sprint Cup Series race at Talladega Superspeedway, his first premier series victory in only his fifth start.
That win also awarded him a starting spot in Friday's NASCAR Sprint All-Star Race at Lowe's Motor Speedway, designating him as the lone NASCAR Nationwide Series-only regular in the field (prior to the Sprint Showdown and the Sprint Fan Vote entrants).
One of the current stars in the NASCAR Nationwide Series, Keselowski leads a group of former series standouts into the 25th annual All-Star event.
Among the drivers eligible to compete in the All-Star Race, all but four  — Kurt Busch, Terry Labonte, Ryan Newman and Tony Stewart — did not complete at least one full season in the NASCAR Nationwide Series.
There are six former series champions in the field — Greg Biffle, Clint Bowyer, Dale Earnhardt Jr., Carl Edwards, Kevin Harvick and Bobby Labonte, along with the series' all-time leader in wins and poles — Mark Martin.
Earnhardt Jr., fresh off his consecutive series titles in 1998-99, became the first rookie to win the All-Star Race when he did so in 2000. Newman followed in 2002 … could Keselowski be rookie No. 3?
Other notable former NASCAR Nationwide drivers with All-Star wins include Harvick in 2007 and Martin in 1998 and again in 2005.
The fans have also spoken for NASCAR Nationwide Series involvement in the All-Star extravaganza. Martin Truex Jr., the 2004-05 series champion, was voted in by the fans for the 2005 event. He was the second series-only regular to compete in the All-Star Race; Tommy Ellis, the 1998 series champion, was the first, in the 1991 event.
Driver, Owner Title Chases Ramping Up Early
After 10 races in 2009 that have produced six different race winners and seven different pole winners, only one thing is certain heading into the fourth open week of the season: This won't be a runaway year.
Kyle Busch continues to lead the driver standings, but his advantage over 2007 series champion Carl Edwards is 37 points.
Then there's Jason Leffler, who refuses to go away. The highest-ranked series-only regular is third in the driver rankings, 116 points out of first. He has three top fives and seven top 10s in the first 10 races and except for his 33rd-place finish in the season-opener at Daytona International Speedway, hasn't finished worse than 13th. He collected his second runner-up finish of the season last Friday at Darlington Raceway.
Meanwhile, the owner standings changed again as the No. 33 Kevin Harvick Inc. Chevrolet recaptured the lead from the No. 18 Joe Gibbs Racing Toyota following last Friday's event at Darlington Raceway.
KHI leads by seven points over the JGR No. 18; the No. 60 Roush Fenway Racing Ford is in the mix as well in third, 44 points out of first.
The Nos. 33 and 18 have traded the lead over the last three races, not at all unusual in this year's owner title chase since four different cars have held the top spot.
Darnell Signals His Addition To Talented Rookie Pool
Erik Darnell's season debut in the No. 6 Roush Fenway Racing Ford — a ride he's sharing with David Ragan — certainly stamped his ticket as a contender for the series' Raybestos Rookie of the Year honor. He finished fourth at Darlington in just his second career series start.  He'll have to turn the reins of the No. 6 back over to Ragan until the June 6 stand-alone race at Nashville Superspeedway, but will have the bulk of the schedule in the car after that.
It's not unprecedented for a rookie to win the award without having raced the entire schedule.
Landon Cassill was last year's rookie winner, running in 19 races. David Stremme was the first driver to win rookie honors in less than a full season in 2003 when he competed in 18 races. Currently seventh in the rookie standings with 28 points, Darnell is scheduled for 16 races this year.
His addition ramps up an already-tight rookie race. Justin Allgaier rebounded from finishes of 29th or worse in three of his last four races to place fifth at Darlington and jumped back into the top 10 in the driver standings (ninth). He also extended his lead in the rookie standings to seven points over Brendan Gaughan.
Scott Lagasse Jr. continues to pace the rookies with his eighth-place standing in the points.
NASCAR Nationwide Series Raybestos Rookie Standings
Rk / Driver                      Team      Points
1      Justin Allgaier           Penske     102
2      Brendan Gaughan     RWR         95
3      Michael McDowell     JTG-D       94
4      Scott Lagasse Jr.     CJM          94
5      Michael Annett         Germain    75
NNS Etc.
NASCAR Day This Friday, May 15

The sixth annual NASCAR Day celebration of the NASCAR community's spirit of giving is an opportunity for fans, corporations, schools and organizations across the country to donate to The NASCAR Foundation to raise funds to help thousands of children live better lives.

Since 2004, $6.5 million has been raised for charity through NASCAR Day, truly making an impact on the lives of those who need help the most. Here's how to get involved:



Call 1-877-515-GIVE to donate via phone.
Visit WWW.NASCAR.COM/NASCARDay to donate $5 and receive your 2009 NASCAR Day collectible pin.
Stop by a participating APlus at Sunoco location to donate $5 and get your pin.
Bid in the online auction at WWW.NASCAR.COM/foundation.
Sign up for The NASCAR Foundation Volunteer Network.



LMS Follows Open Week

The majority of series teams don't have far to travel for the next race, the CARQUEST Auto Parts 300 at Lowe's Motor Speedway on Saturday, May 23.

ESPN2 will broadcast the race beginning at 7 p.m. ET.

Kyle Busch is the defending winner, the first of his two-race sweep at LMS in 2009. Brian Vickers, the 2003 NASCAR Nationwide Series champion, captured last year's pole.

Last year's race is also remembered for the pit road brawl between the teams of Denny Hamlin and Brad Keselowski after the drivers finished second and third, respectively. The dust-up led to Keselowski's memorable quote as he was seated next to Hamlin during the tense post-race press conference: "I race one day a week, not two. I have 200 laps to prove myself, not 400. I have to make the most of every lap."


Bill France Performance Cup Standings
2009 Manufacturers' Championship Standings
Ford          66
Toyota       65
Chevrolet   57
Dodge       32
Following Race 10 of 35 - Darlington Raceway
In The Loop
Steve Wallace Having A Career Year
Statistically, Steve Wallace is a model of determination and progress.
He has improved with each passing year, and currently ranks in the top 10 in the NASCAR Nationwide Series standings.
Wallace is also enjoying a career year statistically, and has made a large leap over the same juncture last season.
Through 10 races this year, Wallace has improved in:
Average Finish: 18.3 compared to 21.4 at this point last season;
Driver Rating: 81.3 compared to 73.0 last year;
Average Running Position: 16.4 compared to 20.4 one year ago;
Laps in the Top 15 percentage: 62% compared to 26.5% last season;
Pass Differential (passes minus times passed): 79 compared to 45 last year.
Arguably one stat might shine the brightest light on Wallace's maturation process: Percentage of Laps Run on the Lead Lap.
Early on in his career, Wallace often would get tangled in accidents and other problems. Those have decreased this season.
In 2008, Wallace ran just 61% of the laps on the lead lap through 10 races. This season through 10 events, that number has climbed to 72%.
 
FAST FACTS
Next Race: CARQUEST Auto Parts 300
The Place: Lowe's Motor Speedway
The Date: Saturday, May 23, 2009
The Time: 7:30 p.m. ET
The Distance: 300 miles / 200 laps
TV: ESPN2, 7 p.m. ET
Radio: Sirius NASCAR Radio / PRN
2008 Race Winner: Kyle Busch
2008 Polesitter: Brian Vickers
Event Schedule (all times ET): Thursday—Practice 1-2:30 p.m.; Final Practice 6-7 p.m. Saturday—Qualifying 3:45  p.m.
---
---