Wed., Oct. 7, 2009
BERRY HEADS TO OREGON WITH INVITATIONAL VICTORY ON HIS MIND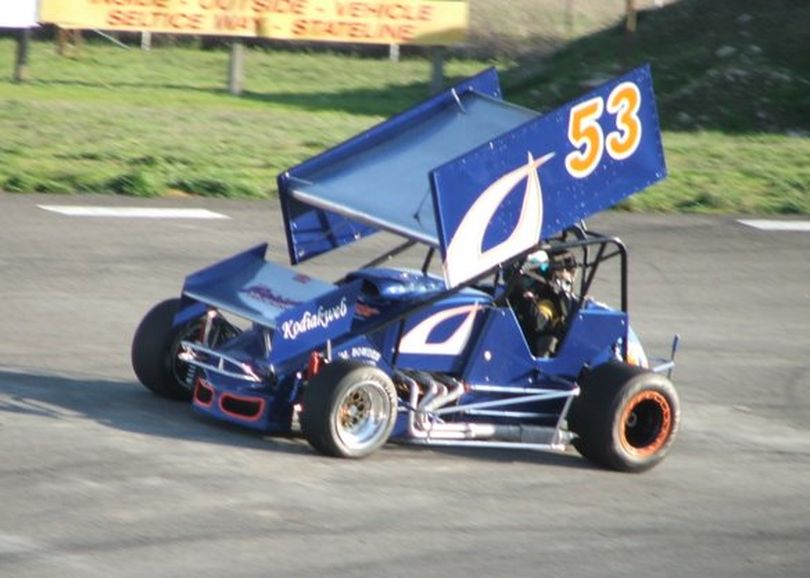 Falling just short in his bid for a second INSCA championship to title winner, Justin Popple, 2007 series champion Tony Berry sees this weekend's race as a chance for redemption to a strong but brief season.
For Immediate Release: Northwest Sprint Car Invitational Media Relations


SPOKANE, Wash. (October 6, 2009)-For 2007 Inland Northwest Sprint Car Association champion, Tony Berry, the racing season has come down to one final event-the Northwest Sprint Car Invitational to be held Saturday, October 10 at Columbia Motor Speedway in Hermiston, Ore.

Falling just short in his bid for a second INSCA championship to title winner, Justin Popple, Berry sees this weekend's race as a chance for redemption to a strong but brief season.

"When we began the season with our new Lejeune chassis we were focused on running strong at each event," Berry said. "Going in there were two dates that we knew we could not attend with the INSCA group, one was my wedding over the Fourth of July and the other happened to be a rain out. When those passed we found ourselves second in points and as a racer with a committed team we went for the gold so to speak.

"We changed our schedule to run the rest of the season for points and came up a bit short. We really had hoped to run the championship race at Spokane County in September (which was canceled by the race track) but we chalked that up to something like a rain out and started to focus on this Northwest Invitational here at the end of the season.

Having the opportunity to jump behind the wheel of the Oak Tree Inn/Pheasant Café and Lounge No. 53 one more time in '09 is a reward for the team's hard work, Berry added.

"We're excited to have another opportunity to perform well and in reality this race could end up being the biggest event of the year for our team. We've had some local business partners come on board for this weekend including the Desert River Inn and the Hermiston Chamber of Commerce's Blue Moon Saloon and Western Wine Festival so I know the promotional team is very excited to get this event going this year and for the future."

Berry has made laps in Hermiston and knows that the little bit of knowledge he may have could be key to besting the likes of Mike Fought, Craig Deaver, Popple and other Northwest Sprint Car stars.

"It is a track with a lot of character. There aren't many places to compare it to because it's so unique. The racing surface itself has been sealed by the new owners of the facility and I think that will produce higher grip and better racing for our cars," Berry explained. "We're excited to hold this type of event here because no one really has a competitive advantage at a neutral site. To win, it's going to come down to the drivers and crews that are able to best adapt to the new surface and I hope we can make those gains quicker then everyone else."

While working with Popple and Mark Jones to build excitement for this weekend's event has been a daily task for Berry, the end result of a successful weekend makes the long days of working on the event coupled with working on the sprint car worthwhile, he noted.

"It hasn't been easy (balancing the needs of the race team and the event)," Berry said.

"Motorsports at our level is only as successful as the amount of work and time you put into it. That goes for both preparing the race car and for putting on a race of any caliber. Out model for this event was the Fall Classic late model show that ran last weekend in Yakima. That event, obviously run at the end of the year, has an air of fun and enjoyment about it and that is the kind of race we're hoping to create for sprint car racing in general in the Northwest. This event is design to be inclusive so if someone has a cast iron motor and a sprint car they can come and play."

Sponsors make it all happen to get a team to the track, Berry added. With the support of racing enthusiasts and regional businesses, Berry has also been able to give back to the greater Northwest community.

One endeavor the Gonzaga University graduate has taken on this season is the Cory Mackay Spinal Injury Foundation, which has seen half of Berry's winnings donated to their group after each race in 2009. Berry will use the energy focused on that project this weekend in an effort to come to the aid of fellow sprint car driver, Travis Rutz.

"We've been able to support many causes over the years including the Cory Mackay Spinal Injury Foundation. The motorsports family is very generous in times of need and I think that has been displayed often. It sounds like a cliché but when someone in the racing world suffers a serious injury behind the wheel of a car you see time and time again this community band together to support the driver, crew and family.

"Travis suffer a devastating accident at Terre Haute in a sprint car which makes this tragedy hit home hard for all racers but especially those from a similar discipline and the same region of the world. You instantly relate to what the family is going through and as you've seen from what is happening to help Travis, the entire racing community not just those in the Northwest, have banded together in support of the Rutz family.

Berry, Popple and the backers of the idea to pass the helmet for this weekend's event. Trish and Kirk Eklund, hope to collect funds that will aid in Rutz's recovery, he added.

"Trish and Kirk (from WESCO) are the ones that really spearheaded the support of the pass the helmet donation that we will be taking up this weekend. We hope that our contributions will help the Rutz family in a time of need and we're all wishing for a speedy recovery for Travis."

For more information regarding the Northwest Sprint Car Invitational at Columbia Motor Speedway log onto www.columbiamotorspeedway.com  Racer information can be obtained by calling 800-336-2682.


---
---