Sun., April 25, 2010
Harvick Inches Past McMurray For Talladega Victory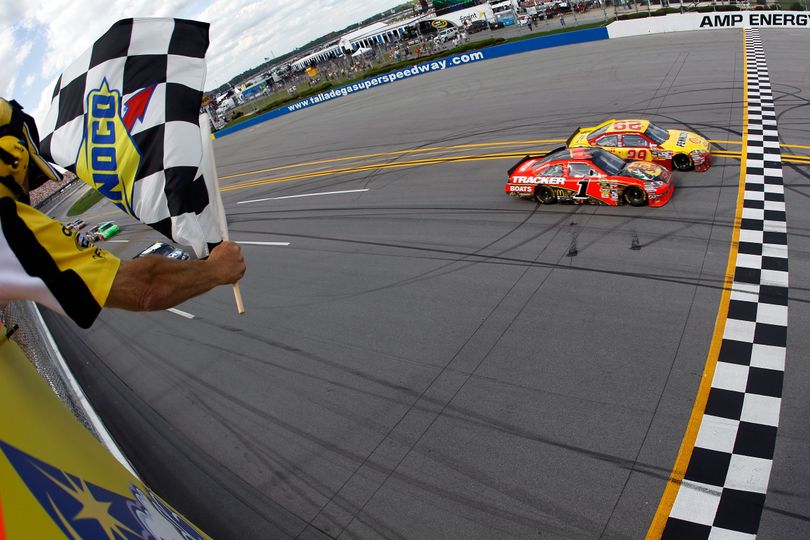 Kevin Harvick bested Jaime McMurray by inches in the Aaron's 499 at Talladega Superspeedway on the NASCAR Sprint Cup Series. The margin of victory was a mere .011-seconds.
Courtesy: NASCAR Media Relations
TALLADEGA, ALA. – It's a matter of inches at Talladega Superspeedway. Every lap. NASCAR's superstars run inches apart, lap after lap.
It was only fitting that Sunday's race, called the Aaron's 499, was decided by inches. Mere inches at 195 miles per hour.
Kevin Harvick timed his breath-taking move perfectly, slipping under reigning Daytona 500 champion and race leader Jamie McMurray at the beginning of the tri-oval (on the third and final attempt at a green-white-checker finish, no less) to win what was perhaps the most exciting race in the history of NASCAR's most competitive track.
The amazing thing was the closeness of the finish, .011 of of a second, less than the bat of an eyelash on a record-breaking day before a crowd of more than 100,000 screaming fans at the 2.66-mile track. Not only that – it was the eighth closest finish since the 1993 advent of electronic timing and scoring, plus the second closest finish at Talladega.
It was pins and needles all the way with a new record for race leaders, 29 drivers led at least one lap. The old record was 28 set in October of 2008. There was also a new record for lead changes, 88. The old mark was 75 set in May of 1984. 
Trailing Harvick and McMurray were McMurray's teammate Juan Pablo Montoya, Denny Hamlin, Mark Martin, David Ragan, Clint Bowyer, Kurt Busch, Kyle Busch, Mike Bliss and Carl Edwards.
It wound up being a rough day for three of the race's leaders, Jeff Burton, Jeff Gordon and Jimmie Johnson. All three were involved in wrecks that took them out of contention.     Horrible weather on Saturday forced cancellation of qualifying for the race and points leader Jimmie Johnson started from the pole position as a result of the entire starting lineup being determined by point standings.
Kyle Busch went from sixth to first on the opening lap. Then Hamlin pushed Logano out front. By Lap 5, Kenseth led with Harvick second, then Harvick took the front spot.
It was the kind of heart-stopping action fans have come to expect at Talladega. Hamlin shoved Earnhardt to the top spot on Lap 7 and then led himself. By Lap 10, fans were still on their feet wondering who was gonna pass who.
Drivers were swapping the lead like trading cards and the race was barely underway.
David Ragan led for several laps before Kurt Busch took over with cars lined up four abreast behind him. Drivers shuffled spots like a deck of cards and Logano was back in front at Lap 15. Labonte had moved into the top 10 by Lap 17. Burton led a lap and was shoved from behind by Earnhardt. Robbie Gordon led briefly before Vickers took the top spot.
NASCAR tossed a precautionary caution on Lap 20 so teams could check tire wear (Saturday's heavy rains washed away the rubber from the track).
When racing resumed after the pit stop, it was Kurt Busch and Logano who streaked to the front on Lap 25 with dipping and dicing in their rear-view mirrors. Vickers took over on Lap 28 with Kyle Busch shoving him.
On Lap 30, the crowd went wild when Earnhardt took the lead. Michael Waltrip passed him and led several laps. AJ Allmendinger and Kyle Busch teamed up on the bottom trying to get the lead. Earnhardt decided that wasn't gonna happen and took the top spot himself.
Johnson led Lap 38. Ragan led another lap, then Earnhardt again. Burton took over on Lap 42 with Kyle Busch wearing out his rear bumper.
Kyle took over the lead and Burton dropped all the way back to 16th. Earnhardt took over again on Lap 45 and Kurt Buch was second. Then, Kurt led with Kyle behind him. Keselowski took over with Kyle in tow.
At 50 laps, the top 10 included Keselowski, Ragan, Kyle Busch, Earnhardt, Waltrip, Regan Smith, Burton, Mike Bliss, Logano and Menard, and this was subject to change at the blink of an eye.
Drivers continued to change spots lap after lap. Sam Hornish led briefly before Kyle Busch went back to the front. Vickers led again with Waltrip next. Johnson went out front again with Earnhardt behind him.
Green-flag pit stops started at Lap 64. When stops were complete, Johnson led briefly before Gordon and Vickers went to the front. Positions were changing so fast, it was hard to keep up from one lap to the next.
Long before the halfway point of the race, there had been 20 different leaders.
Hamlin brought out the day's second caution on Lap 78 when he spun out of Turn 4.
The race was restarted on Lap 80 with the Busch brothers out front. Gordon quickly went to second and then the front. It was more of the same switching, swapping and flip-flopping before the day's third caution fell on Lap 82 when Johnny Sauter spun in the tri-oval, triggering a multi-car accident that also collected Michael Waltrip, Matt Kenseth, Max Pappis, Kurt Busch, Paul Menard and Elliott Sadler.
Racing resumed at Lap 88 with Gordon pushing Reutimann to the front. Johnson and Earnhardt were behind, as was Smith and Stewart but things changed very quickly. At the halfway point, Lap 94, it was Kahne, Biffle, Kyle Busch, Johnson, Ragan, Allmendinger, Speed, Burton, Reutimann, Vickers, Hamlin, who had battled back to 11th, and Earnhardt. White-knuckle racing was very much in vogue.
---
---