Sun., Aug. 15, 2010
Holmes Cashes In At Colorado National Speedway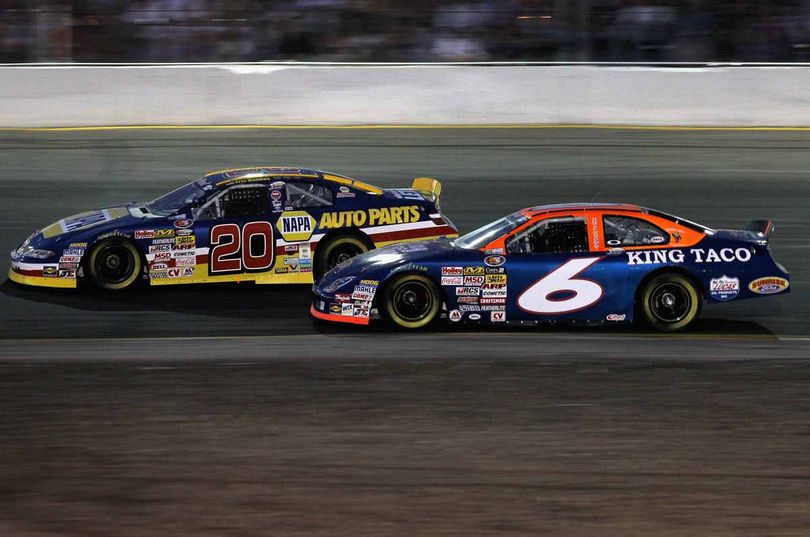 Eric Holmes made it two victories in consecutive weekends on the NASCAR K&N Pro Series West. This week's win came at Colorado National Speedway giving Holmes two Rocky Mountain wins when coupled with last Saturday's victory at Montana Raceway Park.
Courtesy: NASCAR Media Relations
DACONO, Colo. – NASCAR K&N Pro Series West driver Eric Holmes' dream season continues and now he has 10,000 more reasons to smile.
The two-time series champion drove his No. 20 NAPA Toyota around Luis Martinez Jr. for the lead on Lap 107 and held on during a 10-lap shootout to win the NASCAR K&N Pro Series West Toyota/NAPA Auto Parts Bonus Challenge 150 Saturday night at Colorado National Speedway.
The win also gave Holmes a $10,000 bonus as he won his third race in the five-race Toyota/NAPA Auto Parts Challenge. Holmes won earlier this season at Douglas County Speedway in Roseburg, Ore., and Montana Raceway Park in Kalispell, Mont., to become eligible to win the bonus Saturday.
The victory was the second in a row and fourth of the year for the Escalon, Calif. driver who has also finished in the top-10 in eight of the nine races so far this season and now has 13 career series wins.
"That was a hard run there, a lot of fun, really fun," Holmes said. "This track creates a good two-wide, three-wide racing. The NAPA Toyota probably wasn't as good as his (Martinez) there at the mid-part of the race, but I just figured out a line that worked good for me and I was able to get by him. Once I got out front I was all right. The restarts my car didn't really want to take off. It made it a little tough."
Paulie Harraka almost made it two wins in a row at CNS as he made a late charge to finish second to Holmes, his teammate at Bill McAnally Racing. Martinez, the leading contender for this year's Sunoco Rookie of the Year Award finished a career-best third. Greg Pursley and David Mayhew completed the top five.
"Our crew showed their NAPA know-how tonight, that's for sure," Harraka said. "When we got going, we didn't have the car quite balanced the way I wanted it. At the halfway mark, we rolled through the pits, went to the back of the field and made the changes we wanted to. Fortunately, they were the right ones. We just kept creeping our way through the field, on and on and on. We just didn't have enough time. We got to second, got around Luis with five to go. I was going all out to get by Eric, but just didn't have the time to do it."
Martinez started from point after setting his first career fast time in winning the 21 Means 21 Pole Award by Coors Brewing Company. He led early in the race until Holmes, who started on the outside front row, made the pass on Lap 3. Holmes remained out front until Martinez got back around after a restart on Lap 78. Martinez set the pace while going after his first career win; however, Holmes was able to pass Martinez for the lead on Lap 107 and stayed out front the rest of the way.
"The car stayed about the same the whole day from the time it came from the shop," Martinez said. "It unloaded fast. Right before qualifying, my guys told me just sail it into the corner because it looks like the track's got a lot of grip. That's what I did. It ended up paying off real well for us.
"The race I thought was pretty good," he said. "We had a good car the first 75. After that it kind of started losing the drive off a little bit. We raced Paulie hard to the last bit of the race. I don't think a podium's bad coming out here for the first time, being a rookie. This track's been awesome to us. I couldn't be more excited."
The race was slowed six times by caution with the only multi-car incident of the race occurring during the final caution on Lap 136 after Michael Self and Blake Koch collided while racing in the top 10. The final incident set up the sprint to the finish.
With the win, Holmes increased his lead in the championship standings to 114 points over Mayhew – with three races remaining this season.
"We padded our point lead tonight," Holmes said of his quest for a third title. "We've just got to play smart, but go to Roseville and Phoenix as planning on winning races and not doing anything different than what we've been doing all year."
The Toyota/NAPA Auto Parts Bonus Challenge from CNS will air on SPEED on Thursday, Aug. 26 at 6 p.m. ET.
The NASCAR K&N Pro Series West will return to action on Sunday, Sept. 12 for the running of the Toyota/NAPA Auto Parts Challenge at Miller Motorsports Park in Tooele, Utah.
---
---