Tue., Feb. 9, 2010
Kopp Announced As Rider For Lloyd Brothers Motorsports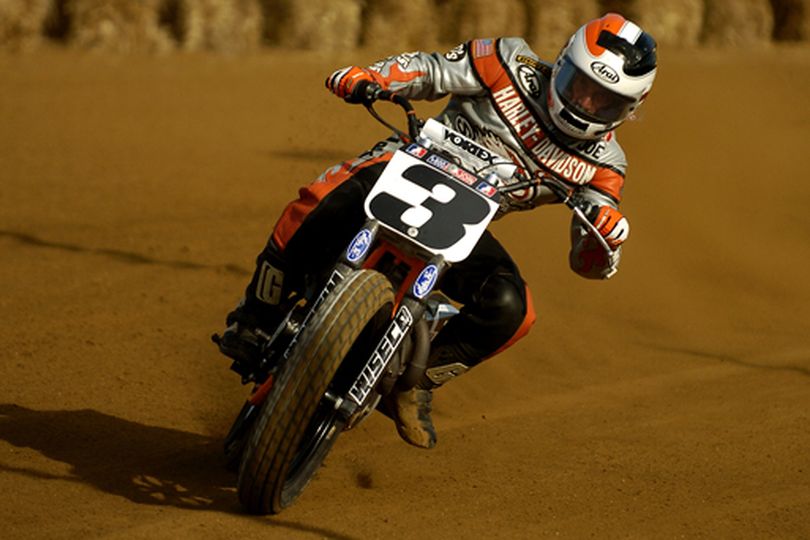 Mica's Joe Kopp joins Aaron King as riders for Lloyd Brothers Motorsports. Kopp will ride Ducati's and XR750's in 2010.
Courtesy: Joe Kopp Racing/Lloyd Brothers Motorsports Inc.
Lloyd Brothers Motorsports (LBM) is proud to announce it's 2010 AMA Pro Racing Grand National Flat Track riders and team. 
A combined effort from American Agip / Lloyd Brothers Motorsports, Latus Motors, Larry Pegram and Kevin Atherton will provide former Grand National Champion Joe Kopp the support he needs to make an all out assault for the Twins Championship.   "I am more excited for the season to start than I have been in years" said Kopp. "Equipment wise, I have the best of both worlds. I will be riding Ducatis on all the mile tracks and will be able to choose between the Ducati and my XR750 on the half-mile tracks depending on how testing goes. I really think that we are going to surprise a lot of people this year with the Ducati.  This is exactly the type of challenge that I feel I needed and I am really looking forward to proving that we can win on this bike right out of the box. I think with my feedback and experience and my crew's knowledge that we can further development of this bike very quickly and have fun doing it."
Aaron King will be returning to the team to campaign Aprilia powered motorcycles. After joining the team part way through last season, 2010 will be the first year that Aaron is scheduled to compete in all the events on the Twins calendar. "The winter can't get over fast enough for me" enthused King. "I have such a great team behind me heading into this season. This will be a great year for me to get more experience on the twins and start working my way towards the front."
LBM will again provide support for Ducati road racer / dirt tracker Larry Pegram at selected events including the Springfield and Indy Miles.  "Building and developing the Ducati dirt tracker with the Lloyd Brothers has been a lot of fun for me. We had great success last season and I am really looking forward to racing at round two of the series at Springfield, IL on Memorial Day weekend" said Pegram, later joking "I just hope Kopp doesn't win the first race – I really want to be the first guy to win a dirt track on a Ducati."
"We are thrilled about the team that we have been able to assemble to work together to issue in a new chapter for the historic AMA Grand National Championship. It is truly a team effort. Bringing new brands to dirt track will lead to a broader audience appeal for the series" said team co-owner Michael Lloyd.
"We are very excited to have both product and financial support from American Agip in our flat track efforts and tremendously proud that, Eni, one of the top ten energy companies in the world with a long history of competitive racing involvement, has granted LBM the privilege and honor of being the very first sponsorship of any kind in the United States to bear the Eni name associated with the Six legged Dog Brand which distinguishes Agip Lubricants all over the world.  With such a talented team of people including David Gamble, Kevin Atherton, Larry Pegram, Rob Kopp, Joe Kopp, and Aaron King,  we are quite confident that we will be able to improve on the success of previous years and hopefully make history by being the first production engine to win a twins national since 1982." reports team co-owner David Lloyd.  
Sponsors for the team include:
American Agip, Latus Motors, Larry Pegram, Motion Pro, Jones Powersports, Aprilia USA, Penske Racing Shocks, Daniel Kalal, K&N Filters, Saddlemen, Yuasa, General Engineering, Tucker Rocky, Maxxis, Eurosports.net, A&A Racing MotoConcepts, Wiseco, Rod Lake, Micah Racing, Durelle Racing, Mad Hatter, Rekluse, Light Shoe, Cometic, RaceImage.net, VMC Racing Frames, PM Wheels, Pingel
---
---