Thu., Feb. 11, 2010
Johnson and Kahne Win By Narrow Margins In NASCAR Gatorade Duels For The 500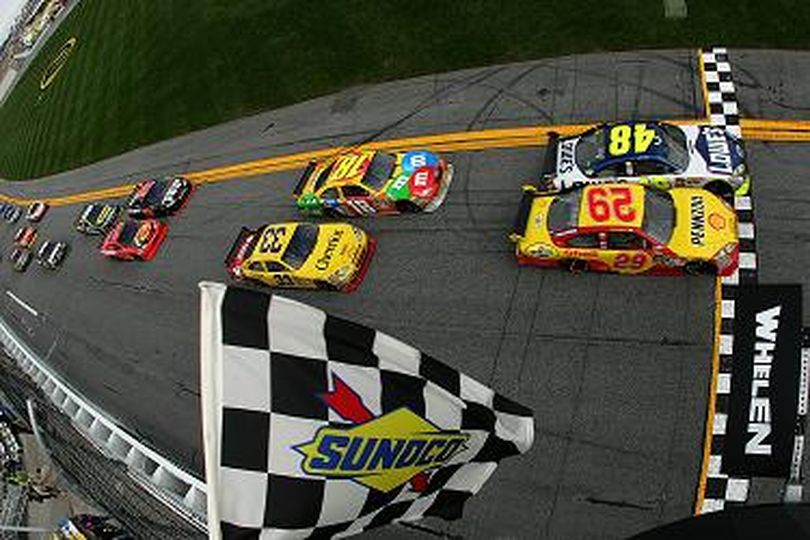 Jimmie Johnson bounced back from a practice crash on Wednesday and drove his back-up car to a victory in one of two Gatorade Duels for the 52nd running of the Daytona 500. Washington state native, Kasey Kahne, picked up the win in Duel No. 2. Both races were decided by less then .1-second.
Courtesy: NASCAR Media Relations
DAYTONA BEACH, FLA. -- Kasey Kahne held on at the end to win the second Gatorade Duel by a narrow margin over Tony Stewart and Juan Pablo Montoya. 
   The final lap had a huge crowd on its feet cheering as the leaders sped through the tri-oval and a slew of "go-or-go-homers" battled for two coveted spots  in Sunday's NASCAR Sprint Cup Series Daytona 500 back in the field.
   Two drivers had to beat eight others to claim a starting spot in NASCAR's biggest race. Mike Bliss, driving a Tommy Baldwyn Chevrolet, held off Casey Mears and others to finish 13th and grabbed the first of two spots. Red Bull Racing's Scott Speed finished one spot back to take the other spot. Speed's effort cleared the way for Michael Waltrip to make the Daytona 500 on qualifying speed after misfortune prevented him from making the field in the first qualifying event.
   Bobby Labonte claimed the final starting spot with a provisional awarded to former champions.
   Trailing Kahne, Stewart and Montoya were Kurt Busch, Elliott Sadler, Martin Truex Jr., Joey Logano, Marcos Ambrose, David Reutimann and Brian Vickers.
   Dale Earnhardt Jr., led from the front row but encountered tire problems and finished 27th.
Gatorade Duel at Daytona #2
Gatorade Duel at Daytona #1

DAYTONA BEACH, FLA.
-- Michael McDowell summed up how drivers feel when they make the Daytona 500.
     He finished 14th in the first NASCAR Gatorade Duel here Thursday at Daytona International Speedway but, more importantly, he finished first amongst the drivers who had to race their way into NASCAR's biggest event.
   And Max Papis joined him to earn the right to be a part of Sunday's 43-car starting field.
    Nevermind that four-time champion Jimmie Johnson nipped Kevin Harvick by inches at the finish line to win the race, it was McDowell and Papis' time to shine. There were nine drivers in the first race who had to beat each other in order to make the NASCAR Sprint Cup Series Daytona 500 starting field.
    McDowell and Papis were overcome with emotion and relished the accomplishment. For McDowell, it might make race fans forget his most famous highlight reel when he crashed and rolled spectacularly at Texas several years ago.
   Trailing Johnson and Harvick were Kyle Busch, Clint Bowyer, Regan Smith, Jamie McMurray, AJ  Allmendinger, Ryan Newman, David Ragan and Jeff Gordon.
 Greg Biffle was 11th after getting shuffled out of the lead some eight or nine laps from the finish of the 60-lap race.
    Hard-luck Michael Waltrip looked as though he was going to be one of the two "race-your-way-in" Daytona 500 starters but slipped up the race track and was bumped by Regan Smith. The contact sent Waltrip spinning off the track into the inside retaining wall.    
    Todd Bodine made an impressive bid to get Kirk Shelmerdine's Toyota in the race but fell one position shy.
    The race was run under a cool, overcast sky.
    Bill Elliott and Joe Nemechek will start the Daytona 500 based on their qualifying speeds.
---
---