Sun., Feb. 14, 2010
Daytona 500 Is Emotional Win For McMurray, Second Place For Earnhardt Jr.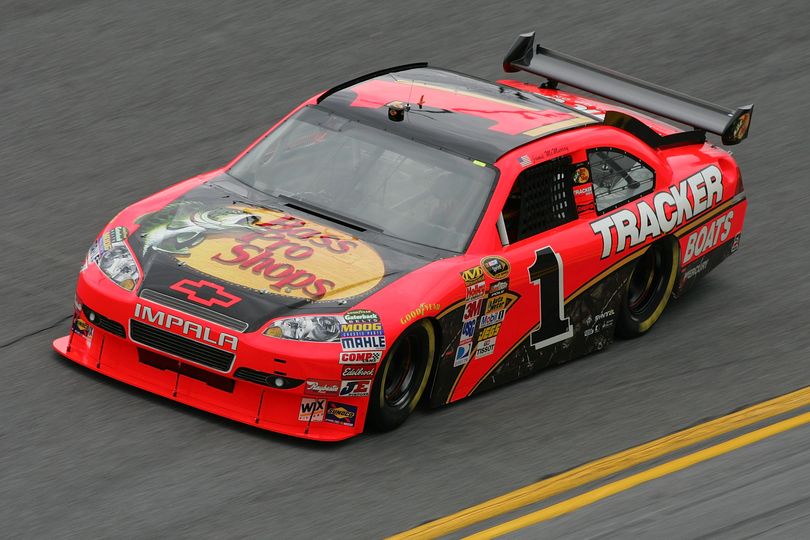 Despite over two hours of delays due to weather-related track issues, Jaime McMurray and Dale Earnhardt Jr. thrilled a sold out Daytona International Speedway crowd in the 52nd Annual Daytona 500.
Courtesy: NASCAR Media Relations
DAYTONA BEACH, FLA. -- What a storybook finish!
    Jamie McMurray won the 52nd annual NASCAR Sprint Cup Series Daytona 500 but it took three green, white, checkered flag attempts and an unbelievable shove from the sport's most popular driver, Dale Earnhardt, Jr., to pull the curtain down on one of the most exciting 500's in the sport's history.
    After two red flags to repair a hole in the track's bumpy surface, McMurray wound up in the front pack when it came to the two-lap showdown for NASCAR's biggest prize. And Earnhardt provided the help he needed to hold off a snarling, hungry pack of professional stock car drivers trying to add their names to the Daytona 500 record book.
    Earnhardt came from 10th to second in two laps to get the assist, and McMurray was overcome with emotion afterwards. McMurray was the odd-man-out at Roush Racing at the end of 2009 when that organization had to drop a team to comply with NASCAR's four-car ownership rule.
    McMurray didn't know if he would have a ride for 2010 until his former car owner Chip Ganassi called and put him in a car for the second time.
    McMurray responded just like he did the first time he drove for Ganassi. He won his first race with the team, just like he did with Ganassi when he won his first race, the fall event at Charlotte.
    The race took six hours and 10 minutes to complete because a huge pothole developed in the lower racing groove of turn one. The hole was patched and came undone and had to be patched again due to the unusually cold and rainy weather that settled over Daytona Beach for this year's Speedweeks.
    Finishing third was Greg Biffle, who ran up front most of the day. He was followed by Clint Bowyer in a Richard Childress Chevrolet. David Reutimann was fifth, Martin Truex Jr. sixth, Kevin Harvick seventh, Matt Kenseth eighth, Carl Edwards ninth and Juan Pablo Montoya 10th.
    The race produced a ton of leaders, including Mark Martin, Earnhardt, Kasey Kahne, who wrecked at the end, Harvick, Kyle Busch, Bowyer, Kurt Busch, Elliott Sadler, who was also eliminated from contention by an accident, Truex, AJ Allmendinger, also involved in an accident, Biffle, and Scott Speed, David Ragan, Jeff Gordon and Joey Logano.
    The 21 different leaders was a Daytona 500 record, and McMurray established a record he could care less about. He led the fewest numbers of laps – two -- of any Daytona 500 winner. He wouldn't care if he had only led one lap, the last one.
   Four-time NASCAR champion Jimmie Johnson had a troublesome day, finishing 35th.   
 Ageless Martin, everybody's favorite, led the first lap from his pole position under a clear-blue sunny sky. The cars ran side by side, darting and bouncing around, before Brad Keselowski cut a tire in turn three and hit the wall, collecting Penske teammate Sam Hornish, Jr., and Regan Smith in the process. Gordon narrowly missed the smoke-filled accident.
    On the restart at lap 13, Martin was still in front with Earnhardt Jr., Montoya and Harvick in tow. The first three cars chose not to pit since it was so early in the race.
    Montoya led briefly before Earnhardt zipped past on the 14th lap. The cars were shuffling back and forth and Martin was bounced back to 23rd spot before he could get back in line.
    The crowd of nearly 200,000 fans was still on its feet at 20 laps as 26 cars ran nose-to-tail and side-by-side over the tricky two-and-a-half-mile track.
   Harvick took the lead at lap 21 and someone was passing someone just about every lap behind him.
    At lap 30, Harvick led with Kurt Busch on his bumper. Sadler was third, Montoya fourth and Stewart fifth. Earnhardt was next, followed by Bowyer, Reutimann, Johnson, Kahne and Logano.
    Busch moved into the lead at lap 32. At lap 38, Montoya, Martin and Earnhardt had to pit since they stayed out on the first caution.
   At lap 42, Allmendinger, in a Petty Ford, had moved into second place ahead of Harvick. Kurt Busch continued to lead.
    Allmendinger passed Kurt Busch for the lead on lap 46, proving this Daytona 500 was, indeed, anyone's race. Kurt Busch passed. Allmendinger back on lap 49.
     Once the leaders had made pit stops around 50 laps, the leader was Kurt Busch again with Allmendinger second. Johnson was third. Kahne was fourth, followed by Harvick, Earnhardt Jr., Montoya, Kyle Busch, Sadler and Bowyer.
    The second caution of the afternoon flew on lap 66 when Joe Nemechek's Toyota jumped sideways between turns three and four. All the leaders headed for pit road. Kyle Busch slid through his pit which cost him some valuable time, as much as six positions on the track.
   The race resumed on lap 70, it was Kurt Busch, Allmendinger, Kahne, Harvick, Johnson, Truex, Edwards, Biffle, Bowyer and Kyle Busch.
   Allmendinger quickly went to the front in his No. 43 Petty car, which made old-time race fans happy since it reminded them of the King's (Richard Petty) heyday.
   Another caution flag, the third of the race, waved on lap 71 when Mike Bliss spun in turn two and hit the inside retaining wall.  All the frontrunners pitted once again.
    Hamlin was the leader for the first time in the event when the race was green-flagged again. Kurt Busch was behind Hamlin. Busch was trailed by Biffle, Kyle Busch, Bowyer, Gordon, McMurray, Newman, Sadler and Menard.
     At the 100-lap halfway mark, Jeff Gordon took the lead with Bowyer close behind. Gordon's move past Kyle Busch was the 25th official lead change of the race. Trailing Gordon and Bowyer were Biffle, Kyle Busch and Sadler, but Bowyer took the top spot a few laps later with Richard Childress teammate Harvick shoving him forward. At 110 laps of the 200-lap distance, it was still anybody's race.
---
---