Mon., Feb. 15, 2010
Force returns to winner's circle; Dixon, Edwards also snare NHRA season opening wins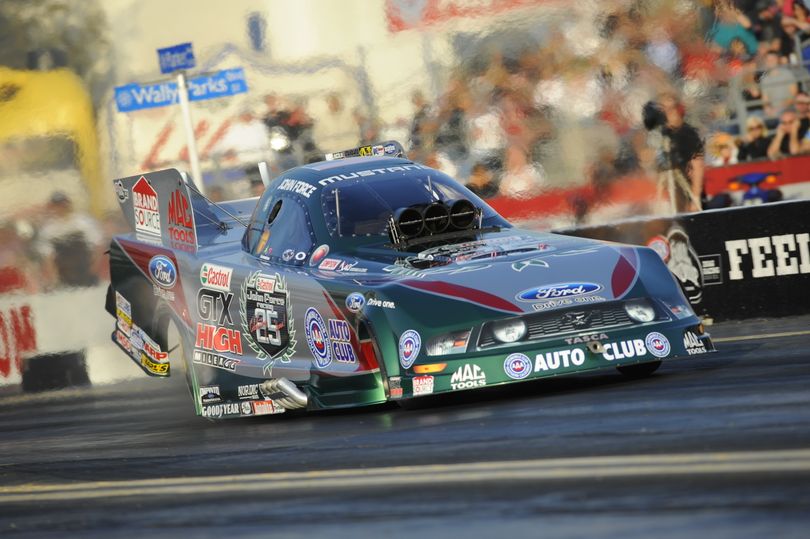 John Force's Funny Car victory at Auto Club Raceway at Pomona, during a weekend filled with nostalgic moments and memories, is Force's record 127th, and it came in his 203rd final, but it was his first since the 2008 Topeka event, 623 days ago.
by Phil Burgess, National DRAGSTER Editor
NHRA's winningest driver, John Force, got back into the winner's circle after a 20-month drought and was joined by Larry Dixon and Mike Edwards in collecting season-opening Full Throttle Drag Racing Series wins at the 50th Anniversary Kragen O'Reilly NHRA Winternationals presented by Valvoline.
The Funny Car victory at Auto Club Raceway at Pomona, during a weekend filled with nostalgic moments and memories, is Force's record 127th, and it came in his 203rd final, but it was his first since the 2008 Topeka event, 623 days ago. The Top Fuel win by Dixon also marked a bit of a comeback as his team didn't even qualify at last year's race, where qualifying was shortened by rain. Edwards' win continued the dominance that the reigning Pro Stock world champ showed in closing out his successful 2009 campaign.
Force, coming off his first winless season since 1986 and celebrating the 25th anniversary of his longtime partnership with Castrol, showed that he's still in fighting form by winning the Winternationals title, his fifth, on a holeshot, 4.124 to 4.123 against Ron Capps. The last time that Force led the points was Nov. 12, 2006, when he won his most recent championship.

"This is really huge," said Force. "You know, people say, 'What's it like to win?' It wasn't so much the winning but coming back from the cellar, and I was in the cellar. When you win all those championships, you just think that winning was easy, and then it got real tough. We scrambled everything around. Obama said change, and that word just stuck in my head. I don't know if it's working for him, but Mike Neff, Bernie Fedderly, and Austin Coil, that group is really jelling together, so change has worked for us. To be here at the Auto Club Raceway and win this race, that won't ever come again, and the 100th, I may not be here for the 100th.
"My gym guy came in one day, and I was down, and I was just crying, and I was just worn out. I said, 'No matter how hard I work, I'm just not going to be who I used to be,' and that hurts. When your kids are out here like, 'Dad, you're Superman. We saw you beat the dragsters.' Well, you're not Superman, you're just a man. But we jelled this team, and I got back on my game because I really wanted it."

The win also proved that Force's decision to add sidelined tuner-cum-driver Neff to the tuning mix with Coil and Fedderly was a wise one. His Mustang never seemed challenged  with consistent passes of 4.132, 4.120, and 4.125 to defeat Bob Bode, daughter Ashley Force Hood, and Jack Beckman.
Capps, the defending event champ who also won this race in 1998, powered his Ed McCulloch-tuned NAPA Auto Parts Dodge back to the final the tough way, having to win without lane choice in round one, in which he beat Jim Head, then defeating former champ Cruz Pedregon, who had upset low qualifier and defending season champ Robert Hight in round one. Capps reached the final, the 60th Funny Car title round of his career, with a semifinal triumph over Bob Tasca III after a heroic thrash to repair a broken rear end. The car had to be transported back to the trailer on a flatbed, but with help from teammate Matt Hagan's DieHard crew, they had the rear end and a new engine block installed in just 35 minutes.
Dixon's victory, scored in a 3.80, 316.60 to 3.84, 310.05 decision against defending event champ Doug Kalitta, was his 49th win, tying him with his former car owner, Don "the Snake" Prudhomme, for eighth place among all Full Throttle winners and 14th among all NHRA drivers. Dixon also won the Winternationals in 1998, 2002, and 2003.
"It's beyond words," said Dixon, a student of the sport who understands the significance of winning the Winternationals. "It's a huge event in its own right whether it's the fourth or the 12th or whatever, and to win the 50th with all of the hype and everything and the gold Wallys, just having a shot at running for it and then doing, I feel very blessed.
"[Tying Prudhomme] I feel like I felt when I passed Don Garlits' 35 wins; it's not even fair to compare me with them. When 'Snake' was racing, there were only three or five races in the season, so he didn't get to run his numbers up, and when he stopped driving the car, the car was winning, and if he hadn't put me in the car, he would have kept winning. It's apples and oranges to me. If I had the kind of season record that Prudhomme had [in 1975 and 1976], I'd have more wins than John Force. I'm still grateful to get my first win back in 1995; it's more than I ever thought I'd have the opportunity to do. You can wish for it, but you can't make it happen, That's why I feel so very lucky to have been in some great cars and had some great crew chiefs and the opportunity just to hold my end up."

Dixon, who lost his low-qualifying berth to Cory McClenathan in Saturday's final qualifying session, looked nearly flawless en route to the final round, chalking up low e.t. of eliminations at 3.799 in round one to defeat Steve Chrisman, followed by a 3.85 conquest of longtime rival Brandon Bernstein. Dixon's semifinal bash with Tony Schumacher, to whom he lost the season championship last year by a mere two points, was another legendary clash between the modern-day Top Fuel titans. They ran identical e.t.s and identical speeds – 3.836s and 317.05s a pair – and only Dixon's .068 to .085 reaction-time edge made the difference 999 feet later for the Al-Anabi team.
Kalitta, who last year joined his uncle Connie (1967) and cousin Scott (2005) as Winternationals Top Fuel champs, raced back to the money round, the 59th of his career, by overcoming first-round engine woes that slowed him to a 4.51 before the Jim Oberhofer-led crew responded with passes of 3.92 and 3.84 to defeat tire-smoking Troy Buff and McClenathan.
Twenty-nine years after winning his first Winternationals title in Modified eliminator, Edwards, frustrated twice by Summit teammates Greg Anderson (2006) and Jason Line (2009), scored his first Winternationals Pro Stock title by besting Anderson, 6.57, 210.47 to 6.61, 209.62. Anderson got the holeshot, .031 to .069, but Edwards ran him down to win his 21st Pro Stock Wally by just .003-second.
Prior to beating Anderson, Edwards' Penhall/Interstate/K&N Pontiac was the quickest car in all four qualifying sessions and had low e.t. of every preliminary round as he motored past Justin Humphreys, Greg Stanfield, and Allen Johnson with blasts of 6.604, 6.610, and 6.615 to reach the final, his 40th in the class. It's the second time that Edwards has racked up the maximum points available at a race; the first was in Richmond, Va., late last year.

"It feels good to come out here and win a race right off the bat," said Edwards. "It's a major win. I was telling Lisa last night before we got to go to bed I won this race 30 years ago in Modified; it's been a long time. What a way to start the season. Interstate Batteries is outrageously dependable, and that's what my team is. They just make this car go up and down the track. It's just a pleasure to be a part of this team. These guys are just that good. We're just fortunate to have what we have."
"I needed every bit of that last run there. Greg, man, he walloped me on the starting line. It was a great race in the final there in Pro Stock. My hat's off to Greg, Jason, and all those guys with the tough winter there. Ken Black, we all want to see him back out here because we all miss him. Those guys are an awesome team, and we love the challenge they give us because they're the best — they've got a lot of championships."

Anderson continued his Pomona love affair by reaching the final again. He won the 2009 season finale here, won the Winternationals three straight years (2006-2008) and four times overall, and at this race last year reset the national record. He reached this final, the 89th of his career, with his Pontiac after defeating Kurt Johnson with a 6.608 in round one in a rematch of the final of the last event here, then beat good-looking rookie Shane Gray with a 6.626 and ended the great debut of Larry Morgan's Lucas Oil Mustang in the semifinals with a 6.632.
The Top Alcohol Dragster final pitted the runners-up from the last two years, and 2009 second-place finisher Chris Demke finished first this time with a 5.33 victory against Joey Severence. Sean O'Bannon handed Doug Gordon his second straight Top Alcohol Funny Car Winternationals runner-up by beating the 2003 champ on a 5.54 to 5.64 count.
A pair of former Winternationals Comp champs battled for their second victories in a rematch of their 2006 final, and the outcome was the same: Lou Ficco Jr. collected the win when 2004 champ Dean Carter went -.117 red. In Super Stock, 2003 Winternationals champ Jeff Lane scored again, handing reigning world champ Jimmy DeFrank Jr. his fourth straight Winternationals final-round loss, and Brad Burton defeated Ryan McClanahan for Stock honors.
Kevin Wright got a bye run in the Super Comp final when 2003 Super Gas runner-up Ed Olpin's dragster wouldn't fire. The guy who beat Olpin in that 2003 final, Brad Pierce, also won his second Winternationals title when he beat former world champ Jimmy Lewis in the Super Gas final.
---
---