Wed., Feb. 17, 2010
Ganassi rewarded-McMurray repays owner for his faith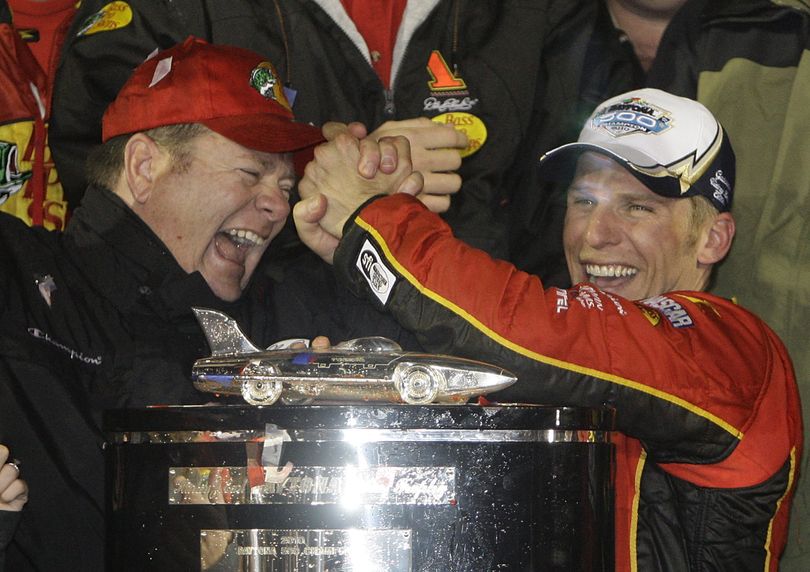 Chip Ganassi gave Jaime McMurray his first break when the little-known driver was looking for a shot at NASCAR's top level. He rewarded Ganassi with a win at Charlotte Motor Speedway in the team's Coors Light Dodge that had been driven by Sterling Marlin until a season-ending injury forced him out of the seast.
Jenna Fryer
Associated Press
DAYTONA BEACH, Fla. – Chip Ganassi squirmed a bit, shifted the microphone he was holding in his hands, then gazed blankly at the floor.
Jamie McMurray had just been asked to describe his NASCAR team owner – the man who has taken two separate chances on McMurray – and Ganassi was clearly uncomfortable with the praise he was about to receive.
"He's not wanting me to compliment him right now," McMurray said.
But any kind words from McMurray had been earned.
Ganassi, after all, gave McMurray his first break when the little-known driver was looking for a shot at NASCAR's top level. Then he had his ego bruised three years later when McMurray fled for a perceived better opportunity at Roush-Fenway Racing.
Ganassi didn't let the hurt feelings fester, though, and agreed to give McMurray another shot last fall when the driver found himself out of work.
It all paid off Sunday night with a thrilling Daytona 500 victory, the biggest NASCAR win for both the driver and owner.
It was evident how grateful McMurray was from his tearful Victory Lane celebration, when he effusively thanked Ganassi, co-owner Felix Sabates, and sponsor Bass Pro Shops for giving him a second chance.
Ganassi deflected the exultation in the hours after the victory, and tried to duck it again Monday at the Daytona 500 champion's breakfast.
"It's not about me," Ganassi said quietly. "It's just not about me."
How wrong he is.
Nevermind that McMurray's win in the Super Bowl of NASCAR moved Ganassi into elite company, joining Roger Penske as the only owners to win the Indianapolis 500, Daytona 500 and the prestigious 24 Hours of Daytona sports car race.
More important, the win proved what Ganassi has insisted all along: He can be pushed all the way to the ropes in the brutal business of auto racing, but he will never be knocked down.
"I don't have a lot. I don't have the biggest jet over at the airport there and the flashiest trucks. We're in the business of racing," Ganassi said. "We've taken a lot of lumps over the last couple years. We have to spend our money a little wiser than some teams. I'm not ashamed of that at all."
Only there were times that Ganassi maybe was a little bit ashamed of his NASCAR effort. His open-wheel resume ranks among the very best in team ownership – four consecutive CART championships with Jimmy Vasser, Alex Zanardi and Juan Pablo Montoya, Indianapolis 500 victories with Montoya and Scott Dixon, and IndyCar titles with Dixon and Dario Franchitti – but his NASCAR program never could keep up.
Formed in 2001 when Ganassi partnered with Sabates' existing organization, the team was decent when Sterling Marlin drove to four wins and led the points for most of the 2002 season.
McMurray and Casey Mears were added in 2003, and Ganassi patiently brought the rookies along as the organization tried to compete with NASCAR's top teams. Then McMurray left for a seat at Roush, and Mears followed the next year to go to Hendrick.
Ganassi was able to stop the bleeding by reuniting with Montoya, who made a stunning decision to leave Formula One to try NASCAR, but his equipment could not match the driver talent.
Still, Ganassi stayed on path, determined not to panic as he stripped the organization in an attempt to rebuild it. Sponsorship difficulties followed, and his team was one of the hardest hit in the 2008 economic crisis. Franchitti, who had left IndyCar to try NASCAR, lasted less than six months because Ganassi had to shutter that team in a closure that cost 70-plus employees their jobs.
Trying to hold everything together, Ganassi merged with slumping Dale Earnhardt Inc. at the end of 2008. The deal closed quickly, led to another 100-plus layoffs from the DEI side, and took most of last season for the new organization to mesh.
Although Montoya and his No. 42 team found its groove and made the Chase for the Sprint Cup title, the second car driven by Martin Truex Jr. wasn't at the same pace and Truex announced midseason that he was leaving at the end of the year. That opened a seat for McMurray's return.
---
---