Sat., Feb. 20, 2010
Busch Edges Biffle For NASCAR Nationwide Win In Fontana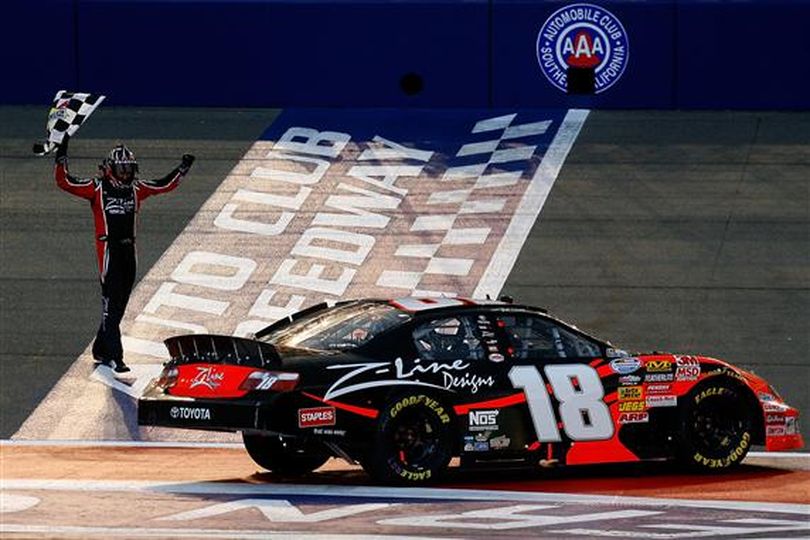 Kyle Busch picked up his first NASCAR Nationwide Series victory of the season in a wild finish at Auto Club Speedway in Fontana, CA.
Sporting News NASCAR Wire Service
FONTANA, Calif. -- With a last-lap pass of Greg Biffle, Kyle Busch stole a win in the Stater Bros. 300 NASCAR Nationwide Series race at Auto Club Speedway -- a victory that came at the expense of the race's dominant driver, Busch's teammate, Joey Logano.
Busch finished .051 seconds ahead of Biffle, who sent Logano -- then the leader -- up the track after the restart for a green-white-checkered-flag finish that took the race two laps beyond its scheduled distance of 150 laps.
Busch locked onto Biffle's rear bumper to start the final lap, and when Biffle slipped slightly, Busch dived to the inside. Third-place finisher Brad Keselowski took it three-wide below Busch in Turn 3 but couldn't sustain his momentum, and Busch won a drag race off Turn 4 to edge Biffle.
The victory was Busch's 31st in the NASCAR Nationwide Series, tying him with Jack Ingram for third on the career win list. Danica Patrick finished 31st, three laps down, in her second start in the series.
"We went off into (Turn) 1, and Joey got loose and slid way across the racetrack, and I had to turn underneath him and try to not get boxed in," Busch said. "Then we went down the back, and I was inside of Biffle, and I'm like, 'Man, I wish I was on the outside right now.'
"Then we got into (Turn) 3, and Keselowski put his nose in, and I thought we were going to wreck, but somehow we held on to it. (Biffle) ended up getting a little bit loose, so I was able to get to his inside. Man, it was exciting there, coming to the finish."
Logano, who started from the pole and led 130 laps, had an issue with what he considered Biffle's aggressiveness on the final restart. Logano and Biffle had traded shots during a NASCAR Nationwide race at the California track last October.
"I don't know what his deal is with me, but for some reason, in California, he feels like putting me in the fence or hitting me towards the end," said Logano, who spun through the infield grass on the final lap but still finished one spot behind fourth-place Carl Edwards. "I know we were racing hard there at the end, but -- I don't know -- I think he could have done it a little cleaner than that."
Biffle had a different version of the final restart.
"It was a rookie mistake," Biffle said. "He spun his tires on the restart and couldn't get going. … If Joey hadn't spun his tires on that last restart, I never would have had a chance at him. I had a front-row seat, and I was inside of him, and he came down the racetrack."
Logano had a comfortable lead over Busch when NASCAR threw the fourth caution of the race for Brendan Gaughan's spin in Turn 3 on Lap 144.
Note: The margin of victory was the 10th closest in NASCAR Nationwide Series history. … Patrick suffered a pair of pit road speeding penalties and lost one of her three laps on a pass-through penalty.
---
---